Secret Service officers reportedly posted at White House without proper clearance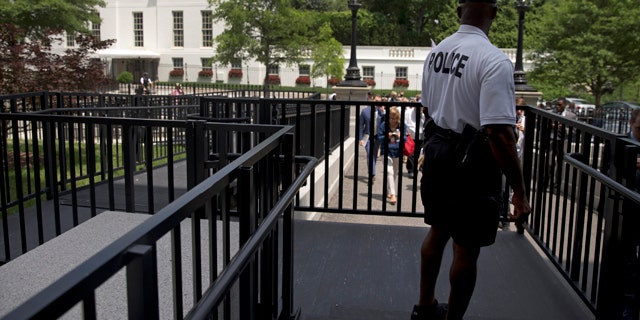 Several newly hired Secret Service officers have been posted in sensitive locations, including the White House, without receiving the proper security clearances, according to a published report.
The Washington Post reported late Tuesday that Secret Service Director Joseph Clancy admitted to Rep. Mark Meadows, R-N.C., that some of the new hires had not completed the required national security clearance process. Meadows, a member of the House Oversight and Government Reform Committee, told the paper he raised the issue after being informed by a whistleblower that newly hired officers had sat in on White House meetings where classified information was presented.
It was not immediately clear what information the uncleared officers may have had access to.
Secret Service spokesman Brian Leary told the paper that the agency expected to issue all outstanding security clearances by Friday. Another Secret Service official told the paper that agency staff were dealing with an "administrative backlog" brought about by a higher-than-average rate of new hires.
The official said that between four and five dozen officers did not have the clearances when the issue was raised with Clancy by Meadows last week. Of those, the official said a little more than two dozen were posted at the White House. Spokesman Leary told the Post that only ten officers did not have clearances did not have the proper clearances.
The Post reports that the Secret Service began a push to recruit new officers after series of highly publicized security lapses at the White House. In the most notable incident Sept. 19, a man jumped the White House fence and made it inside the executive mansion before being apprehended.
Meadows told the Post that he found the rapid response by the Secret Service to his query "very puzzling" after the agency had apparently let the security issue slide for so long.
"Without the clearance, you could share information by mistake," the congressman said. "I trust everyone on my staff, but there are only a few with a top-secret clearance. They know the zero tolerance that any of us have for inappropriately sharing this information"
Click for more from The Washington Post.