Seattle commissions new minimum-wage study after dismissing first results
When a University of Washington study came out this week showing Seattle's minimum wage has cost 5,000 jobs and is hurting low income workers, city leaders attacked the messenger –- a team of respected economists at Washington's premiere public university.
The researchers, led by Jacob Vigdor, were hired by the city in 2014 to study the effects of Seattle's $15 wage experiment. The contract called for five years of research. City officials stopped funding the UW team when they didn't like the results.
"The moment we saw it was based on flawed methodology and was going to be unreliable, the Vigdor study no longer speaks for City Hall," said Seattle City Councilwoman Kshama Sawant.
Sawant, a former economics professor at Seattle Central Community College who ran for office as a Socialist, accused the UW team of "ideologically editorializing." She and Mayor Ed Murray then contacted Michael Reich, an economics professor at the University of California at Berkeley.
SEATTLE'S MINIMUM WAGE HIKE HURTING LOW-LEVEL WORKERS, STUDY SAYS
Reich is currently co-chair of the Institute for Research on Labor and Employment. Before earning his PhD in economics from Harvard, Reich was a founding member of the Union for Radical Political Economics (URPE), a group seeking a "human-centered radical alternative to capitalism," according to its website.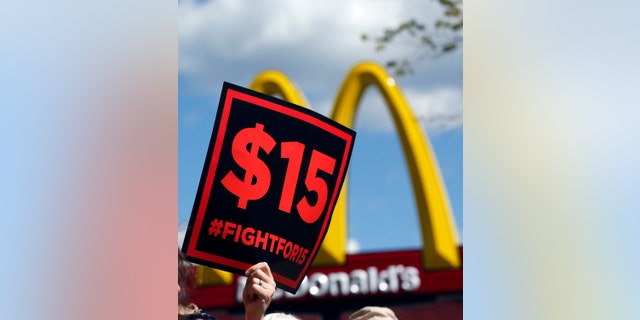 Reich has authored several studies on the effects of raising the minimum wage. They all concluded that increasing the minimum wage only helps low-skilled workers.
As soon as Seattle politicians knew the University of Washington study found raising Seattle's minimum wage from $11 to $13 an hour led to a 9-percent cut in hours worked and an average of $125 less earned each month, they commissioned Reich to do his own study and then criticized UW's research.
According to emails obtained by Fox News, Reich was given a deadline by Murray. His work was to be completed just before the University of Washington team announced its results. Vigdor, the director of the study, shared with city council staffers the preliminary results of the research and provided a timeline for when it would be made public.
MINIMUM WAGE HIKES MAY MALIGN FAST-FOOD JOBS AND DISCOUNT SHOPPERS
"We're doing work that's in the public's interest," Vigdor said, "and the value we place on being transparent with the city outweighs any reaction they might have."
The stakes in this war of studies are high. A national campaign called "Fight for $15" aims to make Seattle's law the federal minimum wage. So far, the campaign's wins have come primarily in New York and California. Critics call what Seattle leaders did an egregious act of science shopping.
"They see the future of their 'Fight for $15' campaign grinding to a halt," said Michael Saltsman, a Forbes Magazine contributor, " so I think that's why they're working and using some of these unseemly tactics to try and discredit the economists who are doing their best to carefully study what's happening."
Many leading economists have reviewed the University of Washington study. Several have praised the work as credible.