Schumer Calls for Review as Millions in Stimulus Funds Aid Foreign Firms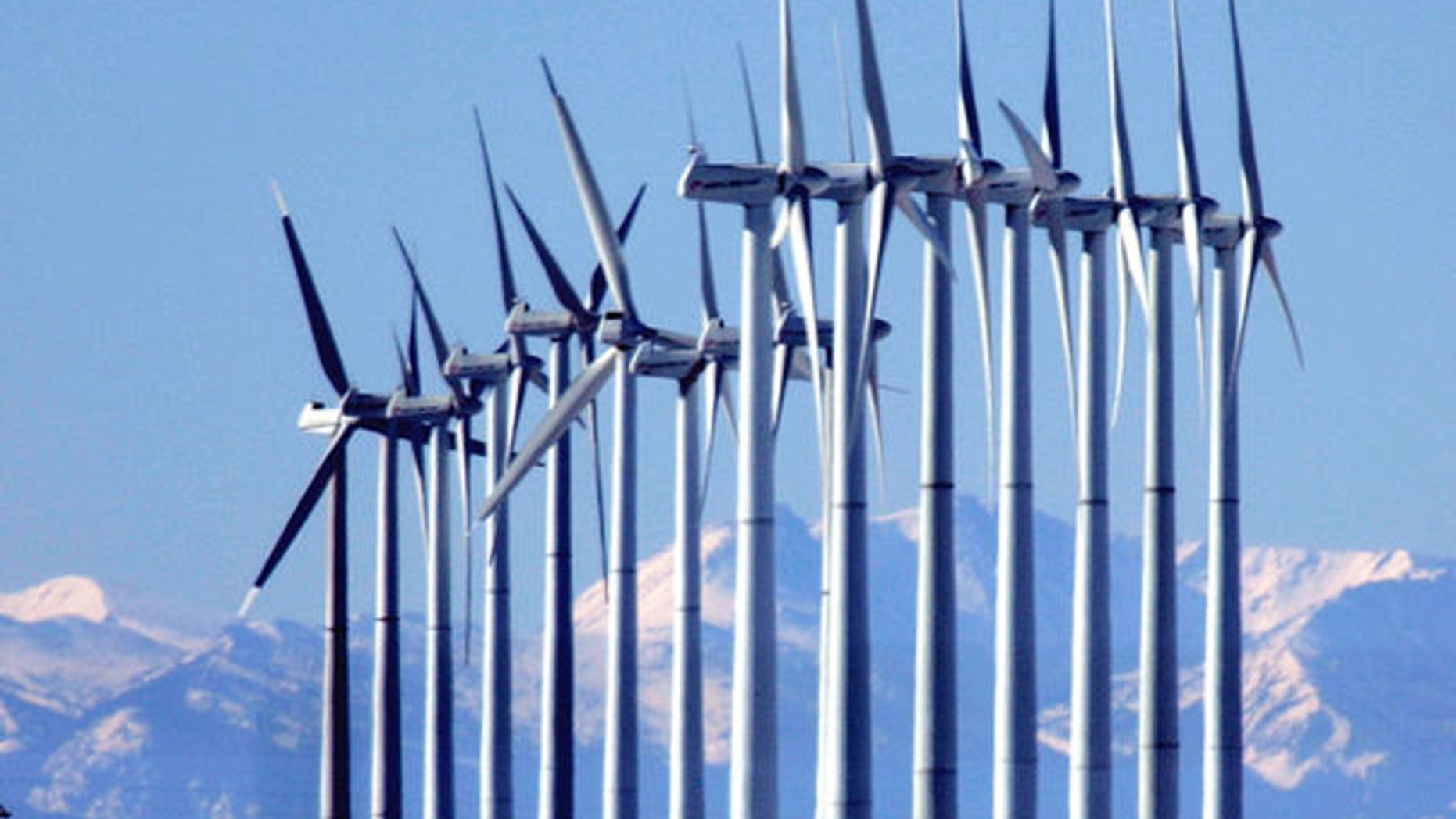 Sen. Charles Schumer called for a "comprehensive" review on Monday of all renewable energy projects seeking funding from the economic stimulus package, following reports that $849 million in U.S. grants have gone to foreign wind companies in the past two months alone.
The New York Democrat first intervened last week, writing a letter to Energy Secretary Steven Chu urging him to deny stimulus funding to a Texas wind farm that would rely on wind turbines made in China. The $1.5 billion project would create up to 3,000 jobs in China but only 330 jobs in the United States, most of which would be temporary, according to one report.
Schumer spokesman Josh Vlasto told FoxNews.com that the senator is calling for a review of "all pending green energy projects" seeking stimulus funds to ensure they create jobs in the United States.
Schumer said in a statement Monday that the United States should not be giving China a "head start" in the quest for alternative sources of energy.
"Our domestic clean-energy sector has the potential to emerge as a global leader and it is counterproductive to invest U.S. stimulus funds in Chinese companies rather than our own," Schumer said.
A study in late October out of American University's Investigate Reporting Workshop showed that the Texas wind farm was just one example of U.S. stimulus dollars being channeled overseas.
The study said that of the $1.05 billion in clean energy grants distributed since Sept. 1, $849 million has gone to foreign wind companies. The study said there are few restrictions on the money.
The federal program provides for grants worth 30 percent of a firm's investment in renewable energy. According to Schumer's office, the American and Chinese companies working on the Texas farm would seek to defray up to that amount, or $450 million, with stimulus funds.
The companies are China's Shenyang Power Group, Texas' Cielo Wind Power and the U.S. Renewable Energy Group.
Chris Madison, spokesman for the U.S. industry's American Wind Energy Association, said wind projects should be using U.S. components.
"We think it's better when it's domestically manufactured. For one thing it's cheaper," he said.
But Madison said the Texas farm is an "exception" to the trend and that the American University study was exaggerated. He said that even though the government money is going toward foreign firms, many of those firms are using U.S. plants and U.S. workers.
Christine Real De Azua, spokeswoman at the same group, said the U.S. has come from way behind in its capacity to build wind turbines domestically and that U.S. firms certainly could have handled the Texas project. But she said the fact that the Texas farm was being financed by Chinese banks clearly came with "strings attached."
Overall, she said, the stimulus program has been "very effective" in growing the alternative energy sector in the United States.
The U.S. Department of Energy claimed it has limited flexibility in determining who gets the grant money. Department spokeswoman Stephanie Mueller said in an e-mail to FoxNews.com that the grants come in the form of tax credits, "unlike other Recovery Act grant programs where the department has some flexibility in making awards."
She said if the eligibility requirements are met, "they receive the tax credit."
"Any application for the Texas project would be evaluated by the Energy and Treasury Departments to determine eligibility, but no application has been received to date," she said.
In a statement released in late October announcing the 600-megawatt, 36,000-acre Texas farm, the companies working on the project claimed it would be mutually beneficial.
"This planned $1.5 billion investment in wind energy will spur tremendous growth in the renewable energy sector and directly create hundreds of high-paying American jobs," the Renewable Energy Group's Cappy McGarr said in the statement.
The statement praised Shenyang as a "fast-growing manufacturer of wind turbines."
But in his letter to Chu, Schumer said the U.S. wind industry is "fully capable" of producing wind turbines and "other high-value components" and that stimulus-funded farms should be buying American.
"The idea that stimulus funds would be used to create jobs overseas is quite troubling," Schumer wrote.