Schumer Aims to Exclude Wikileaks From Media Shield Bill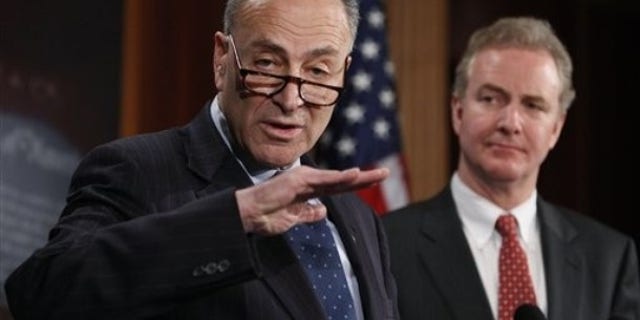 Adding to the political fire directed at Wikileaks after the whistleblower website divulged Afghanistan war secrets, Sen. Charles Schumer on Wednesday said he would add new language to a media shield bill to explicitly prohibit the whistleblower group from federal protections.
The New York Democrat said he was drafting new language to ensure the organization reaps no benefit from the bill which aims to enhance legal protections for reporters who refuse to reveal their sources.
"Neither WikiLeaks, nor its original source for these materials, should be spared in any way from the fullest prosecution possible under the law," the senator said in a written statement. "Although the bill in no way shields anyone who broke the law from prosecution, we are going the extra mile to remove even a scintilla of doubt."
The statement described the language as a precaution since other provisions in the bill could prevent WikiLeaks from qualifying for extra protection. Schumer said the group would not qualify as a journalist and that a judge could also waive the protections if national security is at stake. Aside from that, WikiLeaks is based in Sweden – meaning any bill passed by the U.S. Congress could have limited impact.
But WikiLeaks has been a top rhetorical target for government officials ever since the website published more than 75,000 classified documents pertaining to the Afghanistan war last month. Adm. Mike Mullen, chairman of the Joint Chiefs of Staff, and Defense Secretary Robert Gates expressed concern in interviews over the weekend that the leak could put Afghan informants and other allies in harm's way. Gates said that no matter what an investigation determines, WikiLeaks is morally "guilty" for its decision to publish the documents.
Rep. Mike Rogers, R-Mich., also said Monday that if an Army private charged with leaking classified material to the website is found guilty, he should be sentenced to death. Rogers was referring to Pvt. Bradley Manning, who is awaiting possible trial on 12 offenses. He is accused of illegally obtaining more than 150,000 classified cables from the State Department – it's not clear whether those documents were the ones WikiLeaks published.
The media shield proposal was approved by the Senate Judiciary Committee in December 2009 and is pending before the Senate.
Schumer is working with the newspaper industry in crafting the new language.