Royal Visit: Obama meets with Prince William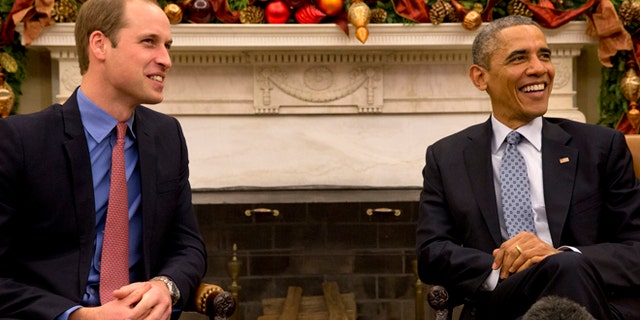 It was a meeting of president and prince.
Britain's Prince William, on a whirlwind three-day visit to the U.S., made a brief stop at the White House Monday for an Oval Office sit-down with President Barack Obama. The two men, both in dark suits, sat side-by-side and exchanged pleasantries before a crush of journalists before beginning their private talks.
William and his wife, Kate, arrived in New York on Sunday for their first official visit to the U.S. since 2011. However, William came to Washington solo for his visit to the White House and a speech on wildlife trafficking at the World Bank.
The Duke of Cambridge arrived early for his meeting with the president and was given a tour of the White House. He also met briefly with Vice President Joe Biden.
The White House said William was making his first trip to Washington. However, the president and wife Michelle have met William and Kate previously, including during a 2011 trip to London when the Obamas were hosted by Queen Elizabeth for a state dinner at Buckingham Palace.