Romney faces high stakes as Santorum moves on Michigan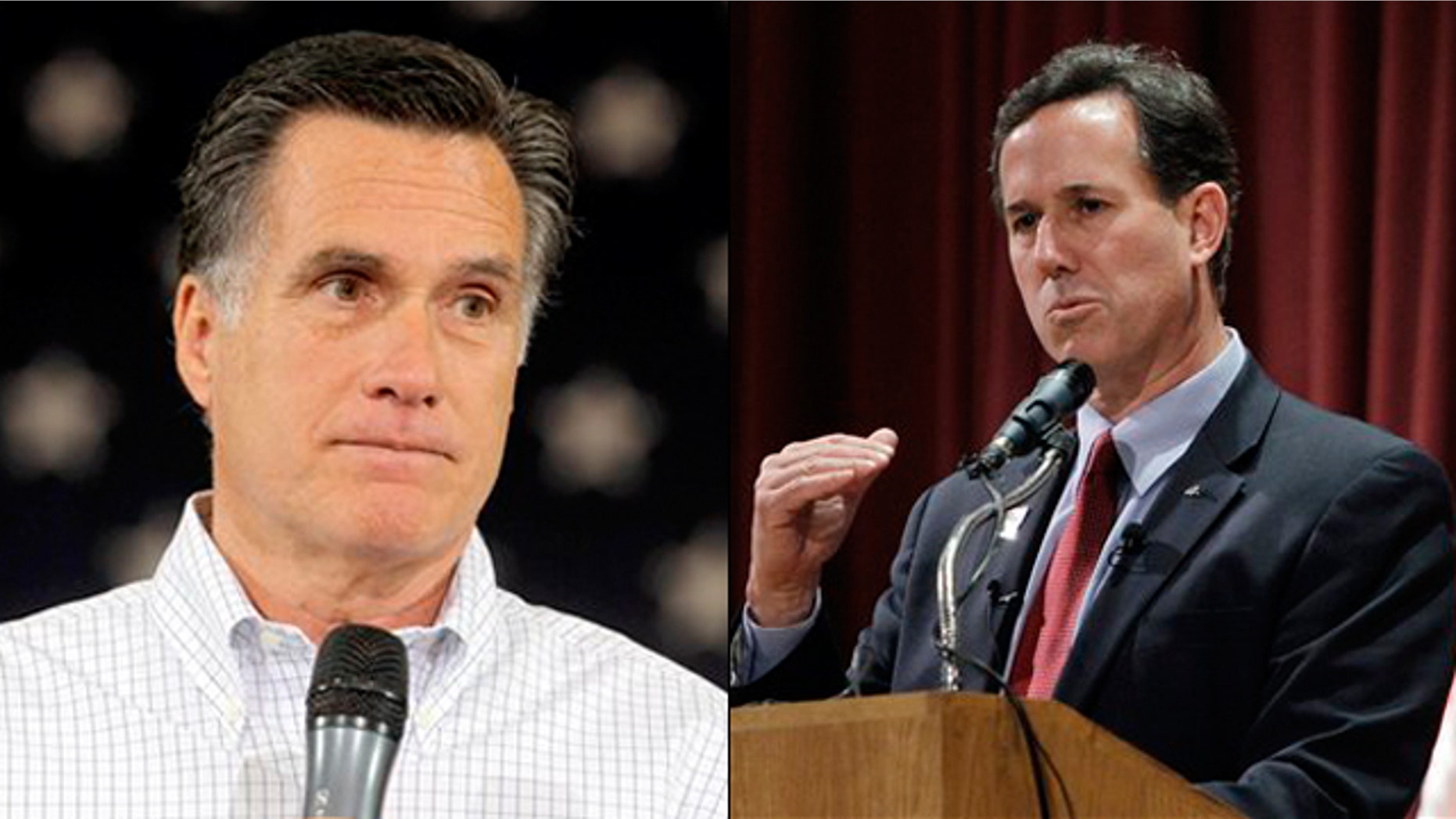 Mitt Romney leads in delegates but a surge by Rick Santorum in recent days has the Republican presidential frontrunner once again trying to cast an opponent as the flavor of the week -- and stave off a potential loss in a state critical to proving his electability in a general election.
Santorum, the former Pennsylvania senator, has leapt ahead in national polls as well as surveys in key primary states. Most troubling for Romney is how competitive Santorum has become in Michigan -- the state where Romney was born, where his father was governor and which he won four years ago.
A loss in next week's primary there would generate the worst kind of headlines for Romney's threatened presidential bid.
On Wednesday night, Romney has a chance, for the first time in nearly a month, to check his closest competitor's rise with a strong debate performance in Arizona, which is holding a primary alongside Michigan next week.
Romney will look to reprise the kind of commanding performances he pulled off after Newt Gingrich late surge to victory in South Carolina. Romney went on to win Florida 10 days later.
Since then, the 2012 race has been uncharacteristically free of national, televised debates. Candidates have even started to nix debates scheduled for early March, heightening the importance of the 20th meeting of its type this election season.
The other candidates are also looking for the same opportunities to light a fire under their campaigns.
Gretchen Hamel, executive director of the fiscal policy-focused nonprofit Public Notice, said Santorum could rally the audience with a compelling response -- just like Gingrich did in January when he challenged the moderator over a question about his ex-wife.
"Santorum has that opportunity tonight in this debate to do the exact same thing," Hamel said.
Gingrich, in an interview with Fox News on Wednesday, said he wants to return to the "big solutions" his campaign previously focused on -- blaming the "back and forth" of late on Romney's negative ads.
"I think you're going to see the person I've been for 15 out of 17 debates, which is focus on the big solutions, talk with the American people and try to stay out of the kind of negativity which unfortunately has characterized way too much of this race," Gingrich said.
The polls show Gingrich falling back considerably since his South Carolina win.
Nationally, an AP-GfK poll showed Gingrich and Ron Paul each with 15 percent. Santorum and Romney were knotted up at the top -- with 33 percent choosing Santorum, and 32 percent choosing Romney.
The poll of 1,000 adults was conducted Feb. 16-20. It had a margin of error of 4.1 percentage points.
In Michigan, an NBC News/ Marist poll showed Romney inching ahead of Santorum in a statistically tied survey, though Santorum has led in several other Michigan surveys. The poll showed Romney with 37 percent and Santorum with 35 percent, followed by Paul with 13 percent and Gingrich with 8 percent. Romney was leading Santorum by a healthy 16 points in Arizona, according to a separate NBC News/Marist poll.
Romney also picked up the endorsement of the Detroit News ahead of the CNN-sponsored debate.
Going into the showdown, Romney has tried to argue that Santorum is not the true conservative he makes himself out to be. He repeatedly blasts Santorum for having voted to raise the debt ceiling while in Congress, in addition to supporting earmarks.
"Senator Santorum hasn't been as carefully viewed by the American public as have the others. We had Donald Trump for awhile and then we had Herman Cain and we had Rick Perry and Newt Gingrich. They have all been vetted pretty carefully. Rick Santorum is now just being seen for the first time in many homes. And his background and mine are very different," Romney said Tuesday in Michigan. "I don't think Rick Santorum's track record is that of a fiscal conservative."
Santorum, campaigning in Phoenix on Tuesday, said Romney's ideological background is all over the map.
"In the case of Governor Romney, he's run as a liberal, a moderate and a conservative," Santorum said. "I ran as a conservative every time I ran. I didn't change my positions ever."
Meanwhile, both campaigns as well as the super PACs aligned with them are shelling out cash ahead of the Feb. 28 primaries.
The Santorum-supporting Red White and Blue Fund announced it made its second statewide ad buy in Michigan. In total, the super PAC has spent nearly $1.3 million in the state.
The Romney-supporting Restore Our Future super PAC just made a nearly $900,000 ad buy in Michigan.