Romney Campaigns in New Hampshire as GOP Spotlight Shifts to Iowa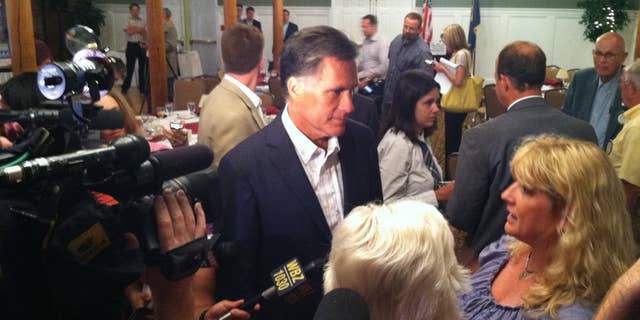 NEWYou can now listen to Fox News articles!
With most of the GOP field focusing their attention on Iowa ahead of the Straw Poll this weekend, former Massachusetts governor and Republican front runner Mitt Romney continued to concentrate his attention on New Hampshire.
Romney attended a Concord Chamber of Commerce round table Monday, chatting with local business owners about the economy and ways he will fix it should he be elected president. Prior to the event the governor spoke briefly to reporters about the decision by Standard and Poor's to downgrade the U.S credit rating to AA+. "The buck stops at the President's desk," said Romney, "and he needs to take the steps necessary to restore our financial standing."
GOP candidates have repeatedly questioned the president's economic decisions, and Romney has not been shy about trumpeting his success in the business world. This morning the governor noted that three years into Mr. Obama's administration the unemployment rate is still above 9 percent, adding, "the president is out of his depth when it comes to his understanding of the private sector."
During his 2008 presidential bid Mitt Romney invested $1 million to win the Iowa Straw Poll, but ultimately that failed to translate into enough support to win the Caucus. This time his campaign decided not to participate, but the victor could see a bump in poll numbers. Michele Bachmann is spending a considerable amount of time in Iowa, hoping her conservative message resonates with voters. Romney has largely ignored the Hawkeye State, believing strong showings in the early primary states will pave the way to the White House. However, later this week he'll attend the annual Iowa State Fair and is also scheduled to participate in Thursday's Fox News/Washington Examiner debate in Ames.