Republicans Unhappy With White House Pitch for Tax Hikes to Pay for Jobs Plan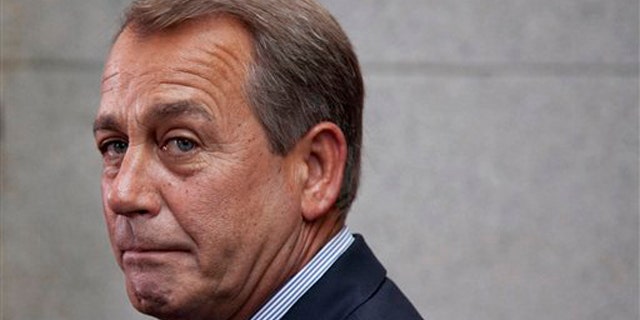 NEWYou can now listen to Fox News articles!
Republicans soured on parts of White House's plan to create jobs Monday after the president's budget director proposed paying for the $447 billion jobs bill with a string of tax increases that Republicans have long opposed.
White House Budget Director Jack Lew gave an overview Monday of how the president plans to keep his jobs bill deficit-neutral, as the administration sent the bill over to Congress. The proposals range from a limit on itemized deductions for high-income earners to provisions that would raise taxes on oil and gas companies as well as corporate jet owners.
House Speaker John Boehner spokesman Brendan Buck, noting the president has pushed these proposals before, suggested the president was getting off on the wrong foot.
"It would be fair to say this tax increase on job creators is the kind of proposal both parties have opposed in the past. We remain eager to work together on ways to support job growth, but this proposal doesn't appear to have been offered in that bipartisan spirit," he said in a statement.
House Republican Leader Eric Cantor's office sent out an email after the briefing titled: "Beware of the Tax Man."
The White House explanation also comes amid concern that the bill could make the job of the newly formed deficit "super committee" harder.
Lew said the proposals would more than pay for the bill, though the committee is free to find different ways to pay for it.
The scenario, though, puts the committee in a tight spot -- should the bill have a chance at passing. The panel already is charged with finding about $1.5 trillion in deficit savings by Thanksgiving. Should the committee members want to find different offsets for the Obama jobs bill, they'd have to find nearly $2 trillion in savings. But if the committee members don't change the Obama bill, they still would be unable to use any of the offsets included in the Obama plan for their own deficit-reduction plan.
Lew acknowledged this Monday, saying the tax proposals "can only be used once."
Though the president plans to give the committee a broader road map to reaching their deficit target, Republican members have expressed concern that the latest request will make it much harder to drum up enough avenues for deficit reduction in a mere two-month time frame.
"This proposal would make the already-arduous challenge of finding bipartisan agreement on deficit reduction nearly impossible, removing our options for deficit reduction for a plan that won't reduce the deficit by one penny," committee co-chairman Rep. Jeb Hensarling, R-Texas, said in a statement.
Obama, outlining how he plans to find additional savings, pointed last week to exactly the same targets the super committee was already looking at. The president mentioned three possible sources of money -- eliminating or reducing some tax deductions, making changes in entitlements such as Medicare and Medicaid, and making wealthier households pay "their fair share," a reference to tax increases.
"It's a balanced plan that would reduce the deficit by making additional spending cuts, by making modest adjustments to health care programs like Medicare and Medicaid, and by reforming our tax code in a way that asks the wealthiest Americans and biggest corporations to pay their fair share," Obama said during his address last week to a Joint Session of Congress.
Unveiling his bill in the Rose Garden Monday, he reiterated that it won't "add a dime to the deficit."
The super committee was already taking aim at trimming some of the $1.1 trillion in annual tax deductions, with some Democrats and Republicans in agreement. "We have to include revenues. It's not just spending, it also is revenues," Democratic Sen. Max Baucus, D-Mont., said.
Sen. Pat Toomey, R-Pa., said it is "indefensible" for large U.S. firms to pay little or no income taxes.
But while members of both parties are looking to trim tax deductions, Republicans hoped to use some savings for deficit reduction and some to lower tax rates, which could boost economic growth and perhaps job creation. The president's plan could siphon some of those savings away.
And the president's call to have the wealthy pay more in taxes is part of a much larger debate over tax reform, not an easy place to pick up a few hundred billion dollars.
Panel member Sen. Rob Portman, R-Ohio, accused Obama of "abdicating responsibility" by pushing off the hard work to the committee. Toomey said Obama was playing "pass the buck."
Though the president is entering risky territory by turning to tax changes off the bat, Democratic National Committee Chairwoman Debbie Wasserman Schultz said Monday that the wealthy must pay more in taxes.
"That is a glaring hole in the revenue that we generate in this country, and making sure that we don't continue to pile all the pain on those who can least afford it right now," she told Fox News.
The plan includes several proposals aimed at spurring private-sector hiring, while cushioning the pain for those out of work. Much like the 2009 stimulus, it also includes $130 billion in state and local government aid to plug budget gaps and avert layoffs.
At the heart of the plan is a call to cut payroll taxes for individuals and businesses. It includes several other targeted tax breaks, as well as about $50 billion in unemployment aid and billions of dollars in new infrastructure spending.
Fox News' Jim Angle contributed to this report.