Republicans to Add NPR Funding to 'You Cut' Budget Slashing Contest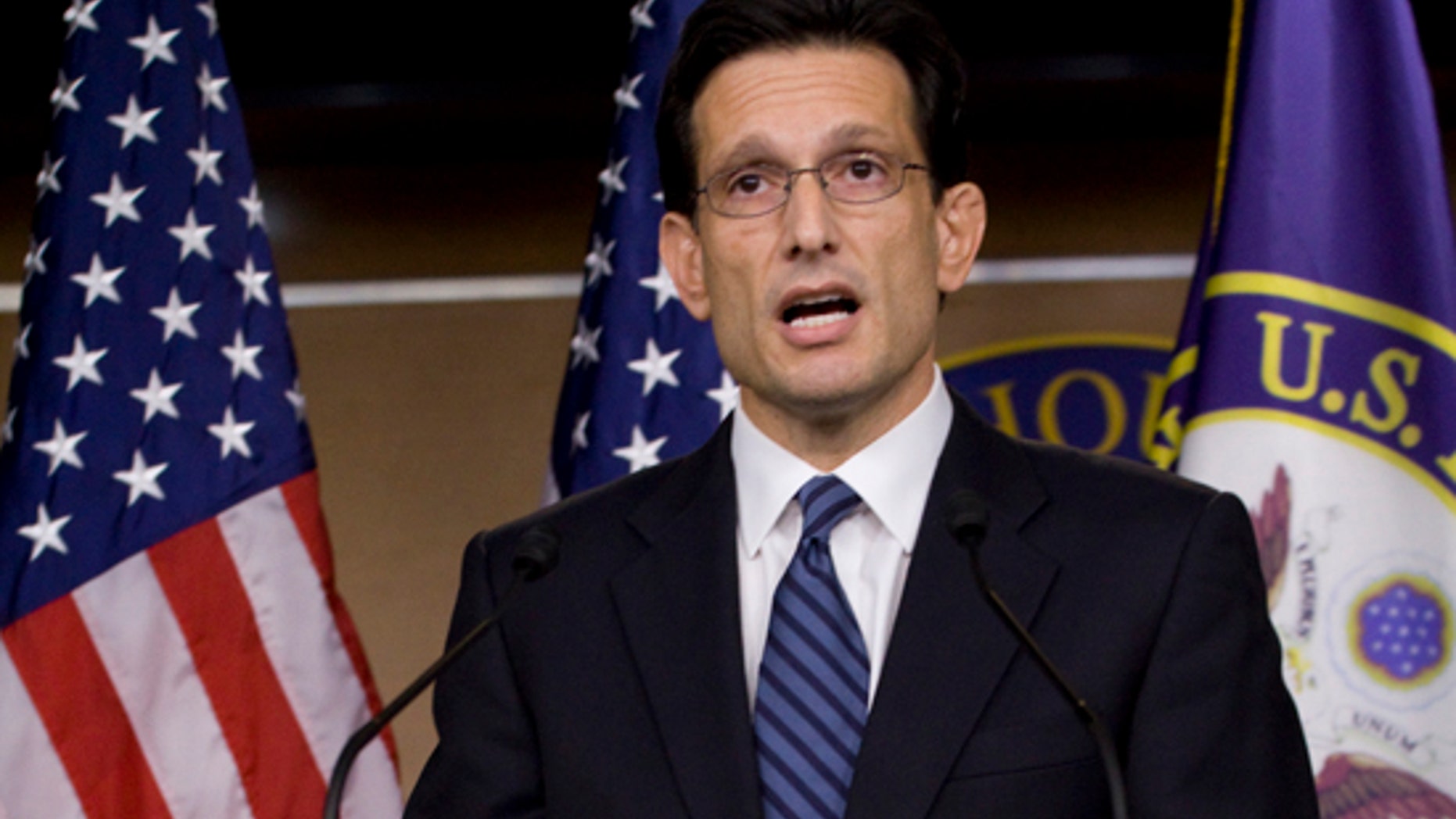 Citing an evident threat to free speech following the firing of Juan Williams from National Public Radio, House Minority Whip Eric Cantor said Friday he's going to include NPR's federal funding into a contest that lets Americans vote on top programs for Republicans to cut from the budget.
Cantor introduced You Cut in May. A weekly poll of sorts, participants choose from among five items that House Republicans will offer on the floor for an up-or-down vote.
Cantor, R-Va., said Friday that his adding NPR funding into the You Cut vote will enable Americans to "let it be known whether they want their dollars going" to the public broadcasting network.
"Whether it's people walking off 'The View' when Bill O'Reilly makes a statement about radical Islam or Juan Williams being fired for expressing his opinion, over-reaching political correctness is chipping away at the fundamental American freedoms of speech and expression," Cantor said.
"NPR's decision to fire Juan Williams not only undermines (free speech), it shows an ignorance of the fact that radical Islam and the terrorists who murder in its name scare people of all faiths, religions and beliefs," he continued.
So far, Republicans have had little success in cutting government programs chosen by You Cut voters. Since they do not have the majority in the House, Republicans are effectively prohibited from bringing legislation to the floor. However, winning the majority in the Nov. 2 midterm election could change all that.
In theory, if past You Cut "winners" had been slashed, government would have cut more than $145 billion from the budget. Among past winners for the budget knife are the federal employee pay raise -- worth $30 billion; mortgage guarantors Fannie Mae and Freddie Mac, whose reforms would be worth another $30 billion, according to House Republicans; and a repeal of the health care provision that allots $15 billion to pay for IRS agents to enforce the new law.
Smaller cuts included a prohibition on sleeper car subsidies to Amtrak  -- worth $1.2 billion -- and collection of unpaid taxes by delinquent federal employees -- an estimated $1 billion in money returned to Treasury coffers.
Since NPR announced Wednesday that Williams was terminated for appearing on Fox News' "The O'Reilly Factor" and admitting that people on airplanes wearing full "Muslim garb" make him nervous, several Republican lawmakers have called for defunding NPR, which receives about 1-3 percent of its budget from federal grant money.
On Thursday, Rep. Doug Lamborn, R-Colo., noted that he introduced legislation in June to defund the Corporation for Public Broadcasting, which receives about 13 percent of its funding from taxpayers and awards NPR some grant money.
Lamborn said that in 2010, taxpayers subsidized CPB with $420 million, and it has has requested $608 million for their next funding cycle beginning in 2013.
"Why in the world, in the era of trillion annual dollar deficits, should the taxpayer have to subsidize it to the tune of more than $400 million a year? It doesn't make sense," he said. "Even if NPR were truly neutral, which we see is not the case, taxpayers should not subsidize something that can stand on its own two feet."
But NPR only gets a small amount of that CPB money. Federal grants, including money from the National Endowment of the Arts,  total about $3.3 million of NPR's $166 million annual budget, the Associated Press reported. Most of its budget is funded by affiliates, corporate sponsors and major donors.
On Friday, Rep. Darrell Issa, R-Calif., the ranking member of the House Committee on Oversight and Government Reform, said he would appreciate liberal billionaire George Soros fully funding NPR.
Soros, who's funded several Democratic and leftwing causes over the years, is giving $1.8 million  -- through his Open Society Foundation -- to National Public Radio member stations to hire reporters to work on state government stories.
Issa said the contribution demonstrates that NPR no longer needs taxpayer money.
"With NPR benefiting from the generosity of people like MoveOn.org financier George Soros, it's obvious that NPR is now a self-sustaining entity that no longer needs to rely on federal funds," he said in a statement.
"Once NPR is free from the umbrella of accepting, receiving and being eligible for taxpayer dollars, maybe Soros can fully finance NPR's fall schedule with spin-offs of some of America's favorite shows such as, 'Dancing with the Czars' or 'Socialist Survivor' and 'Lost: The Obama Presidency,'" Issa said.