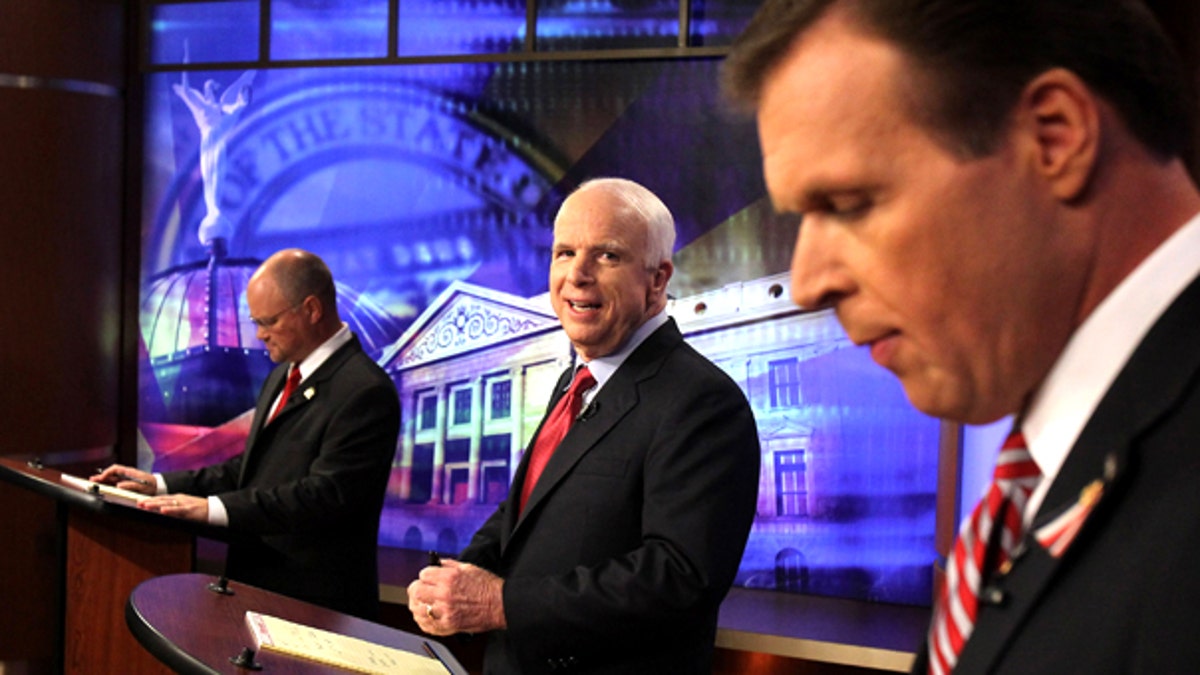 PHOENIX -- Former U.S. Rep. J.D. Hayworth had a much-needed opportunity Friday night to refocus Arizona's Republican Senate primary on incumbent John McCain, and he came out swinging.
McCain, Hayworth and political newcomer Jim Deakin squared off Friday in the first of two televised debates before Arizona's Aug. 24 Republican primary.
"It's really sad to see John McCain, who should be revered as a statesman, basically reduced to a political shape-shifter," he said, then turned to his opponent. "John, you've changed positions so much in this campaign maybe we'll have to set up an extra podium for you depending on which John McCain is going to answer which question."
And so it was for an hour as Hayworth lobbed a number of one-liners toward Arizona's senior senator, who has a comfortable advantage in fundraising and polling less than two weeks before early voting begins.
McCain's reply: "There he goes again. Facts are stubborn things." He touted his ability to lead and hammered Hayworth for his record in congress and his work as a registered lobbyist and infomercial pitchman after losing his re-election bid in 2006.
Hayworth has stumbled since video surfaced of his appearance in a 2007 infomercial hawking free government money on behalf of a Florida company accused of charging thousands of dollars for information that was readily available online or at a public library.
"These are the facts," McCain said. "J.D. Hayworth was a lobbyist. He was in late-night infomercials. He said he didn't do due diligence. My God man, didn't you know that this was a group that was taking people's money to say it could give them free (government) money...No one can say they're a conservative when they engage in that kind of activity."
The debate was also an opportunity for Deakin, a Navy veteran and businessman who has raised less than $35,000 for his campaign, to introduce himself to voters who know little about him. He criticized McCain and Hayworth as "career politicians."
Hayworth had been eager to debate and the four-term senator finally agreed last month.