Republicans are continuing to see strong early-vote turnout in key battleground states, potentially boosting their chances for at least holding the Senate even as analysts see Democrats holding the overall edge in the battle for House control.
Three states with toss-up Senate races report early-voting totals by party registration: Arizona, Florida and Nevada. In all three, the share of the early vote coming from registered Republicans rose several percentage points when compared with 2016.
In Arizona, for example, the share of early voters who are registered Republicans is up 3.5 percentage points from 2016. The share of Democrats is up 1.6 points, while unaffiliated voters are down 5.1 points. In that state, Democrat Kyrsten Sinema is locked in a tight race against Republican Martha McSally.
The early-vote stats do not show which candidates or party people voted for and represent only an indicator. But they do reveal voters' party registrations, which can in turn point to which side is more motivated to turn out.
"This is a good indicator of early enthusiasm," Stephen Ansolabehere, a professor of government at Harvard University, told Fox News. "Certainly this doesn't look like a Democratic surge in these states."
Not everywhere holds good news for Republicans. Iowa also keeps track of early votes by party, but Democrats have gained in the early-vote share compared with 2016. It has no Senate race this year, but several close House races.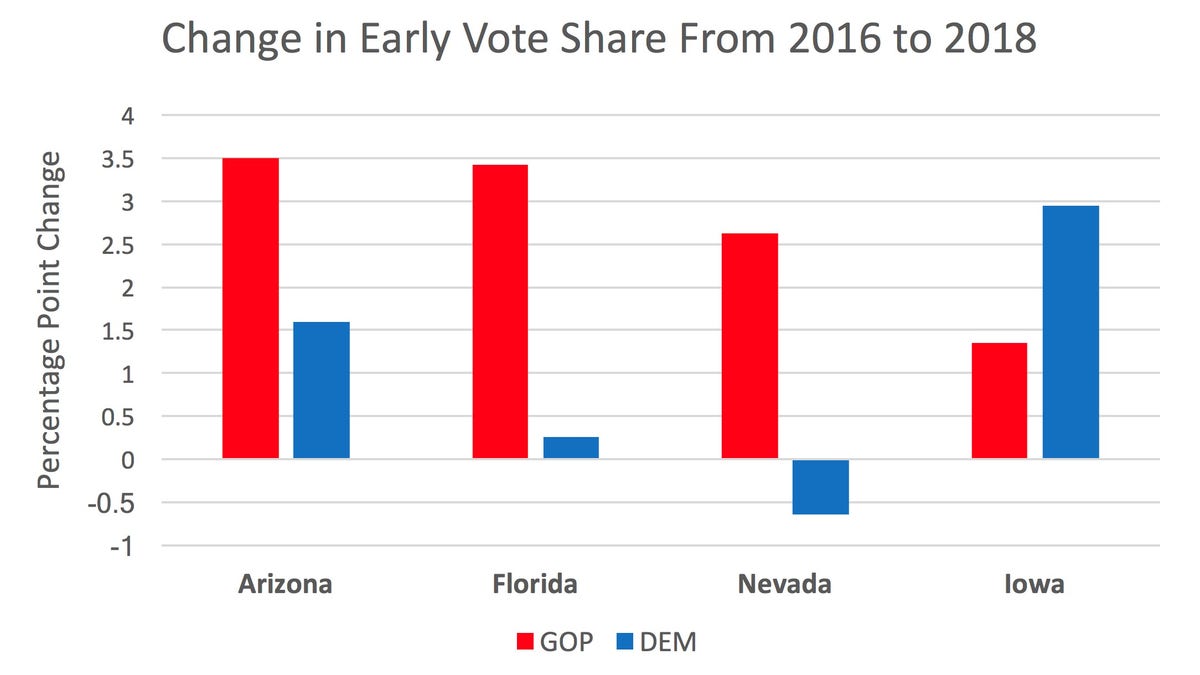 Early-vote shifts often precede shifts in the final outcome. In 2016, early-vote data in Florida, Nevada and Iowa showed a shift toward Republicans compared with 2012. That indicated the direction of the 2016 final results; all those states did shift Republican compared against 2012 (the shift was large enough to flip Florida and Iowa, but not Nevada, which merely became tighter). Likewise, in Arizona, a rise in 2016 Democratic early voting pointed to an overall shift toward Democrats. Even though President Trump won Arizona, the state was much closer in 2016 than it had been when it went Republican four years earlier.
In Florida, where outgoing GOP Gov. Rick Scott is running against Democratic Sen. Bill Nelson, the shift was large enough this year that more Republicans than Democrats early voted. More Republicans than Democrats also early voted in Arizona.
In Nevada, a state with more registered Democrats than Republicans, Democrats still have an edge in early voting -- but it's 3.28 percentage points smaller than in 2016, a year in which Democratic Senate candidate Catherine Cortez Masto won her race by a close 2.42 points.
A spokesman for Sen. Dean Heller, the embattled Republican fighting to hold back Democrat Jacky Rosen in his re-election fight, told Fox News that his campaign is happy with the numbers.
"Early vote has shown what we've always said was the case: Nevadans are excited to turn out and vote for Dean Heller, who has delivered time and again," Keith Schipper, Heller's campaign spokesman, said.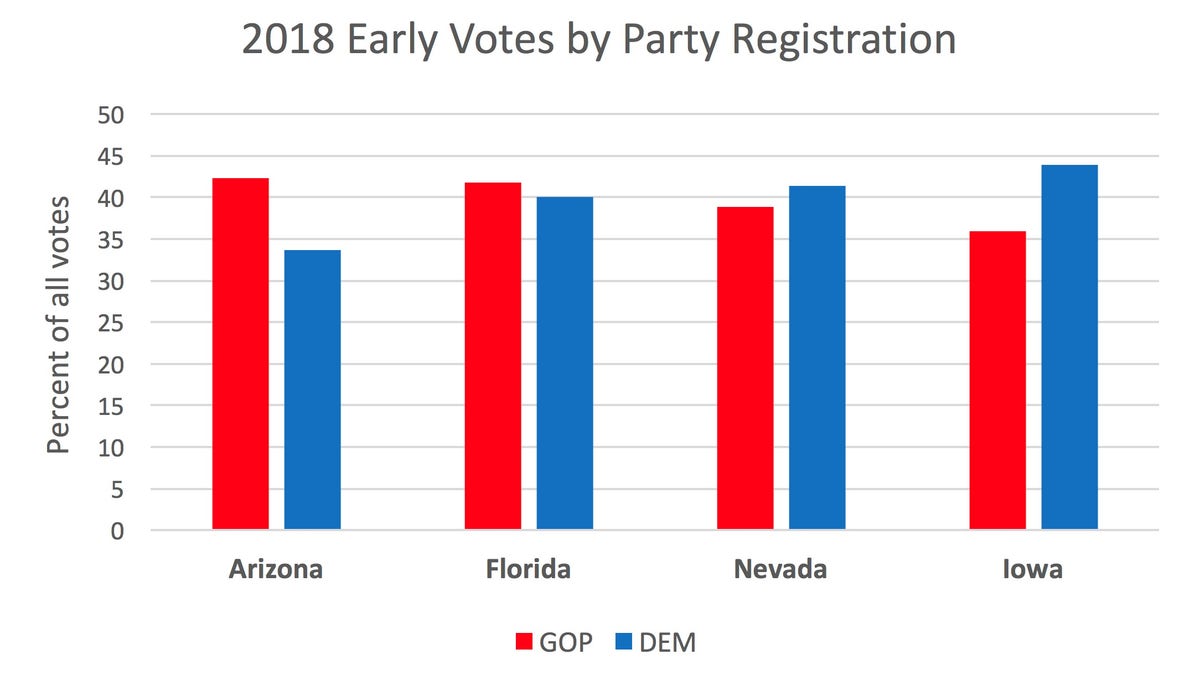 Early-vote data from Nevada also suggest that recent events did not significantly change turnout. While President Trump publicly worried on Twitter last week that media coverage of mail bombs sent to Democratic figures might hurt Republican early voting, day-by-day data from Nevada compiled by Fox News show fairly similar turnout before and after the package bombs became publicized.
Early voting is particularly crucial in a state like Nevada, where 69 percent of ballots were cast early in 2016. While the early-vote numbers hold positive signs for Republicans in the three states, the races remain extremely close, and early voting data comes with a host of caveats.
Former Bush strategist Karl Rove wrote of the pitfalls of reading into early voting in The Wall Street Journal: "Early voting is only a preview of the election—and not always an accurate one. Trends favoring Republicans may not continue ... independents could break decisively against the GOP; or soft Republicans could cast protest votes, diminishing the party's apparent improvements."
Rove went on: "Moreover, the GOP early-voting advantage could turn out to be fool's gold: Republicans may be transferring votes from Election Day to early or absentee ballots without expanding the universe of GOP voters."
The types of Republicans and Democrats could also be quite different in a midterm year than in 2016, a general election year.
"Democrats thought that their lead in early/absentee indicated they would carry [Florida] in 2016. They didn't," Ansolabehere observed.
"Not all the data is in yet for 2018," he added. "Those two caveats in mind, this is encouraging news for Republican leaders."
The author, Maxim Lott, is Executive Producer of Stossel TV and creator of ElectionBettingOdds.com. He can be reached on Twitter at @MaximLott