Republican Resurgence Likely to Derail 'Immigration Reform'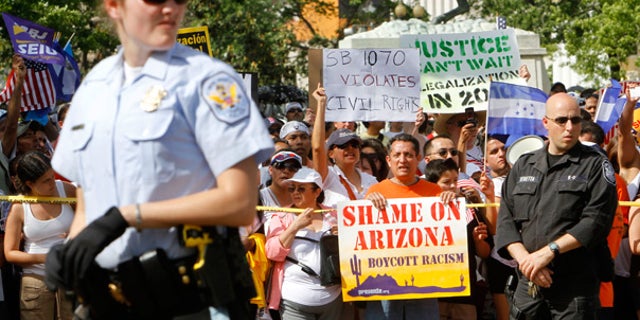 As part of an 11th-hour appeal, President Obama warned Hispanic voters last month that the fate of "comprehensive immigration reform" would hinge largely on Tuesday's midterm elections.
Now that Republicans, through sweeping gains in those elections, have captured the House and diminished the Democratic majority in the Senate, the fate of that initiative is very much in doubt.
Rep. Lamar Smith, R-Texas, who is expected to become chairman of the House Judiciary Committee, said "immigration reform" will be pushed aside for streamlined enforcement of current laws.
"The enforcement of our immigration laws is critical to both our national security and economic prosperity," he told the San Antonio Express. "We need to know who is entering our country, and why."
He told the newspaper that the committee under his leadership would "enact policies that will better secure our border and discourage illegal immigration, human smuggling and drug trafficking."
A Fox News national exit poll found that of the 8 percent of voters polled who identified illegal immigration as their top issue in the 2010 election, 68 percent were Republican while 27 percent were Democrat.
Another poll, conducted on Election Day by the anti-illegal immigration group FAIR, found that 69 percent of people surveyed consider immigration an important issue and 61 percent believe Obama "has not been aggressive enough in enforcing immigration law."
FAIR is pushing the new Congress to focus on border security.
"FAIR urges the leadership of the next Congress to embrace the agenda of the American people and transform our immigration policy to place their interests first," Dan Stein, president of FAIR, said. "The American people want our immigration laws enforced and overall levels of immigration reduced. They have clearly repudiated efforts to enact amnesty for millions of illegal aliens and increase foreign labor for business interests."
Republicans now have a record number of Latinos joining the next Congress, including Marco Rubio in the Senate and seven others in the House. They could prove a convincing force in the drive to shore up weak immigration laws.
Democrats tried to pounce on Republicans for their support of Arizona's controversial law that clamped down on illegal immigrants and their opposition to birthright citizenship and earned-citizenship proposals.
A week before Tuesday's election, Obama appealed to Hispanics in an interview on Univision Radio to vote for Democrats who would give him the support he needed to pass bills that overhaul the immigration system and provide a path to citizenship for illegal immigrants already in this country.
"And if Latinos sit out the election instead of saying, we're going to punish our enemies and we're going to reward our friends who stand with us on issues that are important to us, if they don't see that kind upsurge in voting in this election, then I think it's going to be harder – and that's why I think it's so important that people focus on voting on Nov. 2," he said.
Obama later said he should have used the word "opponents" instead of "enemies."
But not only did Republicans shake up Washington, they also captured a majority of governor's mansions across the country, which is also likely to affect the national debate on immigration reform.
Two Hispanic Republican-elect governors – Brian Sandoval in Nevada and Susanna Martinez in New Mexico – both will represent Southwest states, but they aren't bowing to immigration doves.
Sandoval has said he supports Arizona's immigration law but has been told by law enforcement officials that it is not needed in Nevada, which tops the nation in unemployed and illegal workers. Martinez has vowed to start seeking to repeal a state law that allows illegal immigrants to obtain driver's licenses and opposes providing illegal immigrants with free tuition through taxpayer-funded lottery scholarships.
But some Democrats aren't giving up on immigration reform just yet.
Senate Majority Leader Harry Reid promised before his re-election victory that he would bring up the DREAM Act for a vote in the lame duck session. The measure would grant conditional legal status to some illegal immigrant students under certain conditions.
Rep. Michael Honda, D-Calif., chairman of the Congressional Asian Pacific American Caucus, said he intends to introduce an immigration reform bill in the next Congress.
"With Republicans now in the majority in the House of Representatives, many policies will probably change radically," he wrote in an opinion article published in the San Francisco Chronicle. "What must not change, however, is work on immigration reform."
Honda said his bill will allow all Americans to be reunited with their families, including gay couples.
"The benefits of this policy cannot be overstated: American workers with their families by their side are happier, healthier and more able to succeed than those living apart from loved ones for years on end," he wrote. "This is a time when we must use every available resource to stimulate our economy and control government spending. That is why comprehensive immigration reform makes good sense."