Report: Congressman's Wife Advertised for Fundraiser, But Home on House Arrest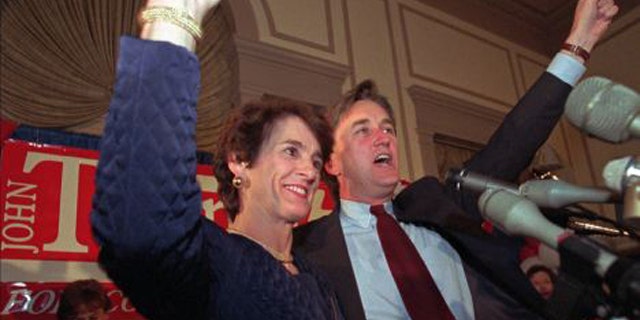 NEWYou can now listen to Fox News articles!
Rep. John Tierney is hosting a fundraiser Friday night on "Women Taking the Lead," but don't expect his wife -- listed on the invitation -- to attend since she's under house arrest.
The Massachusetts Democrat listed his wife Patrice as part of the host committee for the $100-a-plate fundraiser, the Boston Herald reported Wednesday, but Mrs. Tierney won't be there because she's got to stay home until August, when the sentence is lifted on her conviction for aiding and abetting her brother, Robert Eremian, in filing false tax returns. Eremian is currently a fugitive.
"Mrs. Tierney is definitely not attending the event," Tierney spokeswoman Jennifer Flagg told the newspaper. "She wouldn't do anything to step out of the terms of her probation."
Patrice Tierney spent a month in jail and was released in March, at which time she was put on supervised probation, the first five months at home. She reportedly does not wear a GPS bracelet.
Click here for more of the story from The Boston Herald.