Rep. McClintock quits Freedom Caucus over Planned Parenthood tactics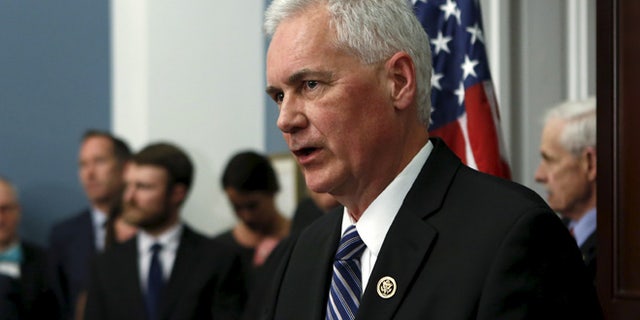 NEWYou can now listen to Fox News articles!
A key House Republican resigned from the conservative House Freedom Caucus Wednesday in what may be the first sign that there could be cracks in the group of 30-40 House members pressuring GOP leadership to vote to defund Planned Parenthood.
California Republican Rep. Tom McClintock, regarded as one of the most conservative members In the House wrote to Chairman Jim Jordan, R-Ohio, to announce his resignation from the House Freedom Caucus.
In the letter, McClintock says that he believes "the tactics the HFC has employed have repeatedly undermined the House's ability to advance" its conservative principles, specifically in its methods in trying to defund the Department of Homeland Security, Planned Parenthood, and the approach to the Iran nuclear deal.
On the Iran deal, McClintock objected to HFC threatening to combine with House Democrats to defeat a Resolution of Disapproval of the deal, which he claims forced the GOP leadership to abandon it in favor of a "symbolically and legally meaningless vote."
On the issue of Planned Parenthood, McClintock said he opposes the HFC's tactic of vowing to shut down the government over funding of the controversial group.
"I have strongly opposed the public funding of abortions throughout my 29 years of public office, but this tactic promises only to shield Senate Democrats from their responsibility for a government shutdown and to alienate the public from the pro-life cause at precisely the time when undercover videos of Planned Parenthood's barbaric practices are turning public opinion in our favor," McClintock wrote, adding that he feels this is why leading pro-life organizations have been unwilling to back the HFC's position.
McClintock concludes that the HFC's "many missteps" have been counterproductive and that he no longer wishes to be associated with the group.
Fox News' Chad Pergram contributed to this report.