Rep. Kennedy slams 'bullies' in SOTU response, blames ChapStick for mishap
Rep. Joe Kennedy III slammed "bullies" in his response to President Trump's first State of the Union address Tuesday night, though couldn't escape the social media scrutiny that dogs nearly every lawmaker tapped to give the 'SOTU' rebuttal these days.
Shortly after the president addressed the nation, promising unity and touting his administration's accomplishments to "Make America Great Again," the 37-year-old congressman and member of one of America's most prominent political dynasties lamented how the country is "fractured," offering an "answer" from Democrats.
"Because the strongest, richest, greatest nation in the world shouldn't leave anyone behind," Kennedy said, criticizing the Trump administration's plan to repeal and replace ObamaCare, its infrastructure plans and more. His speech did not offer a clear "answer" from Democrats, but instead listed affordable education and health care as important policies.
During his speech, though, Twitter was buzzing with questions over the apparent moisture in the corner of Kennedy's mouth, that some speculated appeared to be drool or some sort of water.
"Rubio had his water. Kennedy has his drool," American Conservative Union Chair Matt Schlapp tweeted, pointing to Sen. Marco Rubio's now-infamous mid-rebuttal pause for a drink of water.
Kennedy, though, later claimed it was a generous application of ChapStick.
He told CNN that Tuesday's ChapStick was "a little too much, apparently." On ABC's "Good Morning America" on Wednesday, he said he "decided to go a little bit light on the ChapStick this morning."
During his rebuttal, Kennedy took numerous shots at the Trump administration.
"Bullies may land a punch. They might leave a mark. But they have never, not once, in the history of our United States, managed to match the strength and spirit of a people united in defense of their future," Kennedy said. "Politicians can be cheered for the promises they make. Our country will be judged by the promises we keep."
Kennedy spoke at a technical school in Fall River, Mass., and stood in front of a Ford Mustang and three flags -- the American flag, the Massachusetts state flag and the school flag.
"We see an economy that makes stocks soar, investor portfolios bulge and corporate profits climb, but fails to give workers their fair share of the reward," Kennedy said, listing other complaints on behalf of the Democrats.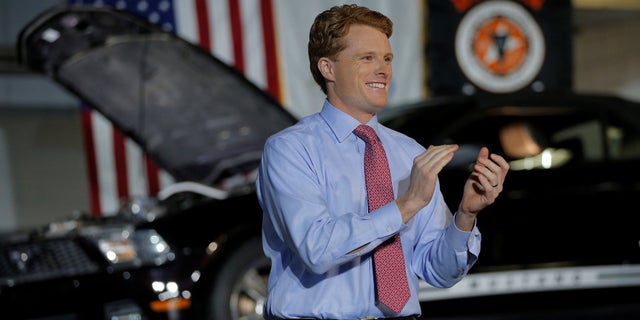 "A government that struggles to keep itself open. Russia knee-deep in our democracy. An all-out war on environmental protection. A Justice Department rolling back civil rights by the day. Hatred and supremacy proudly marching in our streets. Bullets tearing through our classrooms, concerts and congregations. Targeting our safest, sacred places," Kennedy said.
"And that nagging, sinking feeling, no matter your political beliefs: This is not right. This is not who we are."
The congressman is the son of six-term Massachusetts Rep. Joe Kennedy II and the grandson of Sen. Robert Kennedy, who was assassinated in 1968. His two great uncles are former President John F. Kennedy and former Sen. Edward "Ted" Kennedy.
Kennedy followed in one great uncle's footsteps Tuesday. Ted Kennedy delivered the Democratic response to former President Ronald Reagan's address in 1982.
In the past, Sen. Marco Rubio, R-Fla, and former Louisiana Gov. Bobby Jindal gave Republican responses. Both ran for president in 2016.
REP. JOE KENNEDY III TO DELIVER STATE OF THE UNION REBUTTAL: WHAT TO KNOW
Kennedy's rebuttal was the official Democratic response, with Virginia state Delegate Elizabeth Guzman giving a Democratic response in Spanish.
Kennedy, though, addressed "Dreamers," and spoke a message to them in Spanish, followed by an English translation.
"And to all the Dreamers watching tonight, let me be clear: You are a part of our story. We will fight for you. We will not walk away."
Kennedy was referring to the hundreds of thousands of immigrants who were brought to the U.S. illegally as children. Those immigrants were protected by the Obama-era Deferred Action for Childhood Arrivals (DACA) program, which was eliminated by the Trump administration in September. The administration, however, offered Congress a six-month window to create legislation to protect Dreamers.
During Trump's State of the Union address, he noted that "Americans are dreamers too," and said that he has a "four-pillar" plan on immigration. Trump did not go into full detail on the plan that would replace DACA, but rather noted that "those who meet education and work requirements, and show good moral character, will be able to become full citizens of the United States."
The Associated Press contributed to this report.