Recession Not Over for Congressional Candidates Despite Panel Ruling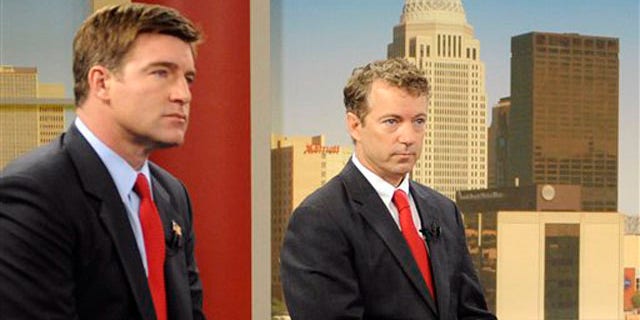 A Cambridge-based economics panel declared last month that the recession is over -- in fact, it ended in June 2009.
Just try telling that to congressional candidates. The judgment of one Massachusetts board has done little, if anything, to change the campaign trail rhetoric with Election Day mere weeks away. Candidates and lawmakers, particularly those arguing against a massive tax increase, continue to insist that the recession is ongoing and the nation is stuck in the "middle" of it.
Jack Conway, the Democratic nominee for Senate in Kentucky, was the latest to repeat that claim during a debate with Republican Rand Paul on "Fox News Sunday."
"I think that raising taxes -- we shouldn't be doing it in a time of recession," Conway said, battling the charge that he in any way opposed the extension of the Bush tax cuts.
Conway's not alone among politicians in describing the downturn as a full-blown recession. There may be good reason -- poll after poll shows most Americans are on the same page. A Fox News poll released in August showed 88 percent of voters think the country is still in a recession, including 48 percent who think conditions could get worse. A Fox News poll released in September showed 86 percent say it feels like the country is in a recession.
A recession is technically defined as two consecutive quarters of economic decline. The National Bureau of Economic Research, which tracks these trends, issued a statement Sept. 20 saying the recession officially lasted 18 months -- starting in December 2007 and ending in June 2009. That marks the turnaround from economic decline to economic growth.
But in a climate where the unemployment rate is inching back toward 10 percent and businesses are sitting on their reserves, the declaration offers little comfort. Even the bureau said the announcement does not mean "economic conditions since (June 2009) have been favorable or that the economy has returned to operating at normal capacity."
As long as the economy is sputtering, many politicians say the United States might as well be in recession as they appeal to voters for confidence in their commitment to spurring job creation.
Both the Republican and Democratic nominees for the 3rd District House seat in Arkansas told local news channel KFSM-TV last week that the recession is not over. Democrat David Whitaker and Republican Steve Womack pointed to high unemployment and low investment by businesses in making their case.
The claim that the recession is alive and not-so-well is most common in the debate over whether to extend the Bush tax cuts. Those who want them extended for all income levels cite the "recession" as the reason -- it's become a talking point for members of both parties.
"We should not be raising taxes in the middle of a recession," Rep. Jim Marshall, D-Ga., wrote in a letter to House Speaker Nancy Pelosi.
Jaime Herrera, a Washington state representative running as the GOP nominee for the 3rd District House seat in her state, wrote in a questionnaire for the Daily News Online that "raising taxes in the middle of a recession will harm job growth."
Republican Senate Leader Mitch McConnell has repeatedly made that argument, and his rank-and-file are starting to follow suit.
Louisiana Republican Sen. David Vitter, who's facing a challenge this year from Democratic Rep. Charlie Melancon, said last month it would be "crazy" to raise taxes in a recession.
The recession rhetoric was not enough to bring up the tax cut issue for a vote before Congress adjourned last week. Democratic leaders, who want to extend the tax cuts for the middle class but raise taxes on the wealthy, are pledging to tackle the issue when they return from recess in November.
Republicans have voiced their doubts. House GOP Leader John Boehner last week equated the vote to adjourn with a vote to raise taxes.