Protesters take a knee outside Sessions speech at Georgetown
WASHINGTON – The controversies over free speech on campus and the football field collided Tuesday when Attorney General Jeff Sessions delivered an address on the First Amendment at Georgetown University -- and students and faculty protested by 'taking a knee' outside the venue.
More than 100 protesters, some holding signs and others with black tape over their mouths, crowded the steps outside the law school auditorium, where Sessions in his address declared that freedom of speech on campuses is "under attack."
Sessions was responding in part to conservative speakers shut out of college campuses under the threat of violent protests. The protesters against Sessions were not violent, but came out in force for the talk just steps from the U.S. Capitol.
The protesters -- at least one wearing a knee pad – bent down on one knee in apparent solidarity with the NFL players who, during the national anthem, protest police shootings of African-Americans.
"He has proven himself over and over again as against free speech, against justice, and today we take a knee," a female protester with a bullhorn said of the attorney general.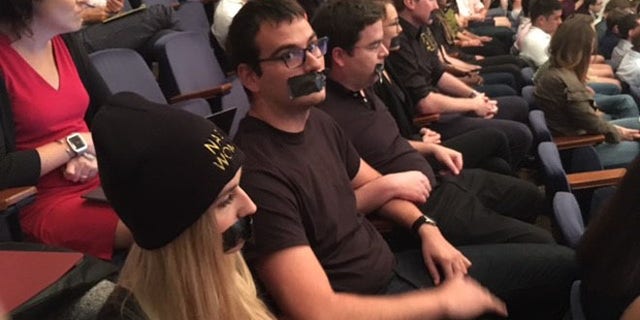 Protesters displayed signs that referenced both football player Colin Kaepernick, who has famously kneeled during the national anthem, and Sessions' visit.
"What about KAEP?" one sign read.
Other protester signs included: "Hate Speech Is Not Free Speech," "Defend Free Speech, Denounce Sessions," "Black Lives Matter" and "Free Speech Does Not Belong To White Men."
SESSIONS SAYS DOJ WILL ENTER LEGAL 'STRUGGLE' OVER FREE SPEECH ON CAMPUS
"We respect your views no matter what they are," Sessions said of the protesters outside. "We will defend your views and the right to express them in an appropriate and effective ways."
But Sessions, asked about the NFL controversy, made clear he doesn't like the kneeling from some players. He said "the president has free speech rights too" to express his distaste for the actions of the players.
"There are many ways these players, and all the assets that they have, can express their political views other than in effect denigrating the symbols of our nation, the nation that's provided our freedom to speak and act," Sessions said.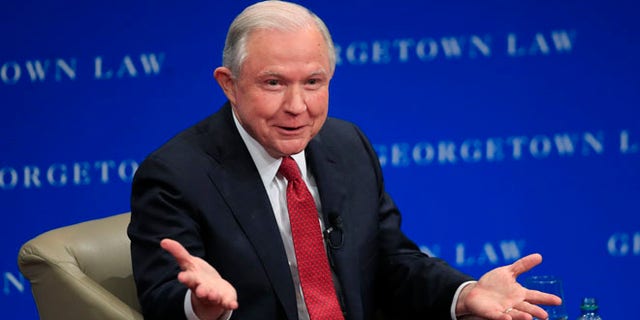 President Trump reignited the debate over the football players who kneel with comments during a rally on Friday.
"Wouldn't you love to see one of these NFL owners, when somebody disrespects our flag, to say get that son of a b---- off the field, right now, out?" Trump said.
Most protesters on Tuesday were confined to free speech zones outside the auditorium. But inside the auditorium, a small group of protesters in all-black attire stood up and placed tape over their mouths as a question-and-answer session with Sessions began.
Despite the activity outside, Sessions was not interrupted during his speech. The only outburst came at the end of his remarks when someone in the crowd yelled "Roll Tide," a reference to Alabama's football team. Sessions is a former Alabama senator.
Protesters outside the event claimed they had been banned from being inside. But Randy Barnett, a constitutional law professor and director of the Georgetown Center for the Constitution who moderated the event, told Fox News he did not screen attendees for political views. He said the event, though, was invitation-only and attendees included his own students.
Barnett said the university streamed the speech online so anyone else who wanted to listen could.
He acknowledged the speech "attracted considerable interest from the student body, as well as from my colleagues."
Ahead of the event, more than 30 Georgetown professors signed a letter protesting the appearance, writing: "A man who fails to recognize paradigmatic violations of the First Amendment is a poor choice to speak about free speech on campuses."
But Barnett said he was glad Sessions showed up.
"We are very pleased, Mr. Attorney General, that you chose us and Georgetown Law as a venue from which to offer your thoughts on this subject," Barnett said.
Fox News' Jake Gibson contributed to this report.