Protected by the cross: Churches across nation offer sanctuary for undocumented immigrants facing deportation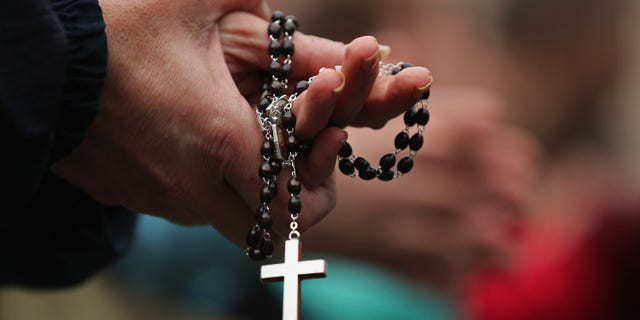 NEWYou can now listen to Fox News articles!
It has been over 50 days since Rosa Robles Loreto last saw her two boys, ages 8 and 11, throw a baseball.
A 15-year resident of Tucson, Arizona, Robles Loreto religiously attended every practice and game, cheering her sons on as her husband coached the team.
Today, her family visits her at the Southside Presbyterian Church, where she has been living in a 15 X 20 room since August 7th. Ordered to be deported after a minor traffic violation, Robles Loreto, an undocumented immigrant from Mexico, spent 53 days in immigration detention and then, unsuccessful in her deportation battle, turned to her congregation for help.
Her church is one of two dozen across the nation that, at risk of breaking the law, are offering undocumented immigrants sanctuary – a safe haven – to those facing deportation orders issued by Immigration Customs Enforcement, or ICE.
Robles Loreto is one of five undocumented immigrants currently being protected in churches nationwide under the so-called "sanctuary movement."
"My struggle goes further than from my immediate family, and it is a call and a national petition so that others can also have hope and establish their lives here, where we have already lived for so long," she said in a phone conference organized by the sanctuary movement.
The movement, first active in the 80s, encourages churches to offer room, board and protection to select undocumented immigrants in their communities who are facing final orders of deportation.
Outraged with President Barack Obama's immigration policy, and his decision to put off executive action on the issue until after the midterm elections, the churches believe it is now their obligation to open their doors to immigrants who, otherwise, would be split from their families and, in some cases, sent back to gang violence in Central America.
"The church has a responsibility to the law when the law is moral, and upholds human dignity," said Rev. Julian DeShazier of University Church Chicago, one of the churches currently open to harboring undocumented immigrants. "When it is not [moral], we have a responsibility to call attention to that," he told Fox News Latino, calling on Obama to act on keeping undocumented immigrants currently in sanctuary a stay of removal or deferred action on their deportation.
The sanctuary movement is the first of its kind since the early 1980s, when churches began offering sanctuary to asylum seekers fleeing civil wars in Guatemala and El Salvador. Thus far, 24 churches in twelve cities – including Philadelphia, Chicago, Tucson and Denver – have agreed to shelter undocumented immigrants with outside help from over 50 congregations offering food and money to offset costs of sheltering an immigrant for months at a time.
The churches are taking advantage of a 2011 ICE memorandum, prohibiting ICE agents from arresting, interviewing, searching, or even surveilling undocumented immigrants at "sensitive locations such as schools and churches." The only exception to the rule is if the immigrant is involved in a national security or terrorism matter, is a dangerous felon, terrorist suspect, or there is an imminent risk of destruction of evidence to an ongoing criminal case.
"We are confident they [ICE] won't enter the sacred space of a house of worship. We are hoping they continue to keep that promise," said Rev. Alison Harrington of Southside Presbyterian Church in Tucson, known as the birthplace of the Sanctuary Movement more than 30 years ago.
Still, there is hesitation among congregations to offer full out shelter because they are afraid they are breaking the law by concealing, harboring, or shielding non-citizens. Though, depending on the district, some legal opinions say that if an undocumented immigrant is publicly known to be taking shelter somewhere, then it's legal. In some cases the decision to harbor shelters is being decided by congregation leadership; in other churches, it's being put up for vote for the entire congregation to decide.
"When a family makes a decision to disobey an order of deportation in a very public action – they are entering a pretty hard time," said Peter Pedemonti, Executive Director of the New Sanctuary Movement Philadelphia. "They are willing to sacrifice. They aren't able to leave the premises. They aren't going to be working. It is public and they leave themselves open to anti-immigrant protests."
Rosa Robles Loreto is not alone. In Tempe, Arizona, Luis Lopez Acabal, a husband and father of two U.S. citizen children, one of whom has autism, has been in sanctuary at the University Presbyterian Church since September 4th.
Lopez Acabal emigrated from Guatemala, escaping gang violence, at the age of 16 and is the only breadwinner for his family over the last seven years.
He too will not leave the church until his deportation order is stopped.
"I don't want to be separated from my family, I'm not going to leave until ICE gives me a response to my request," Lopez said.
Church leaders and supporters of the "Sanctuary Movement" continue to cite biblical scripture citing teachings of Jesus to love thy neighbor and to welcome the stranger among us. But Rev. Noel Anderson of the Grassroots Coordinator with Church World Service, points out many being deported aren't strangers at all and have been a part of their communities for decades.
"They are not strangers; these congregations are answering God's call to love our neighbor as we love ourselves," he said.