Prop. 8 Sponsors Ask Appeals Court to Block Calif. From Resuming Gay Weddings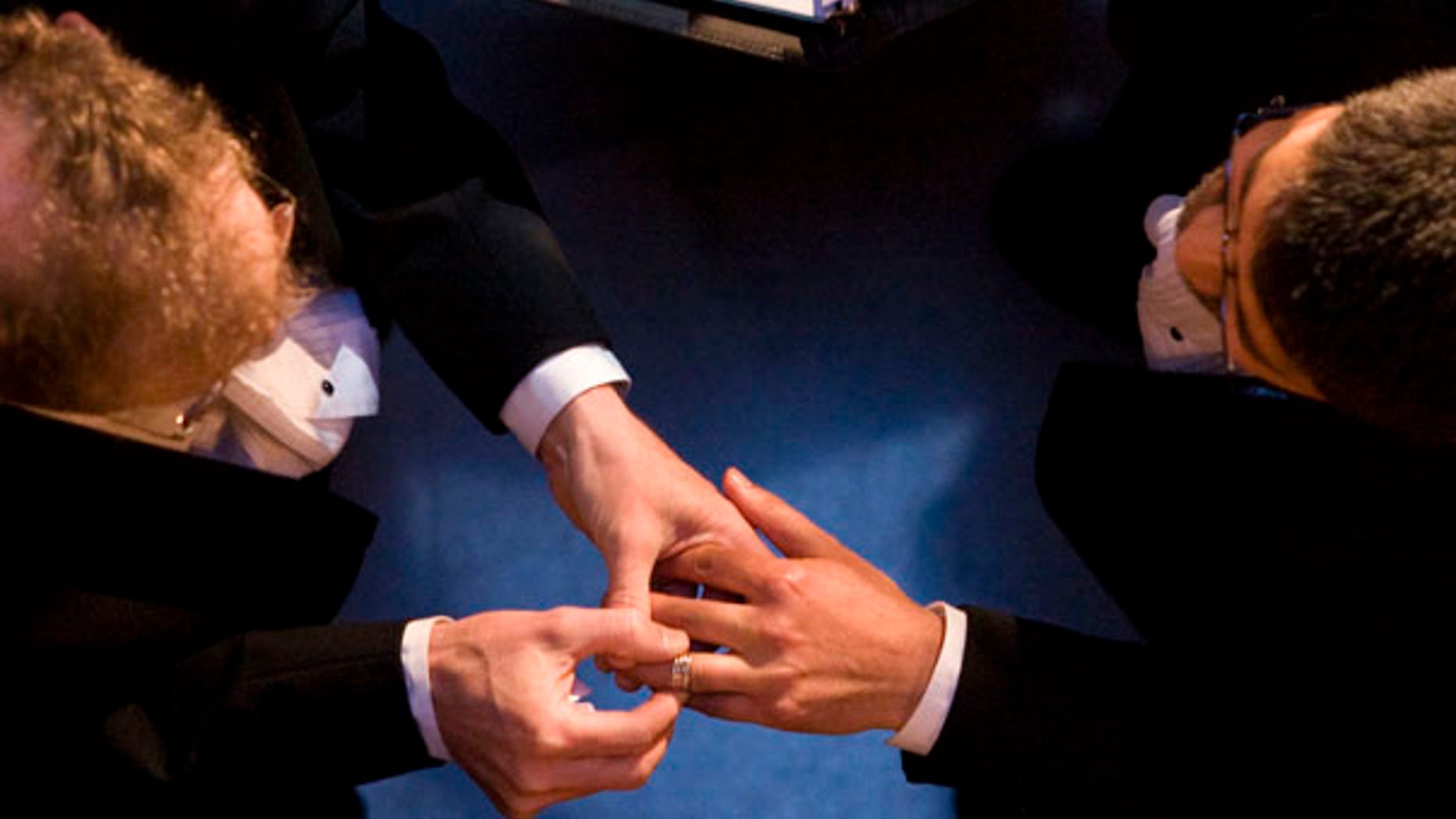 The sponsors of California's gay marriage ban didn't take long to act on a federal judge's ruling Thursday that gay marriages can resume in the state next week. The sponsors have asked an appeals court to stay the judge's ruling while an appeal is considered.
Judge Vaughn Walker, who ruled last month that California's gay marriage ban was unconstitutional, said Thursday that his stay of that ruling would remain in effect only until 5 p.m. Wednesday. That leaves time for the 9th U.S. Circuit Court of Appeals to weigh in, and lawyers defending Proposition 8, the state's voter-approved gay marriage ban, asked the court late Thursday block gay marriages from resuming.
Dozens of gay couples who lined up outside City Hall in San Francisco hoping to get married Thursday will now have to wait another six days to find out the fate of their planned nuptials.
But state and local lawmakers praised the ruling for setting a preliminary date when the marriages could resume.
"I am pleased to see Judge Walker lift his stay and provide all Californians the liberties I believe everyone deserves," Gov. Arnold Schwarzenegger said in a written statement. "Today's ruling continues to place California at the forefront in providing freedom and equality for all people."
"I applaud the decision by Judge Walker to lift the stay in this case and allow same-sex marriages to resume," said Los Angeles Mayor Antonio Villaraigosa. "Throughout the City of Los Angeles, countless couples have long and patiently awaited this decision."
"For the innumerable same-sex couples who own property together, have children together, and who have lived together as spouses despite the passage of Proposition 8, this decision comes not a moment too soon," he added. "I look forward to once again presiding over same-sex marriages at City Hall after August 18 at 5:00 p.m."
Walker struck down the state's voter-approved gay marriage ban last week in a case many believe is destined for the Supreme Court.
But he moved to suspend gay weddings until he could consider arguments from both sides on whether the marriages should be allowed during an appeal of his ruling. He now says gay marriage should resume, but he gave conservatives the extra time to get the appeals court to weigh in.
California voters passed Proposition 8 as a state constitutional amendment in November 2008, five months after the California Supreme Court legalized same-sex unions and an estimated 18,000 same-sex couples already had tied the knot.
Schwarzenegger, Attorney General Jerry Brown and lawyers for gay couples had filed legal motions Friday asking that same-sex marriages be allowed to resume immediately.
Walker said ban proponents didn't convince him that anyone would be harmed by allowing same-sex marriages to resume.
"The evidence at trial showed, however, that Proposition 8 harms the state of California," Walker said.
Walker also turned aside arguments that marriages performed now could be thrown into legal chaos if Proposition 8 is later upheld by an appeals court.
Walker said such weddings would appear to be legal even if the ban is later reinstated. He pointed to the 18,000 same-sex couples who married legally in the five months that gay marriage was legal in California as proof.
Walker also said that no one can claim harm by allowing same-sex weddings to go forward, but banning them harms gays.