Presidential tickets compete for attention in convention gap, as Biden swipes at Ryan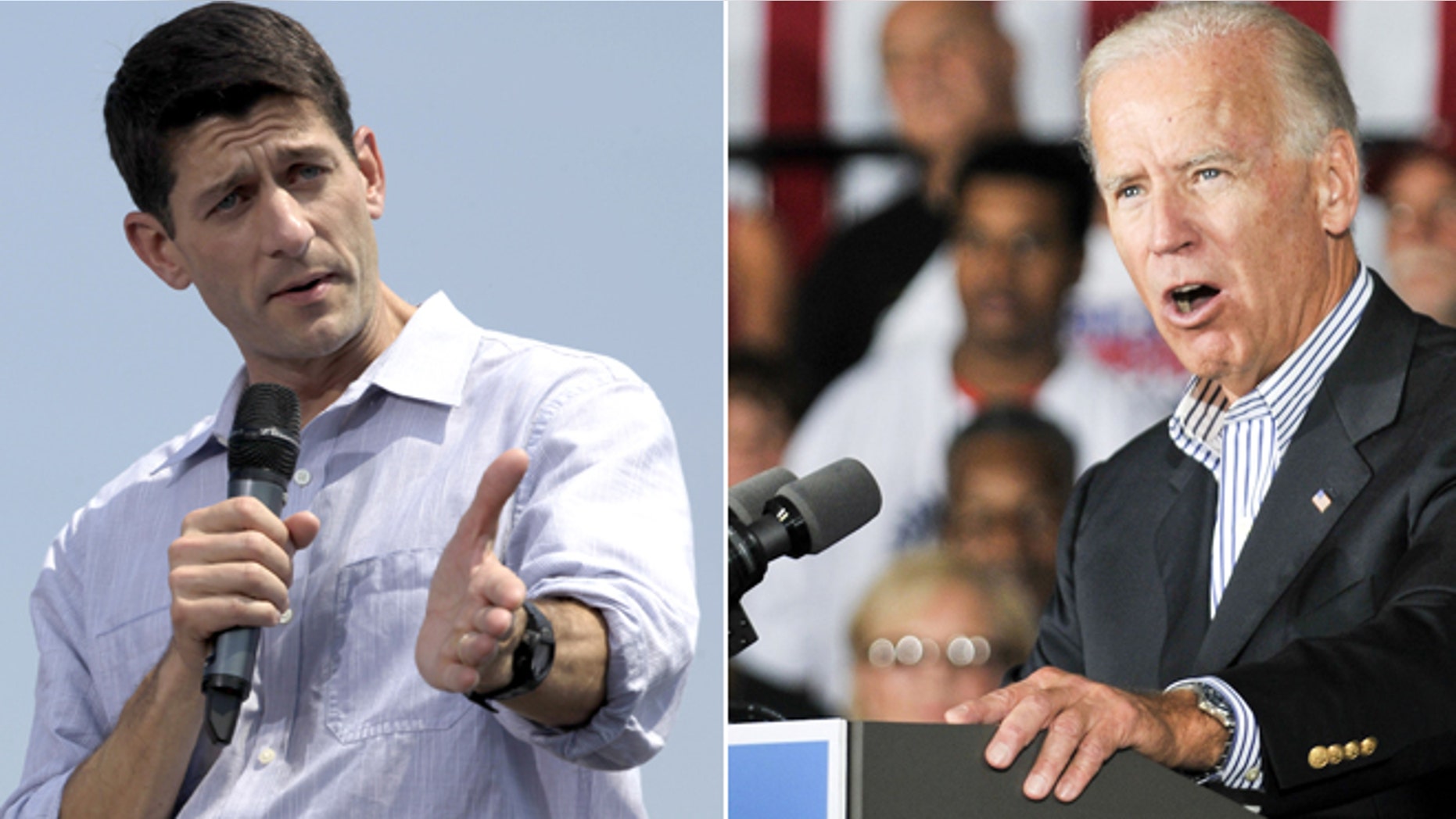 With Mitt Romney trying to slingshot out of the Republican National Convention, Democrats are hard at work trying to set the stage for Charlotte, N.C. -- where they're about to kick off their weeklong tribute to the Obama-Biden ticket.
The race is on, with each side hitting the ground in the days between the conventions, and the matchup Friday was between the No. 2s on the tickets.
After a three-day blitz of speeches that portrayed Romney as a businessman who can free the markets and produce millions of jobs, Vice President Biden used a stop at an Ohio auto workers union hall to pan the GOP candidate as bad for business and bad for blue-collar workers.
"What (Republicans) didn't acknowledge is Governor Romney's position was 'Let Detroit Go Bankrupt,'" Biden said, referring to Romney's opposition to the auto industry bailout under President Obama.
Biden and the rest of the Obama campaign have kept up a drumbeat of criticism since Thursday night to try undercutting any momentum Romney might gain out of the convention's cavalcade of endorsers and his own nomination address.
Biden said of the GOP ticket's economic plan, "it's not new, it's not fair, it's not right."
The vice president, engaging his Republican counterpart, went on to criticize GOP running mate Paul Ryan for mentioning in his Wednesday night speech in Tampa that a GM plant closed after Obama, as a presidential candidate, visited it in 2008.
While the statement was technically true, Biden noted the plant in Ryan's hometown of Janesville "actually closed while President Bush was still in office."
Democrats have hammered Ryan for leaving that part out of his speech, but the GOP running mate told a Virginia TV station Friday that he was just trying to make the point that the president was making false promises in his 2008 campaign -- at the time, Obama pledged to "lead an effort to retool plants" like the GM one he visited.
"The vice president can't answer for this administration's unfulfilled promises and failed record," Ryan spokesman Brendan Buck said. "The president inherited a troubled economy, but he's not made it better -- he's made it worse, with fewer jobs and lower incomes for middle-class families. Like many towns across America, Janesville, Wis., is still waiting for the recovery the president promised."
Before the Democratic National Convention moves into full swing, though, both sides continue to deal with the aftermath of Hurricane Isaac.
Romney scrapped an appearance in Virginia on Friday to visit Louisiana instead, scheduling a last-minute visit Friday to Lafitte, La., to tour damage with Louisiana Gov. Bobby Jindal. Concerns about Isaac canceled the first day of Romney's Republican convention, and campaign officials had been considering the visit for several days.
Obama was following with his own visit to Louisiana on Monday, the White House announced.
He also paid a visit to troops Friday at Fort Bliss in Texas, exactly two years after declaring the end of the U.S. combat mission in Iraq.
"Today, every American can be proud that the United States is safer, the United States is stronger and the United States is more respected in the world," Obama declared, a throng of soldiers in fatigues providing the backdrop.
Romney used his convention address Thursday night to continue to make his case that the Obama administration has fallen short of its calling to restore a broken economy. But he also used the occasion to speak in rare detail about his personal life - about his family and his early days in business.  He said he understands people "need to know more about me" to make a choice in November.
He also called on voters to put the "disappointment" and the "divisiveness" of the last four years behind them, and "turn the page" with him. His plan, he said, is "lots of jobs."
"This president can ask us to be patient. This president can tell us it was someone else's fault. ... But this president cannot tell us that you're better off today than when he took office," Romney said. "Now is the time to restore the promise of America."
The Associated Press contributed to this report.