Rubio tells his American story, says Romney can bring back spirit of hope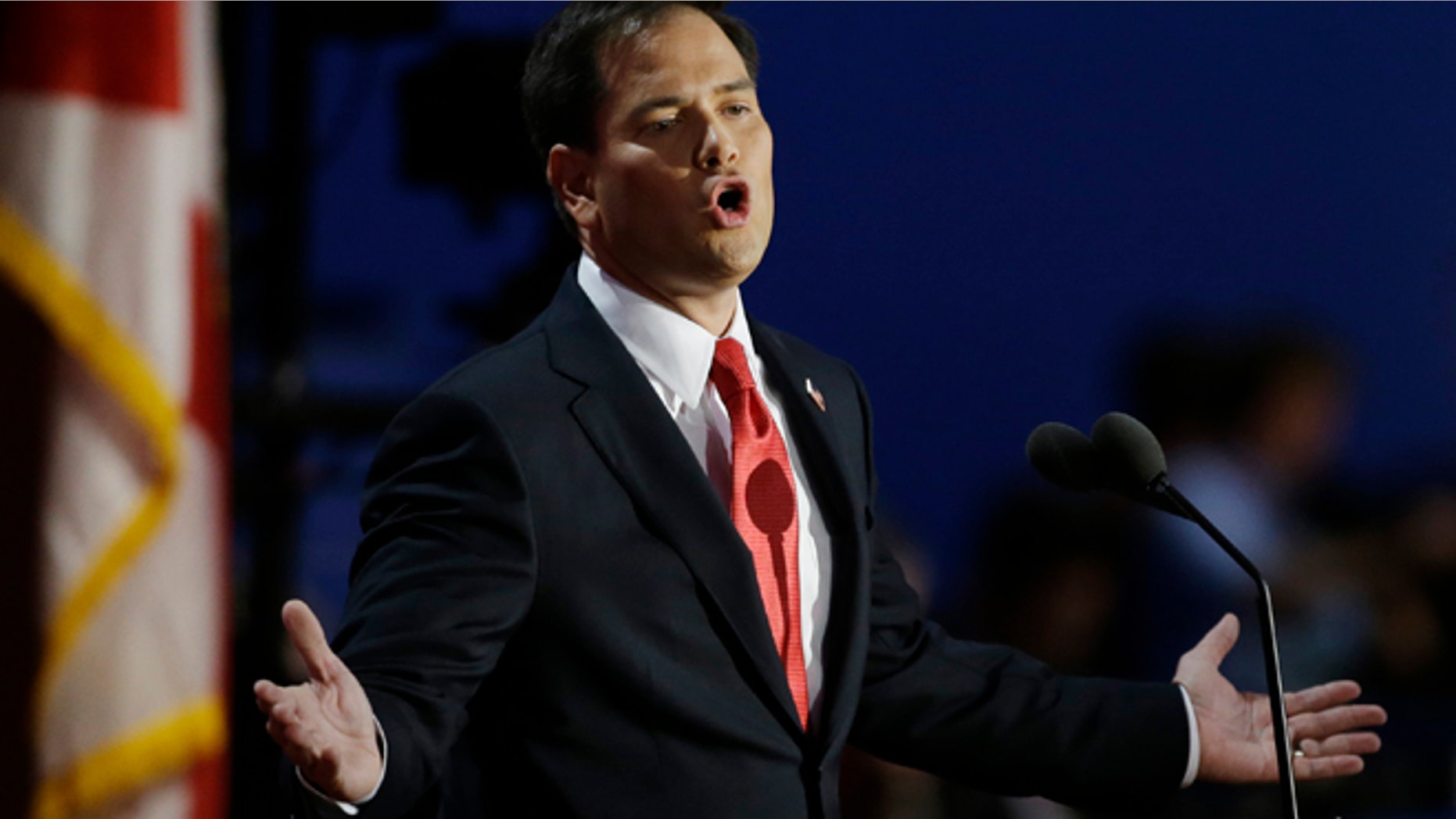 TAMPA, Fla. – Florida Sen. Marco Rubio on Wednesday followed fellow Republican leaders at the party's national convention in telling their stories of triumph from humble roots – urging Americans to vote for Mitt Romney to keep alive American exceptionalism.
Rubio, a first-term senator and rising GOP star, told his story Thursday night of being the grandson of Cuban immigrants and working-class parents – his father a banquet bartender and his mother a K-mart clerk.
Rubio recalled his grandfather told him that being an American meant "there was no limit to how far" his grandson could go, and he said his parents "made possible for us all the things that had been impossible for them."
Rubio called America "the story of everyday people, who did extraordinary things and whose politics should be about making it a place in which tomorrow is always better than yesterday."
"That is what our politics should be about," he continued. "And that is what we are deciding in this election."
The 41-year-old Rubio, mentioned as both a GOP presidential and vice presidential candidate  within months of joining the Senate in 2009, was on this night asked to introduce Romney, whom he urged thousands inside the Tampa Bay Times Forum to see as more than a financial titan or economic fixer.
"Tonight, you'll hear from another man who understands what makes America exceptional. Mitt Romney's success in business is well known. But he's more than that. He's a devoted husband, father, grandfather and a generous member of his community and church. … We are blessed that soon, he will be the president of the United States," Rubio said to a huge applause.
Like other Republicans leaders who spoke at the convention, Rubio's speech was not without criticism of President Obama.
"Our problem with President Obama isn't that he's a bad person," Rubio said. "By all accounts, he too is a good husband, and a good father. And thanks to lots of practice, a pretty good golfer. Our problem is he's a bad president."
Rubio also attacked the president's new campaign slogan -- "Forward."
After arguing that under Obama the federal government has spent $1 trillion more than it collected, wasted roughly $800 billion in taxpayer money on an economic stimulus program and overstepped its authority in reforming health care, Rubio declared: "These ideas don't move us forward, they take us backwards."
"Under Barack Obama, the only 'change' is that 'hope' has been hard to find," he said.
Immigrants seeking the American dream has been a regular theme this week at the convention.
Earlier in the week, Rick Santorum, one of Romney's former rivals in the Republican presidential race, talked at the convention about his grandfather, then father arriving with from Italy with practically nothing and how his grandfather worked in the mines until age 72.
He was followed by Kentucky Sen. Rand Paul, who said his grandfather arrived in this country penniless but raised children who went on the becomes doctors, accountants and ministers.
Rubio said of his parents: "Many nights I heard my father's keys jingling at the door as he came home after another 16-hour day. Many mornings, I woke up just as my mother got home from the overnight shift at K-mart. When you're young, the meaning of these moments escapes you. But now, as my own children get older, I understand it better."
Rubio began his speech by saying Cuba has no freedom and asking those listening for their prayers.