President Obama Makes it to Indonesia, but For How Long?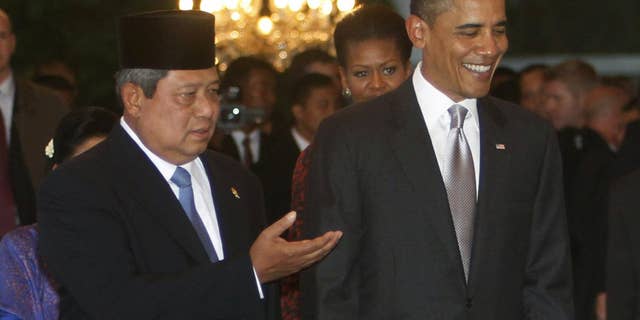 President Obama arrived in Jakarta, Indonesia Tuesday, but the duration of his visit is now in question.
The White House has been monitoring the volcanic ash clouds caused by multiple eruptions of Mount Merapi, the archipelago's most active volcano. The administration was peppered with questions over the weekend as to whether Mr. and Mrs. Obama would actually make the trip from India to Indonesia. And while the decision was obviously made to go ahead with the travel plans, the president's Indonesian schedule is now in evolving.
White House spokesman Robert Gibbs told reporters traveling on Air Force One, due to concerns over the ash the president would likely leave Indonesia several hours earlier than planned.
"Getting to Korea a touch earlier is almost certainly going to happen," said Gibbs.
The president is scheduled to leave Jakarta Wednesday for Seoul, Korea and the G20 Summit. But before his departure he and the first lady had a full dance card. Immediately following his arrival Tuesday, Mr. Obama participated in an official arrival ceremony after which the president and Indonesian President Susilo Bambang Yudhoyono are to have bilateral meetings and participate in a press conference and an official dinner at the presidential palace.
On Wednesday, Mr. Obama, as of this writing, is scheduled to visit the Istiqlal Mosque - the national mosque of Indonesia and the largest mosque in Southeast Asia. He's then to deliver what the White House has been billing a major speech at the University of Indonesia after which he will lay a wreath a Heroes Cemetery - Wednesday is a major national holiday in Indonesia known as Heroes Day - the anniversary of a key battle between Indonesia and British forces, just months after Indonesia's Proclamation of Independence. Following the wreath laying, the president is to head on to Seoul.
White House is now considering different scenarios for Mr. Obama's Wednesday schedule, including starting the day's events earlier. According to Gibbs it is unclear as to whether or not any events would have to be shortened or out right canceled, but Gibbs says the intention is to go ahead with the president's speech.
"My sense is, our hope is that while we may have to truncate some of the morning we can get the speech in," Gibbs said.