President Obama and Vice President Biden head to the Hill to talk health care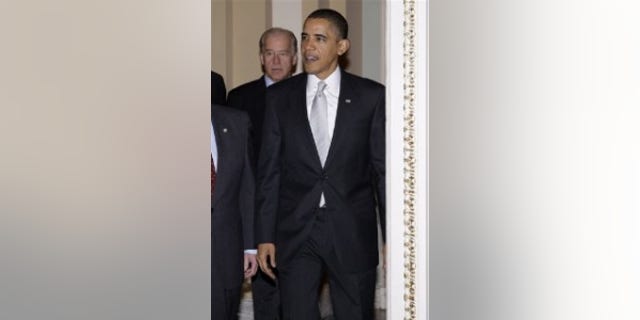 President Obama and Vice President Biden spent their Sunday afternoon on Capitol Hill to attend a Senate Democratic caucus meeting on health care. The Senate has been in session all weekend debating the subject. Senate Majority Leader Harry Reid called for the rare weekend session in hopes to meet his deadline of getting a bill by the end of the year.
Upon arriving at the Capitol, President Obama did not take any questions from the gaggle of reporters awaiting his arrival. As he walked quickly by the cameras, he waved and said, "Hello guys. Good to see you."
UPDATE:
After his approximately 30 minute meeting with senate democrats, the President told reporters, "It wasn't a negotiation. That was a pep talk,"adding that the senators were "going to get the job done."
White House Spokesman Bill Burton gave reporters the following readout of the meeting,"The President thanked members of the Senate for their hard work so far and encouraged them to continue forward on this historic opportunity to provide stability and security for those who have insurance, affordable coverage for those who don't and bring down the cost of health care for families, small businesses and the government."