Pompeo runs to DeSantis' defense after Trump lands first blow with new nickname
Pompeo says DeSantis has 'proven conservative policies work'
Former Secretary of State Mike Pompeo rushed to defend Florida Gov. Ron DeSantis after former President Donald Trump dubbed the Republican "Ron DeSanctimonious" at a rally Saturday evening.
"Not tired of winning. @GovRonDeSantis you've proven conservative policies work. Florida is better for it. Vote for @GovRonDeSantis," Pompeo tweeted Saturday evening.
The comment came as Trump held a rally in Latrobe, Pennsylvania on Saturday ahead of Tuesday's Election Day.
"We're winning big in the Republican Party for the nomination like nobody's ever seen before," Trump told the crowd before listing other Republicans who could potentially challenge him in 2024.
TRUMP MOCKS DESANTIS AT PENNSYLVANIA RALLY: 'RON DESANCTIMONIOUS'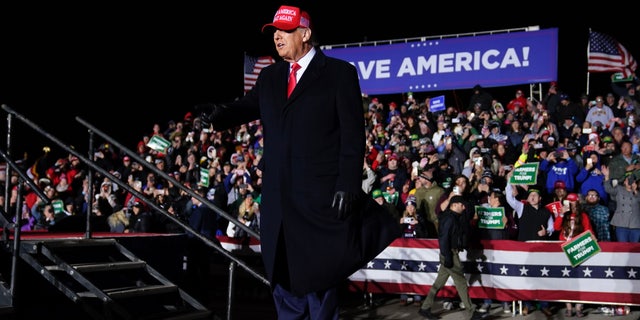 "There it is, Trump at 71%, Ron DeSanctimonious at 10%," Trump told the crowd while reading approval numbers of various Republicans.
Trump could potentially announce another White House run as early as this month, sources tell Fox News. And pundits view DeSantis as a possible contender for the 2024 GOP presidential nomination and reports have circulated about possible growing tension between the two. DeSantis, however, quashed reports about such tensions earlier this year, calling Trump a "friend of mine."
CONSERVATIVES TURN ON TRUMP FOR ATTACKING RON DESANTIS AHEAD OF MIDTERMS: 'WHAT AN IDIOT'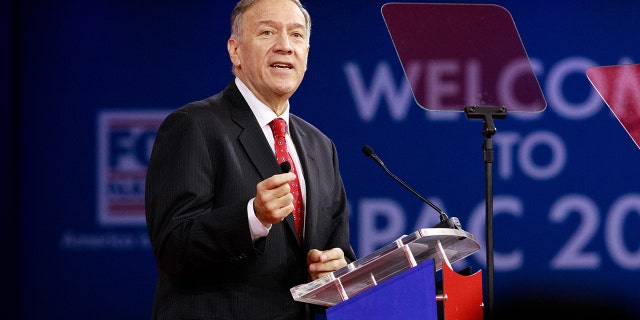 "He wants to see Republicans doing well," DeSantis told Fox News in February. "And I think when media is trying to act like he's upset at me for doing well, I think that's total bunk. I think they're just making it up."
Pompeo – who served as CIA director during the Trump administration before becoming secretary of state from 2018 until the close of the Trump White House – is also seriously mulling a White House run and has made numerous early moves towards launching a campaign.
TRUMP COULD POTENTIALLY ANNOUNCE A 2024 CAMPAIGN A WEEK AFTER THE MIDTERMS, SOURCES SAY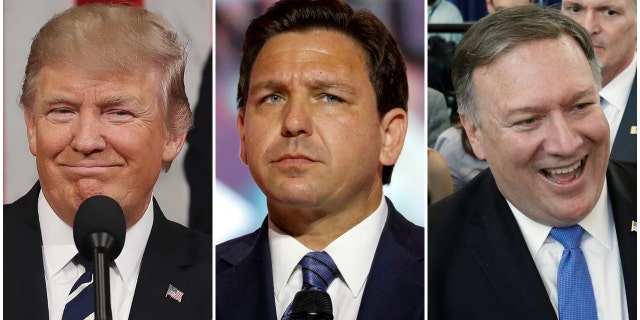 Pompeo has told Fox News and other news organizations that he'll make a decision on running for the White House by spring of 2023. And Pompeo, an Army officer during the Cold War who later served as a congressman from Kansas, has added that if his former boss officially runs in 2024, it would not deter him from also making a bid for the White House. But he's noted he would vote for Trump with "no hesitation" if the former president became the nominee for the GOP.
Pompeo, in numerous appearances this year, has walked a fine line between supporting the Trump administration while at the same time putting some daylight between himself and some of Trump's more controversial actions. It is a balancing act that is likely required of anyone seriously mulling a GOP presidential run in a party where Trump remains the most popular and influential politician with the base.
Pompeo has called the deadly Jan. 6, 2021, attack on the U.S. Capitol by right-wing extremists and other Trump supporters amid congressional certification of Biden's Electoral College victory in the 2020 election "a bad day for the United States of America… it was a tragically bad day."
CLICK HERE TO GET THE FOX NEWS APP
He's emphasized, "It ended well. It ended with our then-Vice President Mike Pence and our members of Congress going and finishing America's business that day. I was incredibly proud of them for that."
However, Pompeo also quickly added, "I equally believe that the riots that took place all across this country during the 2020 were bad for America too."
Fox News Digital's Paul Steinhauser and Andrew Mark Miller contributed to this article.