Poll: Romney Out in Front Among Declared GOP 2012 Candidates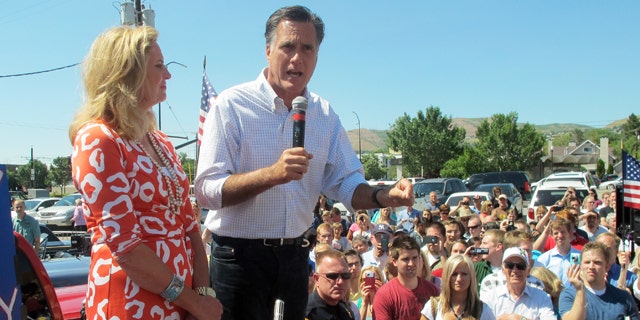 Former Massachusetts Gov. Mitt Romney is cementing his lead as the frontrunner in the 2012 Republican presidential primary race, besting his competition by nearly double-digits in a new Gallup poll, but leaving room for potential late-comers to enter the race.
The Gallup poll taken July 20-24 and released Wednesday shows that Romney has 27 percent of the vote among would-be Republican voters, 9 percentage points over Minnesota Rep. Michele Bachmann's 18 percent. Texas Rep. Ron Paul garners 11 percent and former House Speaker Newt Gingrich gets 7 percent. The rest of the field stands below 5 percent.
But when Texas Gov. Rick Perry, former Alaska Gov. Sarah Palin and former New York City Mayor Rudy Giuliani, none who is an announced candidate, are added to the list, Romney's lead drops to 2 points, 17-15 over Perry. Palin takes 12 percent and Giuliani and Bachmann take 11 points. Paul drops to 8 percent.
The Gallup also offered one-on-one comparisons of Romney against Perry, Palin and Giuliani. Romney wins all of them, but the 5-point, 23-18, spread against Perry is closest among the three.
The numbers echo a Fox News poll released last week that shows Romney with 26 percent among a field of declared candidates followed by Bachmann at 15 percent, Paul at 10 percent, and Gingrich and businessman Herman Cain at 9 percent. Everyone else receives the backing of less than 5 percent.
When unannounced candidates are in the mix, Romney's support among GOP primary voters drops to 17 percent compared to Perry with 14 percent. Bachmann comes in at 10 percent while Giuliani, Palin and Paul all receive 9 percent. Cain comes in at 5 percent. All others receive less than 5 percent.
Notable in both polls is the number of voters who've not made up their mind among the set of declared candidates. In the Fox News poll, taken July 17-19, 20 percent are uncertain whom they will choose. In the Gallup poll, 21 percent are undecided when they have to choose among the existing field.
Perry has been making movements that suggest he could be edging toward a bid, noting the support from his wife and creating a financial network beyond just early primary states of New Hampshire and Iowa. He's also boning up on national and international issues with ex-Bush administration advisers like former Defense Secretary Donald Rumsfeld. However, Perry will not be on the Iowa straw poll or in the Fox News debate scheduled for Aug. 11, and senior aides insist he's still weeks away from a final decision
Romney, in the meantime, is collecting high-name recognition endorsements like former Republican Sen. George Voinovich and taking on President Obama over China policy and the debt in what appears to be a general election campaign strategy.