Poll: Military Officers Say Use Diplomacy, Aid to Shore Up U.S. National Security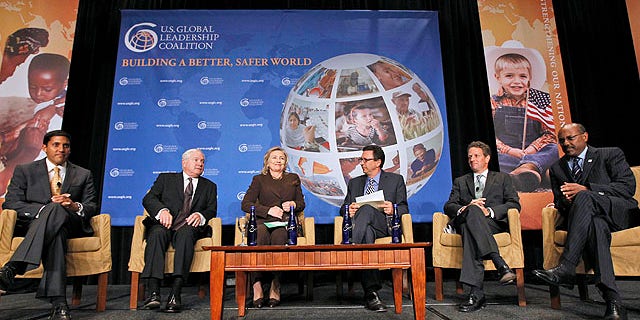 Nearly 90 percent of active and retired military officers say diplomacy and development are at least partly helpful to achieve U.S. national security objectives as opposed to just a strong military presence, a poll out Monday shows.
The U.S. Global Leadership Coalition also found among the 606 active duty and retired officers surveyed that 83 percent also think humanitarian efforts such as food assistance and health, education and economic development lend to an effective strategy.
USGLC, which is a network of 400 business, non-governmental and community leaders, contracted the bipartisan team of Peter D. Hart Research Associates and Public Opinion Strategies, to conduct the poll.
Of those officers surveyed, 59 percent said they believed additional congressional funding for non-force military tools would help national security and military objectives.
"This new poll shows there is clear agreement across military leadership that civilian-led development and diplomacy efforts must be front and center alongside our military assets in meeting the foreign policy challenges we face today," said retired Coast Guard Adm. James Loy.
The poll shows mixed opinions among the military about who is better to lead missions relating to non-military action, including providing security for local populations, training police and armed forces, offering assistance to civil institutions, building infrastructure and working with local leaders on development. The first two missions should be the work of military or the military with civilian agencies, the poll showed, while the last three should more likely be civilian or civilian mixed with military coordination, the numbers show.
Ninety-two percent of respondents said they somewhat or strongly agree with the idea that in situations like the hurricane in Haiti, the military can act as first responders but post-catastrophe humanitarian operations
should be handed over to civilian authorities as soon as possible.
The group released the poll as part of an annual conference that this year features administration speakers including Secretary of State Hillary Clinton, Defense Secretary Robert Gates and Treasury Secretary Tim Geithner.
The group is also pushing to restore $2.6 billion in proposed funding cuts from the fiscal year 2011 foreign operations budget, which includes international and diplomatic affairs. Congress is expected to leave town this week before it finishes its work on appropriations.