Perry Slams Obama in New Hampshire - Says Obama's Actions Are Killing Jobs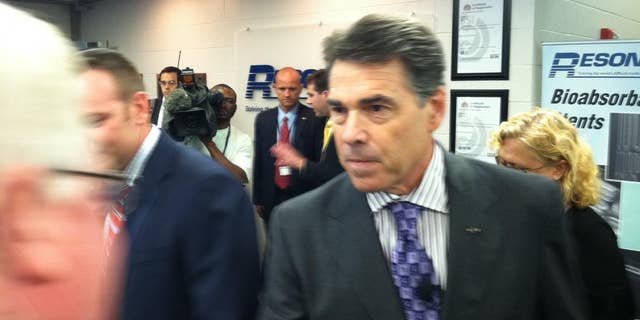 NEWYou can now listen to Fox News articles!
Bedford, NH - It's called 'Politics and Eggs,' a rite of passage for presidential candidates campaigning in the 'first in the nation' primary state - a chance to speak before the politically astute as they feast on breakfast at a quintessential New England inn. These events are always well attended, but Wednesday's event was packed with New Hampshire voters hungry to hear what Texas governor Rick Perry had to say.
Just days into his bid for the White House Perry has already said a lot, igniting a firestorm of controversy when he called Federal Reserve Chairman Ben Bernanke "almost treasonous." In an interview yesterday Mr. Obama suggested the governor be more careful with his words, to which Perry responded this morning, "you know yesterday the president said I need to watch what I say. If I can respond back, actions speak louder than words. My actions as governor are helping create jobs. The president's actions are killing jobs."
Perry's campaign is all about job creation, and he repeatedly touts the statistic that 40 percent of all jobs created nationwide since June, 2009 have been in Texas. He also misses no opportunity to criticize the Obama administration on the economy, saying "America's crisis is not bad luck ... it's from bad policy."
The governor spoke for 15 minutes at the breakfast event, telling the audience "I'm going to be here a lot, and be campaigning often in New Hampshire, particularly just seeing and listening."
A poll from the University of New Hampshire Survey Center taken in July found that 42 percent of Granite State voters have no idea who Perry is and a further 9 percent recognized the name but had no opinion. That's the opposite of former Massachusetts governor Mitt Romney who has enormous name recognition and has a strong lead statewide. According to UNH professor Andy Smith, Romney's political positions put him in good stance with the moderate electorate, but added the race is just starting. "It's August, there's nothing going on and the voters aren't engaged yet," he said.
Outgoing and affable, Perry is the kind of politician who tries to make a connection with everyone he meets - and with his Texas drawl comparisons to former President George W. Bush are inevitable. He's comfortable in social situations, shaking hands and taking the time to speak with voters. But he wasn't quite as forthcoming with reporters, staying silent and ignoring questions before his security detail formed a line around his waiting caravan of SUVs, allowing the governor to zip away.
Perry has multiple events scheduled over the next two days, engaging in the kind of retail politics for which New Hampshire is famous. His impact on the race has been immediate. Long the front-runner, Romney now finds himself trailing in some national polls, and the battle between the two is shaping up to become the major contest for the GOP nomination.
Both men claim to be job creators, promising they can resurrect the struggling U.S economy. So far the competing campaigns have been cordial, Romney sticking to his message and avoiding confrontation and Perry focusing his attention on the president.