Pentagon: Libyan Rebel Gains Are 'Significant Developments'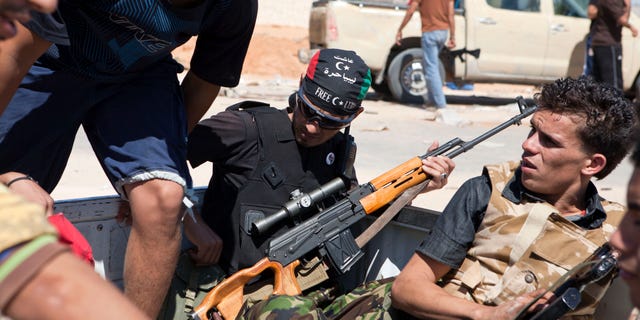 NEWYou can now listen to Fox News articles!
In what the Pentagon described Wednesday as "significant developments," rebel forces have managed to gain ground across Libya in recent weeks and take control of strategic towns surrounding Tripoli, the capital city.
Pentagon Spokesman George Little said combined with sustained pressure from NATO operations and the economic and diplomatic sanctions, "the future doesn't look particularly bright for (Libyan leader Col. Moammar) Qaddafi, but we'll have to see where things go."
Speaking at the National Defense University in Washington D.C. on Tuesday Defense Secretary Leon Panetta said Qaddafi's days are numbered.
Just how numbered is unclear. The Pentagon is unwilling to make any predictions on exactly how long Qaddafi might last.
In a sign that Qaddafi's forces may be growing increasingly desperate, a long range Scud missile was fired for the first time in this conflict on Sunday from an area near Qaddafi's home town of Sirte, about 300 miles east of Tripoli. Little acknowledged that the missile exploded in a desert near the rebel-controlled region between the towns of Brega and Ajdabiyah. There were no reported injuries.
As rebels make good on their plan to choke off Tripoli, Qaddafi's whereabouts remain unknown.
On Monday, Qaddafi delivered a telephone broadcast from an undisclosed location asking his loyalists to continue to fight NATO and the rebels.
"The blood of martyrs is fuel for the battle," he said.