Pelosi Seeks Ethics Inquiry as Rep. Weiner Faces GOP Calls to Resign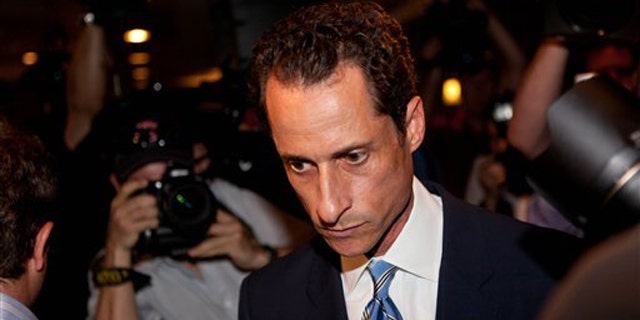 As more women emerge describing their online dalliances with Rep. Anthony Weiner, Democratic leader Nancy Pelosi on Tuesday urged the ethics committee to investigate whether the New York congressman violated House rules by using "official resources" to maintain illicit online relationships.
Calling his actions "inappropriate," Pelosi wrote in a two-sentence letter to the committee leadership that an inquiry is "warranted." But she stopped short of calling for anything else.
On Monday, Weiner said he welcomed an investigation after he admitted to conducting online affairs with several women. Weiner, who has been keeping a low profile since the stunning press conference, claimed he did not break House rules and that he does not plan to resign.
But Republicans, viewing the admission as an opportunity to take down one of Pelosi's top attack dogs, have gone on the offensive, calling for the disgraced politician to resign.
Republican National Committee Chairman Reince Priebus led the charge Tuesday, calling Weiner's action's "unacceptable" and demanding he step down.
"We do not need an investigation to know he lied and acted inappropriately, we need a resignation," Priebus said. "Either Leader Pelosi and (Democratic National Committee) Chair (Debbie) Wasserman Schultz believe members of Congress are held to a different set of standards or they believe these actions demand his resignation."
House Republican Leader Eric Cantor, R-Va., also called on Weiner to step down. So did Bob Turner, the GOP candidate who ran against Weiner in the last election and garnered 41 percent of the vote.
"He does not want to accept the consequences," said Turner, who is thinking about running again next year but has not decided.
Even Senate Majority Leader Harry Reid did not offer a shoulder for Weiner to rest his head.
"I know Congressman Weiner. I wish I could defend him, but I can't," Reid told reporters. Asked how he would respond if Weiner sought his advice, Reid replied, "Call somebody else."
But Democrats are not eager to pressure the seven-term congressman out of office. New York Sen. Chuck Schumer, D-N.Y., a mentor and former boss to Weiner, even came to Weiner's defense, saying in a statement that "Anthony did the right thing" by confessing.
"He remains a talented and committed public servant, and I pray he and his family can get through these difficult times," Schumer said.
Schumer's statement speaks to Weiner's status in the party. Though now badly damaged, Weiner was the unofficial voice of the House Democratic caucus. He has been dispatched to the airwaves to debate hosts and Republicans on virtually any topic -- his public performance advocating for a benefits bill for Sept. 11 first responders was legendary. Weiner even boasted of his debating abilities at a recent correspondents dinner.
"What Anthony had is a rare combination among Democrats -- smart, tough and clear," Democratic strategist Dan Gerstein said, struggling to think of another elected Democrat who could fill his shoes while Weiner goes into the bunker. "He could argue. He could actually out-debate someone."
Weiner's visibility will be much smaller in the weeks and months ahead. His aides said they do not expect him at his Capitol Hill office Tuesday. The congressman said Monday that he and his wife -- an aide to Secretary of State Hillary Clinton -- do not plan to separate and that he wants to win back the trust of his constituents. Yet his admissions were toxic enough to torpedo the careers of most politicians.
Point blank, Weiner admitted that he lied -- to the media, to his staff and to his wife. After a photo of a man's bulging underwear appeared on his Twitter account, Weiner initially -- and then repeatedly -- claimed he was hacked. On Monday, he admitted he took that photo of himself and sent it to a woman in Seattle. He made up the story about being hacked because he "panicked" when he realized he had posted the image publicly, Weiner said.
Further, Weiner admitted to having explicit conversations with six women over three years, and that some of the interactions happened after he got married last year.
This detail indicates the damage is far from done, as those other women have started to come forward.
One of the women, 26-year-old Meagan Broussard, said she had personal exchanges with Weiner after meeting him over Facebook. In an interview with Fox News' Sean Hannity, she said he seemed "comfortable," as if the discussions were something "he's done all the time."
Watch "Hannity" Tuesday at 9 p.m. ET to see the full interview with Weiner virtual paramour Meagan Broussard.
Another, Las Vegas casino worker Lisa Weiss, told the website RadarOnline.com she has shared 220 messages with the congressman since August 2010.
In addition, the circumstances of those conversations and his handling of the brief cover-up raise questions about Weiner's claim that he did not misuse government resources.
Weiss told RadarOnline.com the congressman once called her from his office, at which point they talked "dirty" for at least a half-hour.
In addition, Weiner granted a series of interviews with TV channels, including Fox News, to discuss the controversy last week. From his office, Weiner repeatedly fibbed on camera, claiming he was the victim of a hack or prank.
Gerstein said he won't rule out the possibility of Weiner staying in office, but said his "digital fingerprints" and the emerging tales of indiscretions make it unlikely.
"At a certain point, the death by a thousand cuts is going to happen," he said. "It's going to become like the Tiger Woods bimbo parade."
Fox News' Eric Shawn contributed to this report.