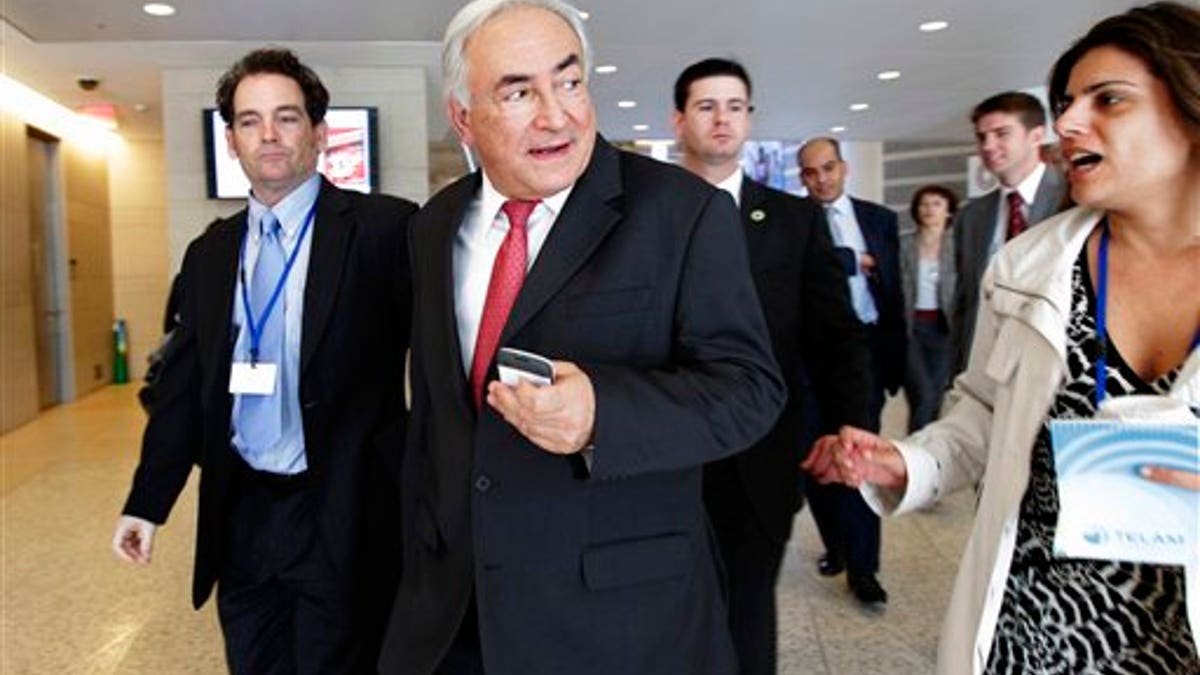 The leader of the International Monetary Fund now embroiled in a criminal assault case in New York City was cleared in 2008 of harassment charges after an affair with an IMF economist.
But it's that kind of behavior that should make the world wonder about trusting the IMF, Rep. Ron Paul said Sunday.
The 2008 Republican presidential candidate told "Fox News Sunday" that Dominique Strauss-Kahn, who was pulled off an Air France flight moments before take-off from New York Saturday and arrested on charges of a criminal sex act, attempted rape and unlawful imprisonment, said the whole course of events "is a bit ironic."
Paul, who makes no secret about his disgust of IMF policies, said Strauss-Kahn demonstrates why the Fund has problems.
"These are the kind of people that are running the IMF and we want to turn the world finances and the control of the money supply to them," Paul said. "That should awaken everybody to the fact that they ought to look into the IMF and find out why we shouldn't be sacrificing more sovereignty to an organization like that and an individual like he was."
Strauss-Kahn, 62, is scheduled for arraignment Sunday after being accused by a 32-year-old maid at the luxury Sofitel hotel near Times Square of an attack on her in his suite on Saturday afternoon.
The IMF chief, who is considered a frontrunner in challenging Nicolas Sarkozy for the French presidency, "denies all the charges against him," his attorney, Benjamin Brafman, said Sunday.
A State Department press officer said she had no comment on last night's arrest. Though a New York City police spokesman said Strauss-Kahn does not have diplomatic immunity, the officer could not say with certainty whether that's accurate, but said the department is reviewing his status.
The IMF also said it's not commenting on the arrest but issued a statement saying, "The IMF remains fully functioning and operational." The Wall Street Journal reported that John Lipsky, Strauss-Kahn's first deputy, has been in the acting managing director role since Strauss-Kahn left D.C. for New York.
It's not the first time that the thrice-married Strauss-Kahn has been in trouble for his relationships. In 2008, an outside lawyer hired by the IMF to investigate three complaints made about Strauss-Kahn's behavior concluded that he did not force an ex-lover to accept a payout from the IMF and move to another organization.
The executive board at the IMF took no action against Strauss-Kahn but warned him about behavior toward female staff. Strauss-Kahn reportedly offered an apology to the board. His wife, French newswoman Anne Sinclair, wrote it off as a "one night stand."
At the time, French commentators claimed the investigation's timing was suspicious since it coincided with the IMF push toward a global currency.
"It's very odd that it comes just at the moment when people are talking about the IMF and its head taking a lead role in creating a new global financial order which will not necessarily be to the advantage of wealthy, right-wing Americans," a French economist and government adviser told Britain's Observer newspaper.
But Paul said the IMF's moves toward a world currency are "a threat to us."
"I would like to go to a sound American currency, but others want to go to a world currency. They want to use the IMF," he said.