Packers Pre-Game Coverage Trumps Obama Speech at Milwaukee Station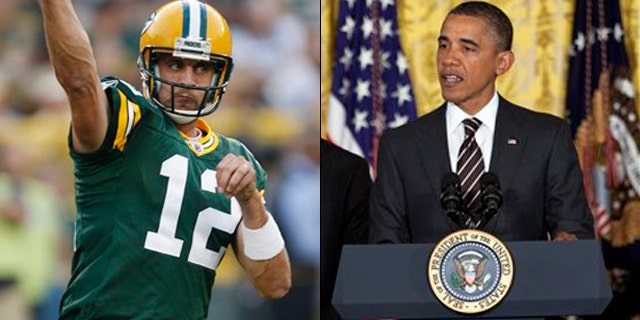 NEWYou can now listen to Fox News articles!
President Obama's jobs address might be the biggest event in Washington Thursday, but it's certainly not the biggest event in Wisconsin.
Instead of airing the presidential address, NBC affiliate WTMJ in Milwaukee plans to air pre-game coverage of the NFL season opener between the New Orleans Saints and home team Green Bay Packers Thursday evening.
The station says the decision is not political. Rather, they just wanted to make sure their viewers got their Packers fix.
"I can assure you that our coverage decision had nothing to do with politics," station Vice President Steve Wexler wrote on a blog explaining the decision. "It had everything to do with providing Packers coverage for people who want it if they so choose."
Wexler noted that the president's speech will be carried on its digital channel. Plus other local channels in Milwaukee will be airing the address, so anyone who wants to watch the commander-in-chief before watching the Super Bowl champions can do so.
The station would undoubtedly be ceding valuable game-night airtime to broadcast the president -- asked by FoxNews.com how much that airtime is worth, Wexler had no comment.
Wexler wrote on his blog that the station meant no "disrespect" to Obama.
"What will I be watching? Probably a little of both. As a Packers fan, I'll want to see and feel the excitement from Lambeau Field as I get settled in for the game. But I'm also very interested in what the president has to say and what the Republicans will say in response," he wrote. "This isn't about 'red and blue' it's about 'green and gold' and letting audiences decide what they want to watch."