Pa. gubernatorial candidate says he'll 'stomp' Gov. Wolf's face, then walks back remarks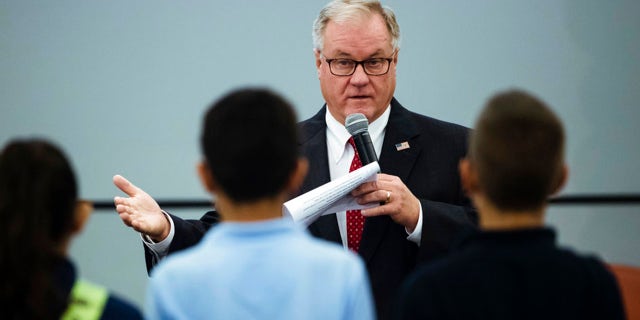 GOP gubernatorial candidate Scott Wagner, in a video released Friday, warned Pennsylvania Gov. Tom Wolf that he will "stomp all over your face with golf spikes" -- amid a national debate on civility in politics.
Wagner made the remarks in a Facebook video in which he accuses his opponent of not wanting to do town hall meetings, and slams him for what he described as negative ads against him.
"Well, Governor Wolf, let me tell you, between now and Nov. 6, you better put a catcher's mask on your face, because I'm going to stomp all over your face with golf spikes," he said. "Because I'm going to win this for the state of Pennsylvania and we're throwing you out of office because I'm sick and tired of your negative ads."
Wagner eventually took the remarks down and posted a new Facebook video in which he stepped back from what he'd said earlier. "I may have chosen a poor metaphor. I may have had a poor choice of words. I shouldn't have said what I said," he said. He attributed the forcefulness of his prior remarks to his passion for Pennsylvania's multitude of serious issues and the governor's refusal to engage with the public on them.
The Wolf campaign criticized the remarks, saying it showed Wagner was "unhinged and unfit for office."
"Threats of violence have no place in society, especially from someone running for public office. This is part of an unfortunate pattern with Scott Wagner," Wolf's communications director, Beth Melena, said in a statement.
The remarks come as Republicans have been criticizing Democrats for encouraging "mobs" of protesters surrounding the confirmation of Supreme Court Justice Brett Kavanaugh and for shedding civility. 2016 Democratic presidential candidate Hillary Clinton said in an interview with CNN this week that you "cannot be civil with a political party that wants to destroy what you stand for, what you care about."
TRUMP BLASTS ERIC HOLDER OVER 'KICK 'EM' COMMENT: 'DISGUSTING STATEMENT'
Meanwhile, former Attorney General Eric Holder drew fire for rejecting Michelle Obama's mantra of "When they go low, we go high."
"No, when they go low, we kick 'em," Holder said at a Georgia campaign event on Sunday, while later explaining he wasn't being literal.