Organizers of US-bound immigrant caravan accuse Trump of 'bullying,' 'threats of mass violence'
The organization behind the 1,000-person strong caravan of Central Americans surging toward the United States' southern border accused President Trump on Monday of "bullying" immigrants and threatening "mass violence" -- while Trump again warned the advancing procession "had better be stopped."

Pueblo Sin Fronteras, which translates to People Without Borders but is not affiliated with a group of the same name, fired back at Trump after the president's Twitter tirade urging Congress to invoke the "nuclear option" -- requiring only a simple majority to pass legislation -- in order to pass bills for the Deferred Action for Childhood Arrivals program and tough immigration reform.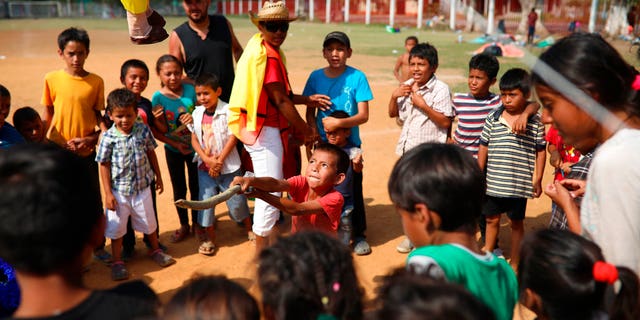 Trump tweeted Tuesday morning the caravan, estimated to be carrying more than 1,000 Central Americans, "had better be stopped" before reaching the U.S. border with Mexico.
"The big Caravan of People from Honduras, now coming across Mexico and heading to our 'Weak Laws' Border, had better be stopped before it gets there. Cash cow NAFTA is in play, as is foreign aid to Honduras and the countries that allow this to happen. Congress MUST ACT NOW!" Trump tweeted.
TRUMPS SLAMS MEXICO AND DEMS AS CARAVAN OF IMMIGRANTS HEADS TO US SOUTHERN BORDER
The organization said in a statement that Trump was using news of the caravan to threaten DACA recipients and force Congress to pass his favored legislation.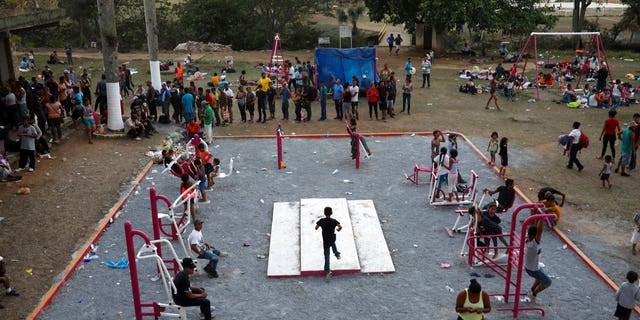 "On April 1st, the U.S. President opportunistically invoked refugee caravans as a pretext for threatening immigrants already in the country, specifically DACA recipients, with a so-called 'Nuclear Option' to remove their protections from detention and deportation," the organization said.
It added: "Trump is trying to turn Central American refugees and other immigrant communities against each other, and use them as a bargaining chip with Mexico."
The group was likely referring to the caravan being a "bargaining chip" in the ongoing talks surrounding the renegotiation of the North American Free Trade Agreement, which Trump has threatened to pull out of unless Mexico does more to prevent illegal immigrants from coming into the U.S. Trump on Monday said the caravan was coming because the people in it thought they could take advantage of certain Obama-era protections for immigrants.
"In the face of this bullying and these threats of mass violence, we continue to stand in solidarity with displaced people of all races, ethnicities, creeds, abilities, and gender and sexual identities," the organization said.
'CARAVAN' MARCHES ON UNIMPEDED, DESPITE OBAMA ADMINISTRATION SPENDING MILLIONS TO HELP MEXICO CONTROL BORDER
Trump on Monday night urged "tough laws" and the building of a U.S.-Mexico border wall to prevent countries from sending "many of their people" to the U.S.
The president tweeted: "Honduras, Mexico and many other countries that the U.S. is very generous to, sends many of their people to our country through our WEAK IMMIGRATION POLICIES. Caravans are heading here. Must pass tough laws and build the WALL. Democrats allow open borders, drugs and crime!"
The president's tweets came after "FOX & Friends" reported early Sunday a group of 1,200 migrants, mostly from Honduras, was traveling through Mexico without authorization en route to the U.S. with the intention of illegally crossing into the states or seeking asylum. According to a BuzzFeed News report, officials in Mexico have not attempted to stop the migrants. Mexico's National Institute of Immigration told BuzzFeed Monday that it plans to disband the caravan by Wednesday, but those helping the immigrant group are skeptical of the rhetoric.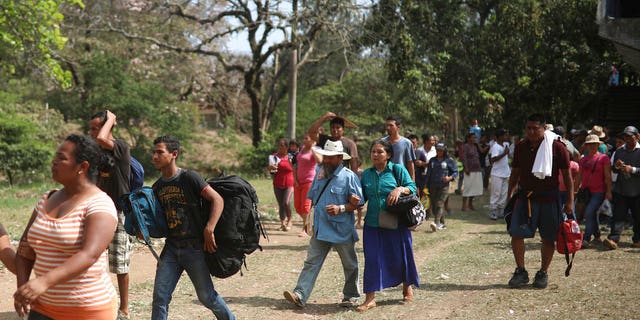 Organizers said they expect Mexico to allow some migrants to continue traveling to the U.S. border or, another organizer told BuzzFeed News, apply for asylum in Mexico.
Mexico's government also insisted it does not "promote irregular migration" and that about 400 caravan participants have been sent back to their home countries, though that was not able to be independently confirmed.
A group of a few hundred men also broke off from the march Sunday, hopping a freight train north, likely with hopes of trying to enter the U.S. more quickly, The Associated Press reported. But the rest seemed unlikely to move again until Wednesday or Thursday, and they probably would take buses to the last scheduled stop in Mexico's central Puebla state.
Fox News' Griff Jenkins and The Associated Press contributed to this report.