Options Abound for Palin After Alaska Governorship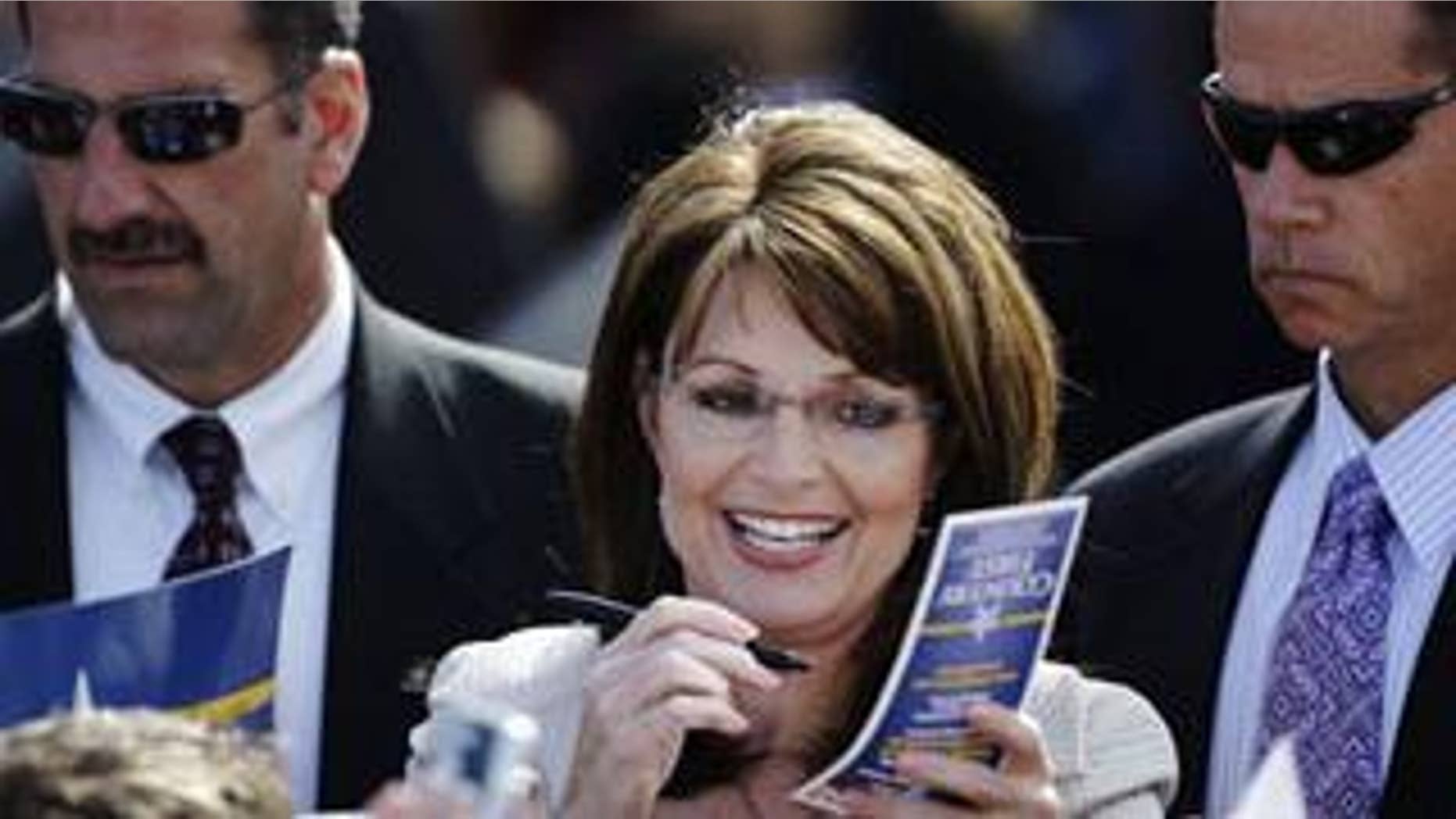 What will Sarah Palin do after she quits as Alaska's governor? She hasn't said exactly, but she certainly won't suffer from a lack of options.
The former Republican vice presidential nominee, in revealing her decision to resign abruptly by the end of the month, said Friday she still wanted to make a difference.
"And I'll work hard for others who still believe in free enterprise and smaller government; strong national security for our country and support for our troops; energy independence; and for those who will protect freedom and equality and life," she said in a news conference at her home in Wasilla. "I'll work for and campaign for those proud to be American, and those who are inspired by our ideals and won't deride them."
Palin, 45, didn't elaborate on how she'd achieve those goals, but she will have a variety of potential platforms, from writing books to hitting the public speaking circuit to working directly with the Republican Party to get candidates elected.
In the process, she'll also have the ability to make a lot of money -- far more than the $125,000 or so a year she has earned as governor. She already had a deal with publisher HarperCollins to produce her memoirs, with publication planned for next spring. Terms of the deal have not been disclosed, but six-figure book deals are common for high-profile political figures.
Palin's spokesman, David Murrow, said the governor hasn't said anything about this being her "political finale."
"She's looking forward to serving the public outside the governor's chair," he said.
And Pam Pryor, a spokeswoman for Palin's political action committee, said the group continues to accept donations on its Web site, which saw an uptick in contributions Friday afternoon.
When Palin revealed her bombshell news Friday at a hastily arranged news conference at the start of a holiday weekend, it left many political insiders and observers scratching their heads -- wondering if she was dropping out of politics altogether or positioning herself to run for Congress or even president.
Meghan Stapleton, Palin's personal spokeswoman, tried to tamp down some of the speculation, saying that Palin's comments about serving outside government were describing her immediate plans. It's too early to say whether Palin would run for president, Stapleton said, and in the meantime, the governor will continue to work to bring "positive change as a citizen without a title right now."
Stapleton called Palin's resignation a "fighting move."
"This is a move that says, 'Enough, I'm not going to keep hitting my head against this wall. I'm not playing politics as usual. You go play that game. I'll go play it another way and at another court,' so she can get something done and make a difference with the issues and values that are important to her," Stapleton told FOX News.
Republican National Committee Chairman Michael Steele said he plans on talking to Palin "very soon."
"She is an important and galvanizing voice in the Republican Party. I believe she will be very helpful to the party this year as we wage critical campaigns in Virginia and New Jersey," Steele said in a written statement.
"I am certain this has been a difficult decision for her to step down as Alaska's governor. She has been a good governor for her state, and I wish her and the Palin family the best during this transition."
Former Bush adviser Karl Rove said Palin may find her retirement more politically demanding than her old job as governor.
"Everybody's going to want to have her come campaign, or appear or make speeches and she no longer has the useful excuse of saying, 'Look, I would love to help you on that but I got to pay attention to my job,'" Rove told FOX News. "Now she's going to be torn. It's going to be very hard for her to say no continually to people who want her to get on the long flight out of Alaska and come down to lower 48."
Rove said if Palin is interested in running for president in 2012, she'll have to find a way to maintain her visibility for three years.
"And in the next year or so it's going to be hard for her to have the same sustained attention that people are going to come to expect now that they see her freed of her responsibilities as governor," he said.
But Palin may want to keep a low profile after the intense media scrutiny she has endured over the past year.
Palin emerged from relative obscurity nearly a year ago when she was tapped as then Republican presidential candidate McCain's running mate.
She was a controversial figure from the start and soon became the butt of talk-show jokes. Comedian Tina Fey famously imitated her elaborate updo and folksy "You betcha!" on "Saturday Night Live."
In Alaska, she saw her popularity wane this year after returning from the presidential campaign. She's become a polarizing figure, and multiple ethics complaints have been filed against her with the state personnel board.
All but two of the 15 complaints have been dismissed with no findings of wrongdoing, although one complaint led to Palin's agreement to reimburse the state about $8,100 for costs associated with trips taken with her children. The state says it has spent nearly $300,000 to investigate the complaints, and Palin says she has racked up more than $500,000 in legal fees fighting them.
The Associated Press contributed to this report.