On the road again: Amid stalemate, Obama campaigns for budget bill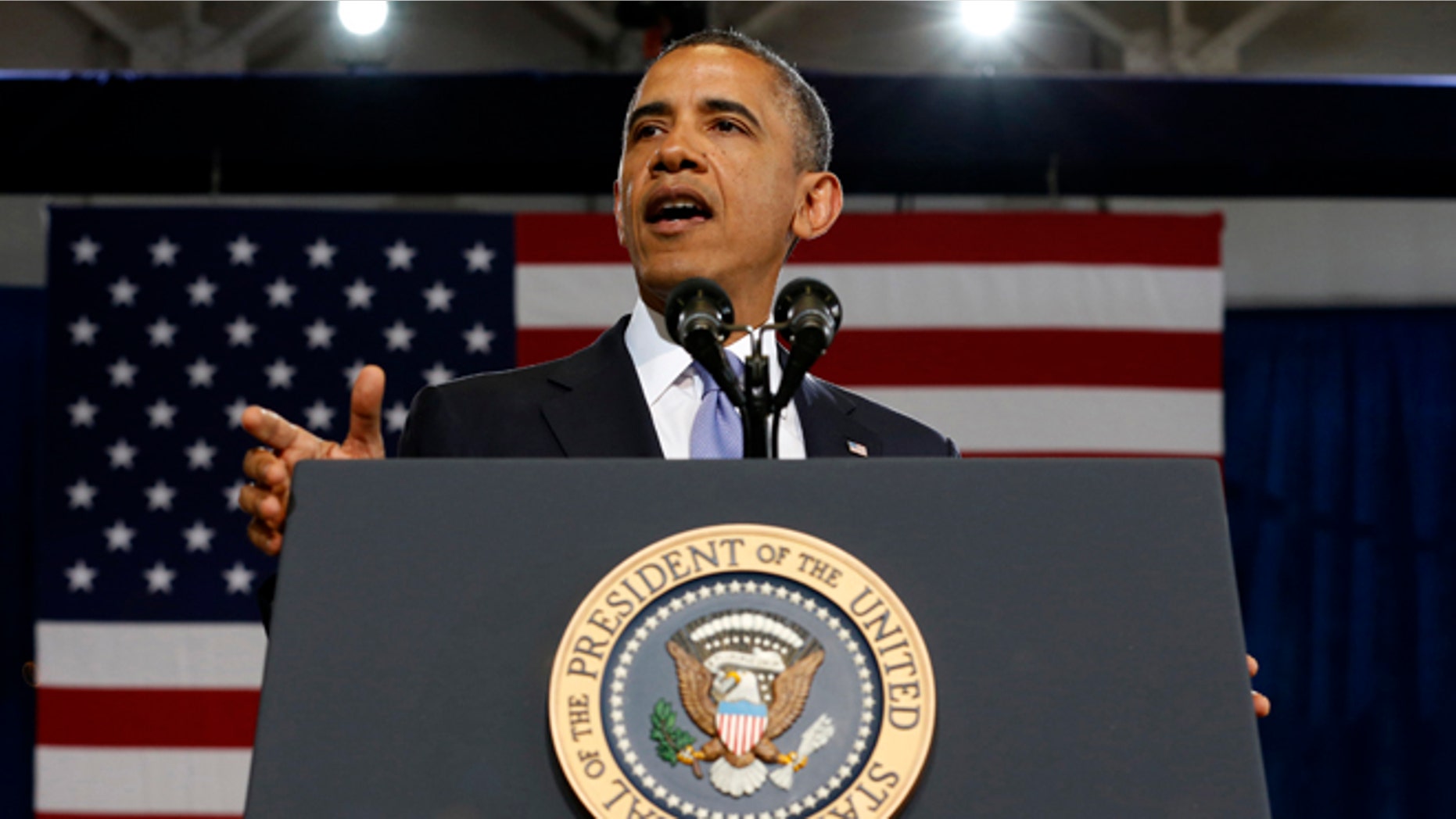 One would think that if the budget crisis is going to be resolved, it's going to happen somewhere in the one-mile stretch between the White House and Capitol Hill.
But while Congress convened once again Thursday to weigh a set of mini-spending bills, President Obama hit the stump 20 miles away -- taking his bid to pressure Republicans, once again, on the road.
At a construction company in Rockville, Md., Obama blasted the "reckless Republican shutdown in Washington," and called on Congress to fix it by passing a budget "with no partisan strings attached."
He warned that the economic impact will get "worse" the longer it drags on, and accused House Speaker John Boehner of catering to "extremists" by not bringing a straight budget bill to the floor.
Republicans, meanwhile, complained that Obama had called them to the White House a day earlier without offering any concessions.
"It was essentially a negotiation about not negotiating," Senate GOP Leader Mitch McConnell said. He added: "It's time for Democrats to start acting responsibly. It's time to work with us and get our way out of this mess."
Ahead of the president's visit on Thursday, the White House made clear the president was not budging off his position that Republicans must pass a "clean" spending bill, free of provisions dealing with ObamaCare. "He will not negotiate. He will not offer concessions to Republicans in exchange for not tanking the economy," press secretary Jay Carney said.
The president held a late-afternoon meeting Wednesday with bipartisan congressional leaders, but the session ended as it began -- with each party retreating to previously stated positions and a compromise nowhere in sight.
Obama is now returning to a tactic he's employed many times before, making his case to supporters at campaign-style events in a bid to increase pressure from the outside on his political foes. The tactic, though, continues to open the president to Republican accusations that he's veering clear of the negotiating table, where a deal presumably would be struck.
"At times like this, the American people expect their leaders to come together and to try to find ways to resolve their differences," Boehner said Wednesday evening after the White House session broke up. "The president reiterated one more time tonight that he will not negotiate."
Ever since the president rallied for the passage of a national stimulus package in 2009, Obama has made campaign-style speeches part of his repertoire in advocating for legislation.
The past year has been filled with these kinds of events. Last December, Obama rallied Detroit union supporters over tax hikes amid the fiscal cliff showdown
Then in February, he pressured Republicans, from a shipyard in Virginia, to strike a deal on the sequester to avoid harsh spending cuts. The tactic didn't work -- the "supercommittee" tasked with solving the problem ended up deadlocked, and the cuts went into effect.
Then came a national push for gun control legislation. Then again in May, Obama launched an effort to pressure Congress to hold down student loan rates.
It's unclear whether Obama's pressure campaign will work this time. Republican leaders are no doubt cognizant that during the last partial government shutdowns in 1995 and 1996, their party was largely blamed for the impasse and suffered in the next elections.
But the party is holding the line, arguing that their demands that ObamaCare be curtailed are in line with what the American people want.
While Obama is on the road, House Republicans are trying to increase pressure on the president's party by calling up a series of mini-spending bills and daring Democrats to oppose them. The House on Thursday, in a 265-160 vote, approved a bill to fund the National Guard and Reserve, and debated another to fund the Veterans Affairs Department. On Wednesday, the House -- without much Democratic support -- approved bills to fund the national parks and the National Institutes of Health. Another bill was passed allowing the District of Columbia to spend its own funds.
Tempers were flaring among the rank-and-file as leaders failed to reach a compromise.
Lawmakers spent the evening Wednesday shouting at each other. In perhaps the most intense exchange, Rep. George Miller, D-Calif., repeatedly accused his GOP colleagues of waging "jihad" on Americans.
Miller, who was a champion of the federal health care law when it was being drafted, claimed Republicans who are now complaining about the national parks being closed did not show the same concern over health care. He said: "When you were on the jihad against Americans' access to health care, shutting down the parks wasn't a problem. Shutting down NIH wasn't a problem."
Miller was then ruled "out of order." After he left the floor, Rep. Mike Simpson, R-Idaho, said he was "disgusted" by Miller's comments.
"We should all reject his comments," Simpson said, adding that Miller should be formally censured "but I won't call for it."