On eve of anniversary of Benghazi attack, father of dead American vows not 'to let this die'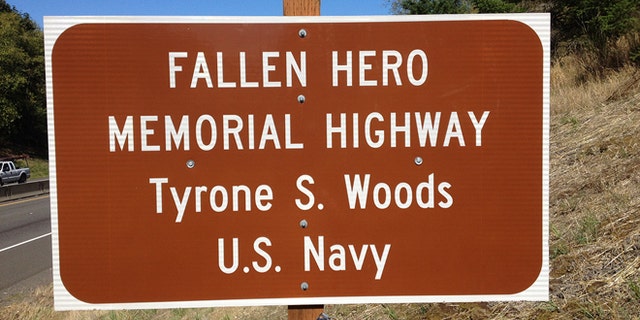 NEWYou can now listen to Fox News articles!
On the third anniversary of the 2012 Benghazi terrorist attack, the father of former Navy Seal Ty Woods, who was killed defending the CIA Annex, told Fox News, "I am not going to let this die. Justice must prevail."
Charles Woods also said his resolve was strengthened Thursday, on the eve of the anniversary, after seeing a road sign by chance while driving along Highway 213 near Oregon City. Ty graduated from Oregon City High School.
"I am in Oregon getting my other kids registered for college. And driving down the freeway, I saw this sign for 'Fallen Hero. Memorial Highway. Tyrone S. Woods U.S. Navy.' I pulled over, and took a picture as the tears went down my cheeks. He is my son. I am not going to let this die. Justice must prevail."
Also killed in the attack were foreign service officer Sean Smith, Ambassador Chris Stevens, and Glen Doherty, a former Navy Seal doing security and surveillance work for the CIA.
Woods said he was deeply frustrated by the lack of public progress by the Benghazi Select Committee at uncovering what happened and the lack of answers.
"I really thought there were two ways to do a cover. One is misinformation, and that is what they have done," Woods said, referring to the administration. "And the other is by the passage of time. It no longer becomes relevant and gets swept up under the rug."
His unanswered questions include "As a father, everyone knows there were military assets -- why were they not used in this case? Seals will die rescuing their own. There was a very important conversation that night, what was said between (then secretary of state) Hillary Clinton and our commander in chief?"