Oklahoma Senate passes 'Constitutional Carry' gun bill, sends to governor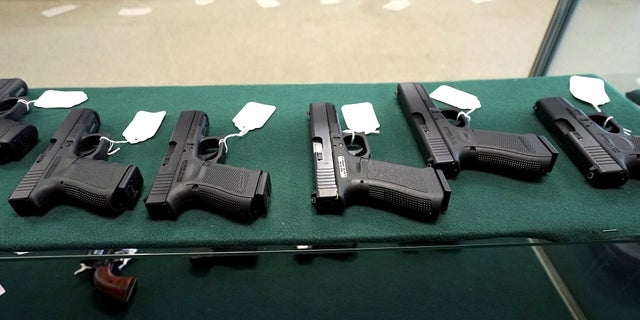 The Oklahoma Senate on Wednesday night passed the so-called "Constitutional Carry" gun bill in a 33-9 vote. The bill, which passed the state's House of Representatives about a week ago, will now be presented to Republican Gov. Mary Fallin for a signature.
It's not yet clear if Gov. Fallin plans to sign the bill, though Democratic state Rep. Shane, who voted against the bill when it went through the House, previously told Fox News he doesn't expect Fallin to veto it.
Gov. Fallin declined to say whether or not she plans to sign the bill, a spokesperson told Fox News, adding that Fallin does not typically comment on pending legislation "until after the final version reaches the governor's office, and she and her staff have a chance to review it."
If signed into law, the legislation would allow handgun owners in the state to carry without first obtaining a license.
Supporters of the bill argue it protects a gun owner's right to self defense, adding that it would eliminate the costly permit process.
Opponents, however, claim the legislation would present safety issues for law enforcement and other citizens. They also argue that given recent mass shootings, such as the one in Parkland, Florida in February, legislators should be wary of passing laws that expand gun rights.
"Can you explain to me why I should have to go pay for a license or an identification card in order to carry out my even more fundamental right to vote, but I shouldn't have to carry a weapon?" Rep. Stone said last week as the bill was debated in the House, adding during an interview with Fox News that the potential law is "inconsistent with the constitution."
If passed, firearms would remain prohibited in schools and government buildings, among other places where weapons are not allowed, Republican Sen. Nathan Dahm, who authored the bill, said.
"This is something that we've been fighting [in favor of] for years," Dahm told Fox News on Thursday, adding that expanding gun rights is an issue he has personally advocated for since he became a state senator six years ago.
He noted that the bill is a "huge success," as a similar piece of legislation failed two years ago.
Dahm reminded opponents of the bill that "there is not another right that requires people to get training and licensing in order to exercise that right," adding that the second amendment is "infringed upon the most."
Dahm said Fallin has vetoed certain gun legislation in the past, but he hopes she will sign this measure into law.
Oklahoma could possibly join some 11 states that have already passed similar laws, according to the National Rifle Association (NRA).