Obama's New British Ally May Provide Inspiration to GOP in 2012 Presidential Election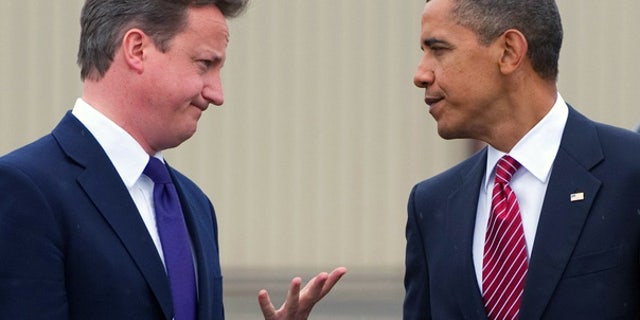 NEWYou can now listen to Fox News articles!
At first glance, the similarities between President Obama and his new British counterpart, David Cameron, are unmistakable: Both leaders, who appeared together for the first time Tuesday at the White House, are young and charismatic and swept into office as reform candidates.
But that's where the similarities end.
Obama has presided over what critics been described as an unprecedented era of government spending since he took office 18 months ago, from the $862 billion stimulus package to the nearly trillion-dollar health care system overhaul, while Cameron has embarked on an ambitious austerity path to dismantle the bloated bureaucracy that his predecessors built.
This fundamental philosophical divide appears unlikely to be bridged by either leader despite the personal relationship they forged, one that appears warmer than the one between Obama and Cameron's predecessor, Gordon Brown.
Cameron's austerity plan would seem to adhere to the principles of the Tea Party Movement, and his rise to power could serve as a blueprint to Republican candidates seeking to oust Obama in 2012.
"When I look at polling here, people are very concerned about the deficit and the national debt," said Liz Mair, an online communications expert and a Republican strategist who lived in Britain for 10 years. She told FoxNews.com that the data suggests voters in the U.S. will be more "receptive to austere messages in 2012," more so than British voters this year.
But she and other analysts warned about drawing too many parallels between U.S. and U.K. policies.
"The coalition of voters that tend to support conservatives is different from the coalition that supports conservatives in the U.S," Mair said.
Mair said she'd like to see Republicans follow Cameron's lead in the use of technology – a political approach that she said has helped him appeal to younger voters.
Cameron established an online forum called WebCameron in which he answers questions from people e-mailing him.
"It was something that made him less of a remote political figure and someone who was much more relatable," she said. "And for younger voters, that's very important."
Since his Conservative-led coalition ousted Brown's Labour Party in May, Cameron has made a dramatic reverse in British economic policy, ushering in steep cuts to public spending in order to clear the country's record national debt.
Obama, like his fellow center-left politician Brown, is wary of stalling fragile signs of growth -- and had hoped international allies would back his plan of continuing pump priming measures as the best remedy to the financial crisis.
At 43, Cameron is Britain's youngest prime minister in almost two centuries, a few months younger than Tony Blair was when he became leader in 1997.
Sometimes called the "Tory Blair," Cameron has dragged the Conservatives back from the wilderness to which they were consigned by Blair's Labour landslide, moving his right-of-center party toward the center of British politics, promoting inclusive politics, environmental concerns, and a certain modern sensibility.
He's recruited more women and minorities, declared his loyalty to public services and — gingerly — tried to draw the Tories from under the shadow of Margaret Thatcher, the polarizing leader who dominated British politics in the 1980s.
Sally McNamara, a senior analyst at the conservative Heritage Foundation who hails from Britain, said while there isn't much for Republicans to take away from Cameron's success, there is one lesson.
"A nice young fresh guy with a lovely family and a beautiful wife doesn't hurt you at all," she said. But she added no matter how dashing he was, he had to address the policy side of governing.
Cameron was obsessive about letting voters know that he cared about what they cared about, McNamara said. "Republicans have to feed into that," she said.
Tim Montgomerie, founder of ConservativeHome -- a grass roots Web site -- and a former Conservative Party aide, said the differences between Obama and Cameron over the economy are overstated.
"On the economy, there are differences now, but that's a temporary situation," Montgomerie said.
"From New Jersey to Florida, we're already seeing individual states are cutting back. ... It's only a matter of time before Obama will be saying that it's now the time to cut back, perhaps within 9 to 12 months."
Cameron's tough tone in the U.S. may at least help boost his profile.
In New York's Times Square on Tuesday, Britain's Daily Mirror found few people could even identify the prime minister.
One woman confused him with "America's Got Talent" judge Piers Morgan -- and another with BP's disgraced chief executive Tony Hayward.
The Associated Press contributed to this report.