Obama's Afghanistan Trip Shows U.S. Still Holds Out Hope for Karzai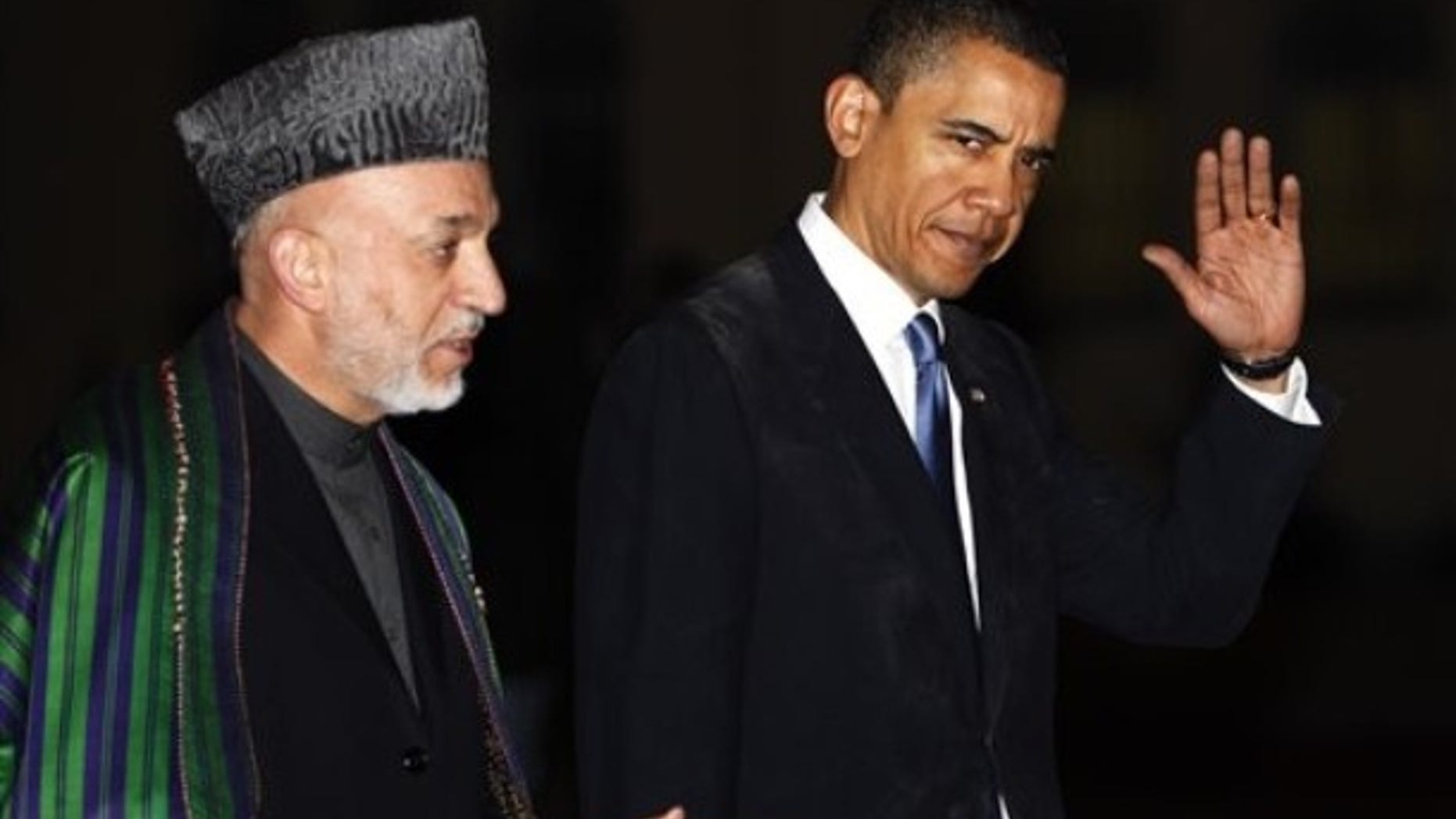 The conventional interpretation of President Obama's unexpected weekend trip to Afghanistan was the commander-in-chief laid down the law to Hamid Karzai about his government's lackluster approach to corruption.
Clearly, Obama raised corruption with the re-elected Afghan president and asked him to speed things up.
"I think he is listening, but I think that the progress is too slow," Obama told NBC's Matt Lauer.
Corruption has been a concern of the U.S. since before Karzai was re-elected in balloting riddled with fraud. Through diplomats, the U.S. has practically berated Karzai over his government's corruption since the Obama presidency began.
What is new is Obama's willingness to engage Karzai directly and be seen doing it. White House officials told Fox News that the approach reflects a sense of shared destiny as early this summer Obama's surge strategy takes on its biggest goal -- Kandahar.
"What the president said to President Karazai is that he was there to underscore his commitment to this partnership," National Security Council Chief of Staff Denis McDonough told Fox News.
There is a growing sense in the White House that Karzai isn't a completely lost cause. Obama conducted a lengthy video teleconference with Karzai two weeks ago, and during the weekend trip, he formally invited Karzai to Washington on May 12. Three meetings in two months suggests a new thaw that contrasts sharply with the chilly and skeptical interactions the Obama White House conducted with Karzai as it developed its counter-insurgency strategy.
"What we're focused on is not any observation that at some point we've turned the corner on these issues," McDonough said, placing corruption on a continuum of progress. "Corruption and governance, these are challenges that Afghanistan has faced for decades. Our view is that we have to build in a strategy that has benchmarks along the way (and) to ensure that we're hitting them."
For many, among the best indicators of Karzai's willingness to deal with corruption will be how he confronts -- or refuses to confront -- his brother, Ahmed Wali Karzai.
Ahmed Karzai has been linked to Afghanistan's vast opium trade and, according to the New York Times, has been on the CIA payroll for eight years. He is a dominant figure in southern Afghanistan, precisely where the Taliban rebuilt its strength after being routed in the first round of Operation Enduring Freedom in 2001 and 2002.
Fox News asked McDonough where the younger Karzai brother fit into U.S. assessments of President Karzai's commitment to fighting corruption.
"You've heard him debated in different places in the government," McDonough said. "I'm not going to get involved in that debate."
McDonough instead turned to the fate of Kandahar.
"It is very important to our ability to bring an end to the momentum the Taliban has enjoyed over the last several years. And part of that is preparing the political space in Kandahar," he said. "And certainly, President Karzai can be a very important ally in that effort."
McDonough also portrayed the U.S. and NATO mission in Afghanistan as an effort to expel an occupying power -- casting the West as liberators and the Taliban as the illegitimate and savage invaders.
"All the Taliban and its extremist allies offer is fear," McDonough said. "These guys had the opportunity to govern Afghanistan and the result was a foreign occupation. That foreign occupation was Arabs from Al Qaeda who operated with impunity. We're bound and determined not to allow that to happen again."
The evolving relationship between the Obama administration and Karzai will face its biggest test when U.S. and coalition forces launch their assault on Kandahar in June. By then, almost all of the 100,000 U.S. forces will be in place.
"We've dedicated the resources to this," McDonough said. "The bottom line of our effort is to break the momentum that the Taliban has enjoyed now over the course of the last couple of years. That's what you've seen in Marjah and that's what you'll see in Kandahar."
The goal is for U.S. and coalition forces to surround and isolate Kandahar by the beginning of August, just before Ramadan. U.S. officials say this will not be an assault on the city of 450,000, Afghanistan's second most populous. Officials also say the city's civilians will not be urged, as they were in Marjah, to flee before the battle begins.
"If you control the environs around Kandahar, you go a long way to controlling Kandahar," commanding U.S. Army Gen. Stanley McChrystal told reporters at the Pentagon last week. "Unlike a Marjah operation, where there was a D-Day and an H-Hour for part of the operation, it is more likely that this will be a series of activities that target different parts of it to increase that security."
U.S. and coalition forces will attempt to soften up Kandahar before the June assault by removing corrupt politicians and Taliban influences in and around the city.
If that succeeds, Karzai will be called upon to make good on promises to improve governance of a city that has been ideological and a strategic center of resurgent Taliban operations.
Karzai recently traveled to Marjah with McChrystal on a mission designed to underscore that U.S. requests for better leadership were neither fanciful nor misdirected.
"One of the things the people of Marjah asked for was some kind of governance, some kind of accountability," McDonough said. "Because they had had been living under the Taliban for too long and they're looking for alternatives."
Rick Nelson, an Afghanistan expert at the Center for Strategic and International Studies, said military advances in Marjah and, possibly in Kandahar, are only the first step in defeating the Taliban.
"We can win the military victory on the ground," Nelson said. "But if the Afghan government doesn't follow it up with a stable, legitimate government that can enforce rule of law, it really does minimize the effectiveness of that military campaign."
Meanwhile, intensified fighting has increased U.S. casualties. To date, the U.S. has suffered 79 combat-related deaths, more than double the 38 suffered by the same time last year. Through February of this year, 381 troops have been wounded, compared to 85 through the same period in 2009.
"The general notion that Afghanistan in 2010 could be twice as deadly as it was in 2009 is not unreasonable," O'Hanlon said. "We could lose 500 or 600 people this year. We lost 300 last year."