Obama Voices Empathy With 'Frustration' Behind Anti-Wall Street Protests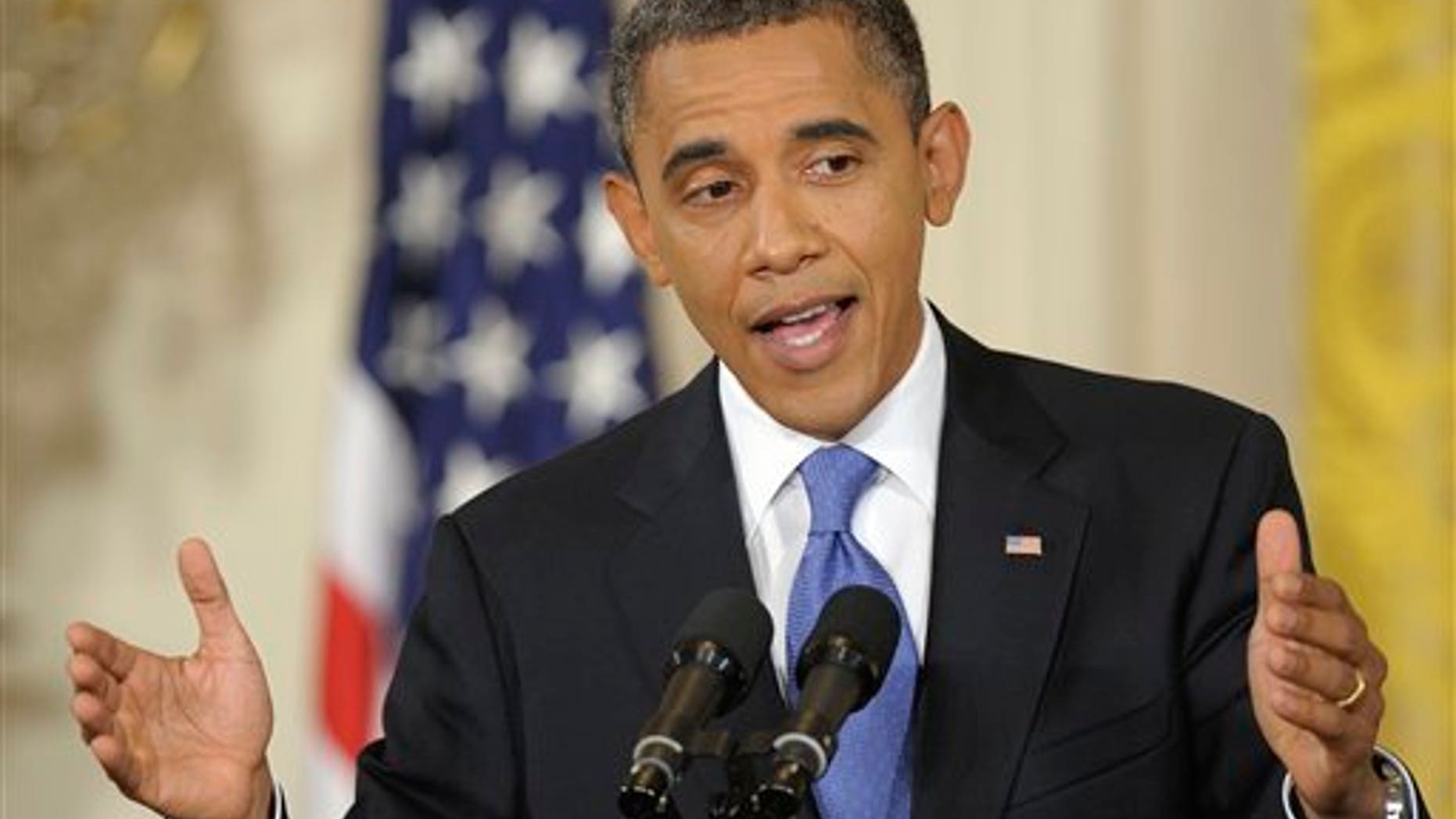 Three weeks into a growing protest movement targeting Wall Street and the nation's financial services sector, President Obama expressed empathy Thursday for the demonstrators, even going so far as to elevate them as a force in the 2012 election cycle.
"I think part of people's frustrations, part of my frustration, was a lot of [lending] practices that should not have been allowed weren't necessarily against the law, but they had a huge destructive impact," the president said at a midday news conference Thursday.
The protestors, he added, "are giving voice to a more broad-based frustration about how our financial system works…and that's going to express itself politically in 2012 and beyond."
The remarks represented Obama's first public comment on the "Occupy Wall Street" movement, which is now in its third week, and has led to more than 700 arrests in New York and elsewhere.
As the president spoke to reporters in the East Room, more than 1,000 anti-corporate protesters were gathering, less than a mile away, at Washington's downtown Freedom Plaza. Waving placards and chanting slogans, the group marched to the U.S. Chamber of Commerce – to protest the organization's support of the Obama administration's jobs plan – then moved on to K Street, the hub of lobbying and law firms that is the capital's pinstriped cousin to Wall Street.
The action in Washington had been planned months in advance, said organizers with the October 2011 Coalition, and enjoyed no formal ties with the Occupy Wall Street movement. But it was clear the two groups largely share the same goals, tactics and fervor.
Obama, in remarks on the protests that extended to nearly 10 minutes, refrained from rebuking those arrested or mounting any defense of Wall Street. Instead, he further criticized bankers and lenders.
"We had the biggest financial crisis since the Great Depression, huge collateral damage all throughout the country, all across Main Street," the president told reporters, "and yet you're still seeing some of the same folks who acted irresponsibly trying to fight efforts to crack down on abusive practices that got us into this problem in the first place."
The closest Obama came to defending Wall Street was when he added: "I have said before, and I will continue to repeat: We have to have a strong, effective financial sector in order for us to grow."
In her own, weekly news conference, House Minority Leader Nancy Pelosi, D-Calif., went even further, praising the Occupy Wall Street crowds for their youth, focus, and effectiveness. "God bless their spontaneity," she said.
But Rep. Peter King , R-N.Y., who sits on the House Financial Services Committee, blasted President Obama for siding with the protesters.
"What they're doing is disgraceful," King said in an interview with Fox News. "They should be denounced; they're breaking the law; they're serving no real purpose at all….And for the president or anyone else to give them any credence or credibility is also irresponsible."
Asked by the liberal website Slate.com if he sees the Occupy Wall Street protests as helpful in moving the president's jobs bill through Congress, White House Chief of Staff William Daley -- a former executive at J.P. Morgan Chase, one of Wall Street's most prominent investment houses -- proved more circumspect than his boss.
"I don't know," Daley said.
Fox News' Joy Lin, Steve Centanni, and Chad Pergram contributed to this report.