Obama: US will keep making progress against ISIS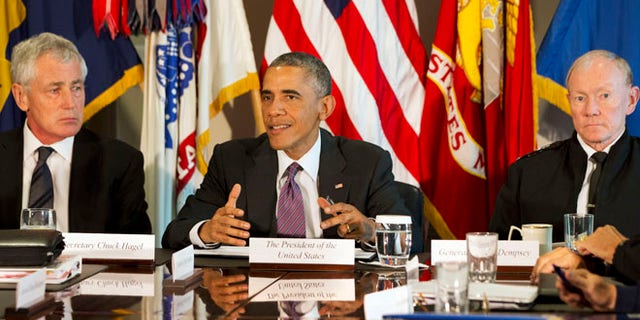 President Barack Obama told top military commanders Wednesday that he's confident the U.S. will keep making progress in its fight against the Islamic State group, as the reality set in of a protracted military engagement with limited prospects for success.
Flanked by the top military brass at the Pentagon, Obama said he was heartened to see that a broad international consensus had emerged that the extremist group that now controls much of Iraq and Syria poses a threat to world peace. He said nations across the globe have come to the conclusion that the group's "barbaric behavior has to be dealt with."
"This is not something that can be solved overnight," Obama said. "Our strikes continue, alongside our partners."
After meeting with commanders, Obama also convened his National Security Council at the Pentagon to discuss efforts to rebuild Iraq's beleaguered military, and train and arm Syrian opposition groups that the U.S. hopes will battle the Islamic State on the ground so Western troops don't have to.
The high-level meetings come amid growing concerns about whether the U.S.-led campaign is working, and whether the president can both keep his pledge to destroy the Islamic State group and keep U.S. troops out of combat.
Two months after the U.S. began launching airstrikes in Iraq that later expanded to Syria, the Islamic State group is far from crippled. The Islamic group remains in control of most of the territory it has seized in Iraq and Syria, and its fighters appear on the verge of capturing the strategic town of Kobani near Turkey despite days of airstrikes by the U.S.-led coalition. In other areas, Islamic State fighters have shrouded themselves within urban areas to elude efforts to oust them.