Obama takes a mulligan on response to beheadings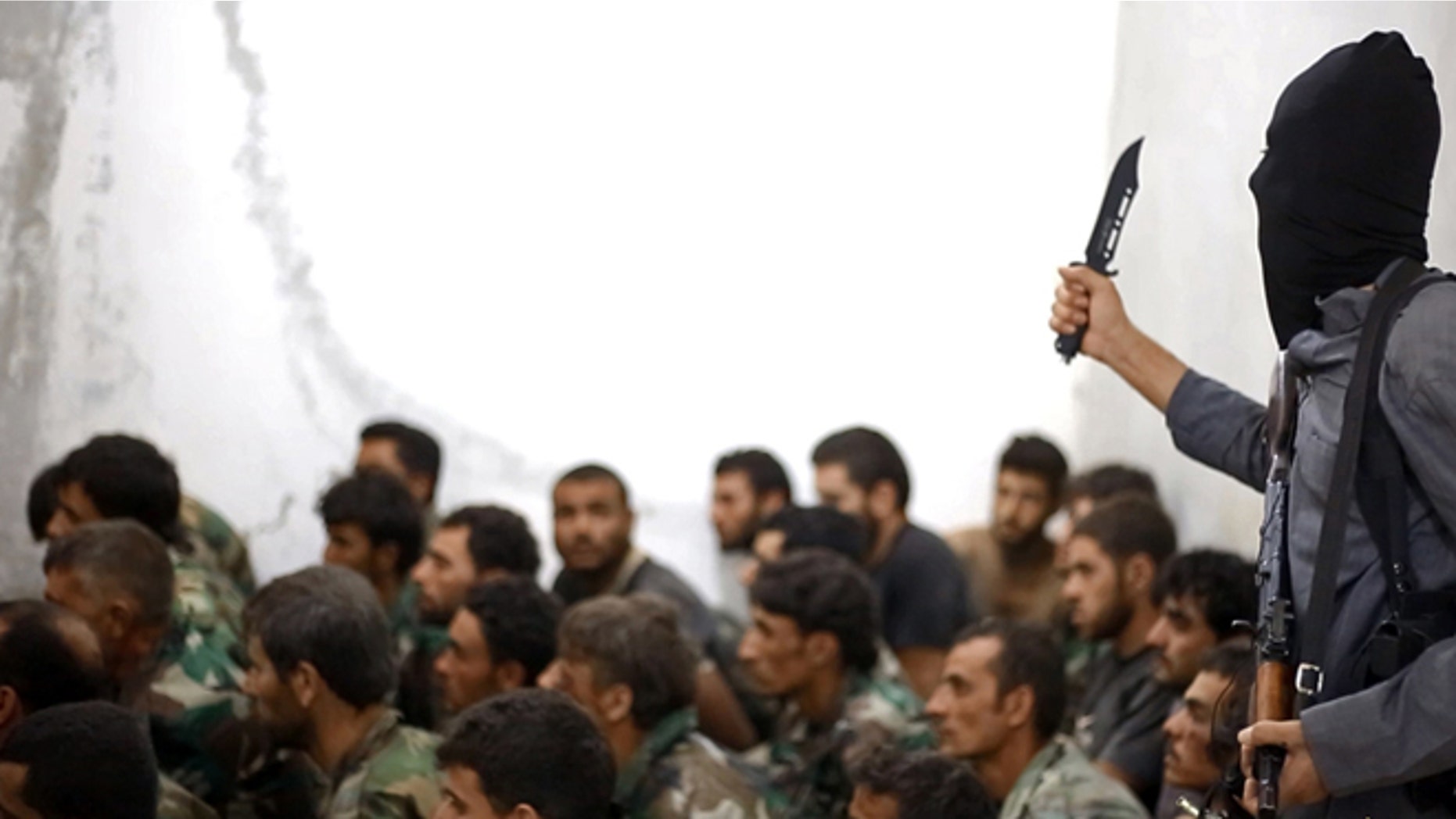 Want FOX News First in your inbox every day? Sign up here.
Buzz Cut:
• Obama takes a mulligan on response to beheadings
• Obama ally hits Hillary's 'entitlement' as frontrunner's ratings fall
• 'Significant illegal activities' alleged against pro-Nunn group
• Ugly early in N.H.
• But you should see the view!
OBAMA TAKES A MULLIGAN ON RESPONSE TO BEHEADINGS
So, that round of golf probably wasn't worth it, right? President Obama is scrambling in a prime-time address tonight to show that his level of alarm about marauding Islamists in the Middle East matches that of his fellow Americans. How alarmed are Americans? The new WSJ/NBC News poll tells us the story: Only 26 percent of respondents felt the country is safer than before 9/11, awareness of the beheaded Americans is higher than any news story in five years and the president's job approval rating remained at 40 percent, the lowest of any president ahead of midterms in the past 20 years. Obama adopted a tougher tone last week, but Obama's golf outing on August 20 immediately after declaring himself "heartbroken" over the beheading of American James Foley can now go down in the books as one of the worst political botches of recent memory. And describing the beheading savages as a potentially "manageable" problem and infamously saying, "We don't have a strategy yet" sure didn't help.
[Watch Fox: Live coverage of President Obama's address on escalating U.S. military involvement at 9 p.m. ET. Plus, full analysis and context from the best team in the business.]
What does he want? He's not sure, but he wants it now! - The administration has worked hard to telegraph the message the president will lay out tonight. Obama is ready to start dumping arms on the remaining Syrian rebels still classified as moderate Islamists so that the Air Force can start dumping bombs on their former comrades in arms, the immoderate Islamists of ISIS. The president doesn't want Congress to authorize the airstrikes, since he claims he doesn't need the authority and their authorization would in some way reestablish Congressional primacy on making war. What the president wants is Congress to share the political culpability for the mission, which, given the sketchy state of the rebels Obama is now ready to directly arm after years of delay, is a very risky one. The vehicle for obtaining congressional "buy in" is, appropriately, money. The president is expected to seek a $5 billion appropriation to fund the war, which gets Congress on the hook but doesn't insinuate that Congress has any authority to make or not make war. What's the money for? They'll figure it out later.
[Poll Watch: The latest batch of Fox News Polls on President Obama's  job ratings, including his handling of ISIS, the likelihood of ISIS attack on US soil, the president's leadership and how secure the U.S. is in a post 9/11 world will be released in the 6 p.m. ET hour during "Special Report with Bret Baier." ] 
-- 55 days until Nov. 4 --
POWER PLAY: KANSAS RACE FAR FROM FLAT
With Democrat Chad Taylor suing to remove his name from the Kansas Senate ballot and polls showing Sen. Pat Roberts, R-Kan., and independent Greg Orman in a dead-heat, the reliable red state could be showing some blue hues. In a climate that appears highly favorable to Republicans and the state's history of not having a Democratic Senator since 1932, why is the race so close? Watch "Power Play with Chris Stirewalt" to find out.
CHAMBER BETS THE FARM ON ERNST
Iowa's Republican Agriculture Secretary Bill Northey is featured in the U.S. Chamber of Commerce's latest effort to boost Iowa  Republican Senate hopeful Joni Ernst. Northey appears in the ad stressing his deep Iowa roots that span four generations saying, "Iowa's farm families will have a voice in Washington with Joni Ernst." The Chamber has committed over seven-figures in its campaign for Ernst.
McCain rips pro-Braley group over mailer - Roll Call: "Sen. John McCain, R-Ariz., blasted a mailer from a group supporting Rep. Bruce Braley, D-Iowa, for a 'disgusting attack' on Republican Joni Ernst's military service…"
PETERS TOUTS SERVICE IN NEW AD
Michigan Democratic Senate hopeful Congressman Gary Peters highlights his military service in his latest ad. "Service, for Gary Peters its more than a word," a narrator says. Peters concludes the ad stating, "When it comes time to cast a vote, the decision to put men and women in harm's way is one of the toughest one's you can make and I will always think of the people I served with, their sacrifices and their families."
PICK SIX:  SURVIVING THE JUNGLE
Republicans need six more Senate seats to take control of the upper chamber. Which blue seats are the most vulnerable in this year's midterms? Here are the top picks among Fox News First readers: Arkansas (13.7%), Montana (12.9%), West Virginia (12%), Louisiana (11.5%), South Dakota (10%) and North Carolina (9.6%).  Dave Foster, a Fox News First reader from Colorado, believes social issues will sink Rep. Cory Gardner, R-Colo., as he battles Sen. Mark Udall, D-Colo. Foster thinks that the GOP will fare better in Alaska and Louisiana, though.
Share your top six picks. Email them – just your top six, please – to FOXNEWSFIRST@FOXNEWS.COM or tweet @cstirewalt.
[New at Fox News Opinion - American Conservative Union Chairman Matt Schlapp writes that Sen. Al Franken, D-Minn, is in serious trouble.]
OBAMACARE A DRAG WITH LIKELY VOTERS
Daily Caller: "Two months before midterm elections, Obamacare has the disapproval of a majority of registered voters — just above its all-time low level of support, according to the Kaiser Family Foundation's latest tracking poll."
[A new analysis by the conservative group American Action Forum finds take-home pay at small businesses was caught to the tune of some $22.6 billion due to ObamaCare, translating to a loss of nearly $935 for workers at companies with 50 to 99 employees.]
SHUTDOWN NOT PART OF GOP'S MIDTERM STRATEGY
Washington Examiner: "The House will vote Thursday on a bill to fund the government through Dec. 11, holding spending levels at about the current level, Appropriations Committee Chairman Hal Rogers, R-Ky, announced late Tuesday. The bill caps annual spending at the 2014 $1.012 trillion level and it includes a provision to extend the Export-Import Bank until June 30… With the election just a few weeks away, both parties in the House and Senate are eager to pass the continuing resolution without typical partisan fighting so they can quickly adjourn and go home to campaign."
Buuuut… - Sen.Ted Cruz, R-Texas, suggested Tuesday tying legislation to the continuing resolution to stop President Obama's executive order deferring deportations of young illegal immigrants, known as DACA. Cruz told reporters, "I think we should use any and all means necessary to prevent the president from illegally granting amnesty."

WITH YOUR SECOND CUP OF COFFEE...
Now that the midterm campaign is in full-swing, candidates are pulling out all the stops to press the flesh and win over crowds. Nothing fires up a crowd more than the right soundtrack. Music and campaigns have a rich history in American politics. The Founding Fathers used "God Save Great Washington," to not only mock "God Save the Queen" but rally the fledgling nation around George Washington. It was John Adams who first used lyrical mud-slinging to bash Andrew Jackson warning that slavery, pestilence, and even the Devil would come should Adams not be elected. As the diddy went: "Fire's a-comin', swords a-comin' / pistols, guns and knives are comin' /… if John Quincy not be comin'."  President Dwight Eisenhower popularized jingles with his famous "I Like Ike" campaign. In the modern age, politicians have favored everything from Motown to hip-hop but some have favored the bizarre, like when independent presidential candidate Ross Perot felt Patsy Cline's ballad about a hopeless romantic, "Crazy," was a suitable campaign song.  

Got a TIP from the RIGHT or LEFT? Email FoxNewsFirst@FOXNEWS.COM

POLL CHECK
Real Clear Politics Averages
Obama Job Approval: Approve – 42 percent//Disapprove – 53.8 percent
Direction of Country: Right Direction – 26.4 percent//Wrong Track – 65.4 percent 
Generic Congressional Ballot:  Democrats – 43.4 percent// Republicans – 45 percent
OBAMA ALLY HITS HILLARY'S 'ENTITLEMENT' AS FRONTRUNNER'S RATINGS FALL
While stumping for Florida Democratic gubernatorial candidate Charlie Crist Monday, Gov. Deval Patrick, D-Mass., an Obama ally occasionally mentioned as a potential 2016 contender warned of the appearance of "entitlement" for Democratic frontrunner Hillary Clinton, who has struggled mightily to explain her family's massive post-presidency cash haul. Patrick told the Palm Beach Post that Clinton is "fantastic and incredibly strong," but "the problem with inevitability is it's sometimes interpreted as entitlement and I think that voters want competition and they want their candidates to have to work for it." She's going to be working harder, it would seem. The new WSJ/NBC News Poll says Clinton's long campaign isn't wearing well with voters: "…43% of registered voters view Ms. Clinton positively, compared with the 41% who harbor negative views. That's a steep drop from February 2009 when 59% viewed the newly confirmed secretary of state positively and just 22% held negative views."
NO HARD FEELINGS: ROMNEY HELPS CHRISTIE RAISE DOUGH
New Jersey Star-Ledger: "Gov. Chris Christie's birthday fundraiser on Wednesday featuring special guest Mitt Romney is a sold-out event… The event… will raise money for the state GOP."
[Mitt Romney is slated to campaign this afternoon for Illinois Republican gubernatorial candidate Bruce Rauner.]
'SIGNIFICANT ILLEGAL ACTIVITIES' ALLEGED AGAINST PRO-NUNN GROUPJust one day after Michelle Obama visited Georgia to push voter registration with Democratic Senate nominee  Michelle Nunn, a local Atlanta news station uncovers an investigation that ties a group led by Nunn donor and ally, Georgia State House Minority Leader Stacey Abrams, to voter registration fraud. Channel 2 Action News reports Secretary of State Brian Kemp wrote to county election officials, telling them, "Preliminary investigation has revealed significant illegal activities' including forged voter registration applications, forged signatures on releases, and applications with false or inaccurate information."

[The Hill: "The Democratic National Committee is launching a new campaign to get supporters to pledge to vote in the midterm elections, an effort to mitigate the party's expected drop-off in turnout this fall…the committee is blasting out an email from Vice President [Joe Biden] …"]
Obama-itis - The latest ad from Georgia Republican Senate candidate David Purdue attacks Democrat Michelle Nunn's liberal record. From the ad: "In her campaign plan Michelle Nunn admits she is too liberal and her foundation gave money linked to terrorists." The National Republican Senatorial Committee has also launched an ad featuring Nunn saying "I defer to the president's judgment" tying her to support of President Obama's support of amnesty for illegal immigrants.
UGLY EARLY IN NEW HAMPSHIRE AS SHAHEEN OPENS ON ATTACK
In a sign that Sen. Jeanne Shaheen, D-N.H., sees trouble ahead for her re-election bid, she greeted Republican Scott Brown into the general election with an attack ad even before Brown had officially iced his party's nomination. Before polls closed Tuesday, Shaheen began running one television ad criticizing Brown and another featuring New Hampshire residents and communities she's helped. Brown is also wasting little time in drawing contrasts between himself and Shaheen, launching a spot seeking to paint Shaheen, as a rubber stamp for President Obama's agenda. The former Massachusetts Senator appears at an iconic local diner in the ad saying, "I'll be an independent Senator that votes for New Hampshire first."
[And Willey was a technicality! - Fox News: "If he's successful, Brown would become only the third U.S. senator to serve multiple states. Waitman Willey served [the Reformed Government of] Virginia and then West Virginia when it became a state during the Civil War and James Shields represented Illinois and Minnesota before being elected from Missouri in 1879."]
Potential for GOP House Pickups - Republicans are setting their sights on two possible House pickups in New Hampshire. Rising Republican star Marilinda Garcia, who has potential 2016 candidates like Sen. Ted Cruz, R-Texas, lining up to come to her aid, is looking to be a formidable opponent for Rep. Ann Kuster, D-N.H. Republicans are equally optimistic that former Rep. Frank Guinta, R-N.H., will be successful in his third attempt to knock off Rep. Carol Shea-Porter, D-N.H.. The N.H. Journal has more.
[It pays to have an early primary - Sen. Rand Paul, R-Ky., visits Manchester, N.H., Friday to take part in a  unity tally with Republican Scott Brown and Sen. Kelly Ayotte, R-N.H.]
DEMS OUST SCANDAL-SOAKED INCUMBENT IN BID TO SAVE HOUSE SEAT
Boston-area Democrats opted for former Marine and Iraq war Veteran Seth Moulton, ousting nine-term Rep. John Tierney, D-Mass., who is still reeling from his wife's conviction over shady business dealings. The scandal nearly cost Tierney his seat to Republican Richard Tisei in 2012. Moulton's positioning himself as an outsider, blaming Washington's dysfunction on Republicans and Democrats is likely to give him a boost as he takes on Tisei in November.  More.
Beacon Hill brawl ahead - Failed 2010 Democratic Senate Candidate Martha Coakley scored an unconvincing win to secure her party's nod for Massachusetts's gubernatorial contest. The Massachusetts Attorney General will face a bitter contest against Republican Charlie Baker, with recent polls showing the two are statistically tied.
CUOMO COBBLES IT TOGETHER
Gov. Andrew Cuomo, D-N.Y., and his running mate Kathy Hochul scored a decisive victory, with both receiving over 60 percent support. WSJ has the full breakdown of the race.
RHODE ISLAND DEMS OPT FOR REFORMER IN FIGHT WITH FUNG
Rhode Island Treasurer Gina Raimondo, who successfully pushed a dramatic overhaul of Rhode Island's pension system, scored her party's nomination for governor. If successful in fending off Republican nominee Allan Fung, mayor of Cranston, Raimondo would become the Plantation State's first female governor. The ProJo has more.
FREEDOM PARTNERS RAKES RAHALL OVER COAL
Conservative croup Freedom Partners Action Fund is blasting Rep. Nick Rahall, D-W.Va., over his support of President Obama's energy, including a carbon tax which would be disastrous for the coal-rich state. From the ad: "If Congressman Nick Rahall won't vote for West Virginia, why should we vote for him?"
BUT YOU SHOULD SEE THE VIEW!
NYT: "What will $1 million buy in New York City? … A new development, 42 Crosby Street, is pushing the limits of New York City real estate to new heights with 10 underground parking spots that will cost more per square foot than the apartments being sold upstairs. The million-dollar parking spots will be offered on a first-come-first-served basis to buyers at the 10-unit luxury apartment building being developed by Atlas Capital Group at Broome and Crosby Streets, itself the former site of a parking lot. At $250,000 a tire, the parking spaces in the underground garage cost more than four times the national median sales price for a home, which is $217,800, according to Zillow."
AND NOW, A WORLD FROM CHARLES…
"American public opinion, as you can see in the polls, radically changed from being against airstrikes to being heavily in favor that [President Obama] decided to do airstrikes. This is a classic example of leading from behind where he waits for public opinion.  And now it's the public who's demanding he do something." – Charles Krauthammer on "Special Report with Bret Baier" Watch here.
Chris Stirewalt is digital politics editor for Fox News.  Want FOX News First in your inbox every day? Sign up here.