Obama Steps Up Health Law Defense, Releases Report Claiming Premiums Will Fall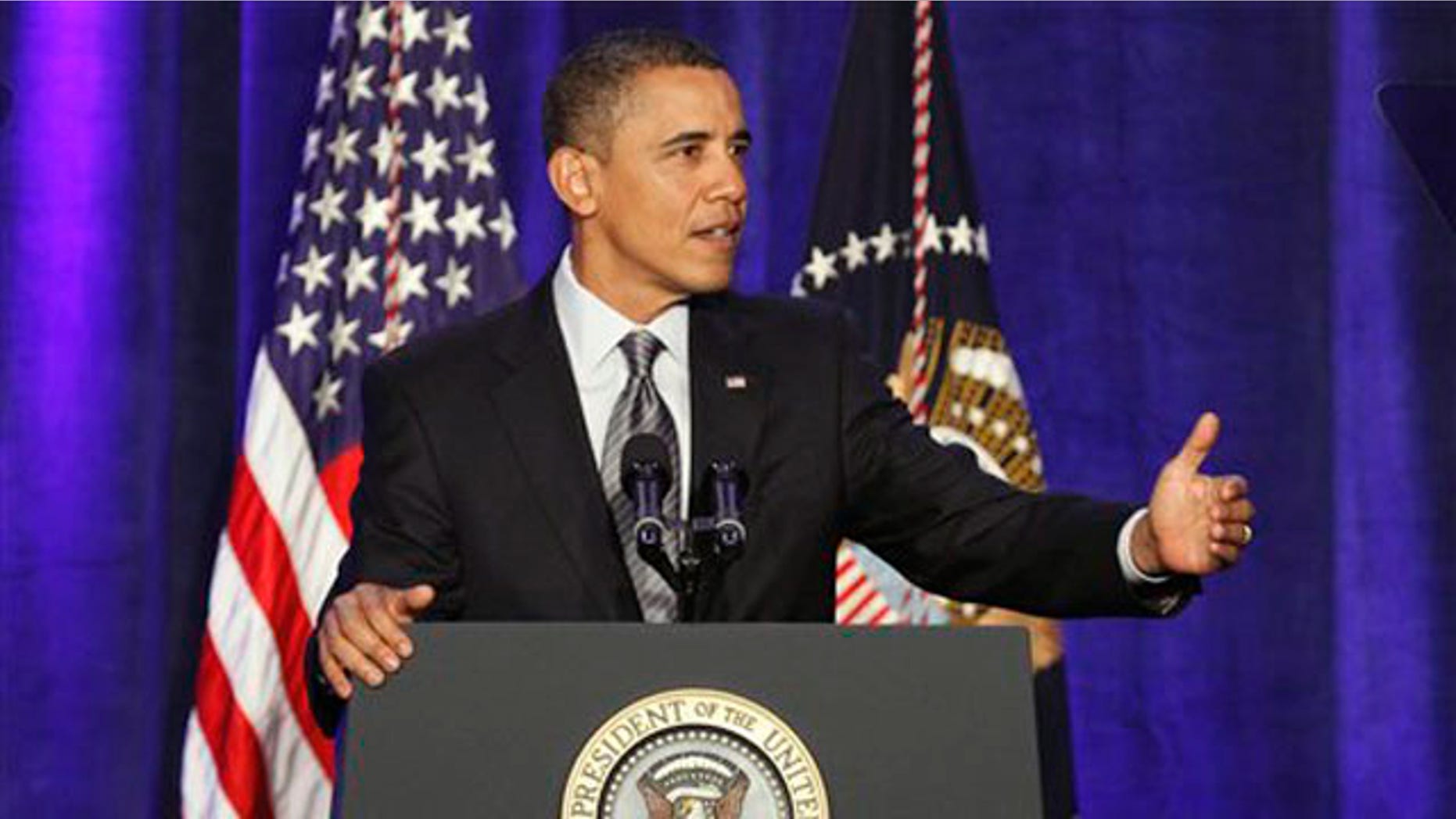 The Obama administration stepped up its defense of the controversial health care law Friday, with the president giving a pep talk to one of the policy's biggest cheerleaders and his health department releasing a new study contradicting a top official's claim that the law would not hold down costs.
Speaking at the annual conference for advocacy group Families USA, President Obama said health care access is part of the "American dream" and that while he's open to tinkering with the law, he won't permit efforts to dismantle it.
"Americans already have more power, greater freedom, stronger control of their health care," Obama said. "This law will lower premiums, it has limited costs, it is reining in the worst abuses of the insurance industry."
Offering the backdrop to Obama's speech, the Department of Health and Human Services (HHS) released an internal analysis Friday morning declaring that the health law will drive down premiums once its most significant provisions go into effect in 2014. The report said middle-income families could save up to $2,300 a year, while low-income families could save nearly $10,000 -- not counting the boost from government subsidies triggered in 2014.
But the findings of the HHS report stand in contrast to the statement Wednesday from Medicare's chief actuary -- somebody whose studies have served as fodder for critics who want the law repealed.
Richard Foster, whose office has long been a check on the administration's upbeat claims about the health care law's impact, told the House Budget Committee that the legislation will generally not bring down costs. Asked by a Republican congressman about the veracity of the claim that it would, Foster said, "I would say false, more so than true."
Karen Ignagni, president of America's Health Insurance Plans, released a statement Friday siding with the actuary and disputing the administration's figures.
"The new law will expand coverage to millions of Americans, but fails to address the health care cost crisis," she said. "The document released today overstates the cost savings associated with certain provisions of the new law and ignores major provisions that will raise premiums. ... While tax credits are important to help people pay for coverage, tax credits do not bring down the growth of medical costs or reduce health insurance premiums."
Though the law, through a combination of incentives and a new requirement to buy health insurance, would undoubtedly compel millions more Americans to obtain coverage, its impact on health care costs has been a matter of dispute. The Medicare actuary's office last fall released a report showing health care costs would rise slightly over the next decade. The study said that Americans would spend about $13,652 annually in 2019, compared with the $13,387 they would have spent without the law.
After Foster's latest statement, the White House took issue with his analysis on Wednesday, saying "once again, we disagree."
In the report released Friday, HHS claimed a combination of factors would bring costs down.
The report cited savings from insurance company rate reviews; new programs for retirees and people with pre-existing conditions; and state-based insurance exchanges which the administration claims will compel companies to offer cheaper plans.
HHS projected that for a family making about $100,000, they could save $2,300 come 2014. For a family making less than $34,000, they could save $9,900, according to the report.
"These savings will make a huge difference for American families and small business owners who had endured years of skyrocketing premiums with no end in sight," HHS Secretary Kathleen Sebelius said on a conference call with reporters Friday.