Obama Sounds Confident Message on Economic Recovery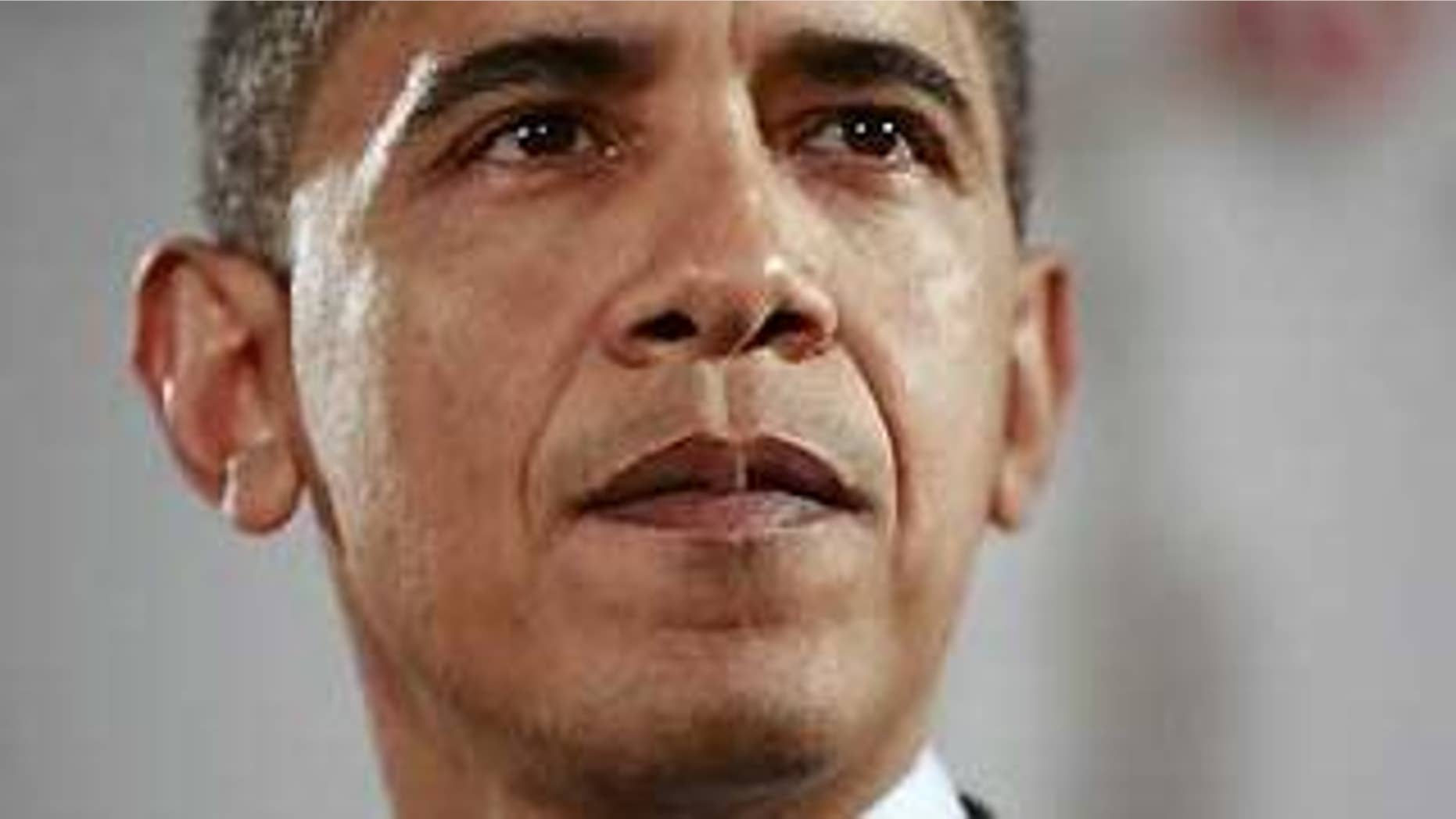 President Obama assured the American public on Friday that "we're gonna get through this," as he tried to instill a fresh sense of confidence in the resilience and strength of the U.S. economy.
He spoke in between a packed day of closed-door meetings with top financial advisers.
The comments followed recent remarks in which Obama has tried to put a more positive outlook on the near and distant future of the U.S. economy. Calling the financial crisis a "short-term emergency," he said the goal of his administration is to weather the storm while building a foundation for long-term economic growth that taps into the country's promise and potential.
"We have the most productive workers on earth. We've got some of the most innovative businesses on earth. We've got incredible universities," Obama said Friday after getting an update from economic adviser Paul Volcker. "Right now is very tough but we're providing help along the way."
He repeatedly said business leaders, the American people and his administration are "confident" about the recovery.
"If we are keeping focus on all the fundamentally sound aspects of our economy ... then we're gonna get through this, and I'm very confident about that," Obama said, while acknowledging the crisis has caused "incredible pain and hardship."
The American public is still showing frayed nerves, awaiting a sure sign that the economy is on the road to recovery.
Despite two significant rallies on Wall Street this week, recent polls show Obama still has a lot of convincing to do to rebuild public confidence in both the Dow and his economic agenda.
A Rasmussen poll earlier this week showed a majority of Americans think the country is at least somewhat likely to enter a Great Depression-type dive in the next few years.
And while Obama continues to show strong approval ratings, his numbers are slipping in comparison to the popularity of other new presidents, according to a column in Friday's Wall Street Journal by Scott Rasmussen and Democratic pollster Doug Schoen.
"Mr. Obama has lost virtually all of his Republican support and a good part of his Independent support, and the trend is decidedly negative," they wrote. "The reason for this decline most likely has to do with doubts about the administration's policies and their impact on peoples' lives."
Perhaps cognizant of the numbers, Obama and his team have started to project a notably less dire financial picture and to urge patience on the part of the public.
Obama's top economic adviser said Friday the nation's economic crisis has led to an "excess of fear" among Americans that must be broken to reverse the downturn.
"Fear begets fear," and that "is the paradox at the heart of the financial crisis," Lawrence Summers, the president's director of the National Economic Council, told a forum.
"It is this transition from an excess of greed to an excess of fear that President Roosevelt had in mind when he famously observed that the only thing we had to fear was fear itself," Summers said. "It is this transition that has happened in the United States today."
Speaking to a gathering of the nation's corporate chief executives on Thursday, Obama defended his plans for pulling the economy out of a downward spiral, saying his long-term view gives him reason for hope despite an increase in unemployment and falling economic indicators.
The president declared that the national crisis is "not as bad as we think," and he said he has seen public opinion seesaw without logic.
"A smidgen of good news and suddenly everything is doing great. A little bit of bad news and 'Ooohh, we're down on the dumps,"' he said. "And I am obviously an object of this constantly varying assessment."
Obama, who is pitching a $3.6 trillion budget for the next fiscal year, urged people to stay on an even keel.
But in Congress, where lawmakers will soon report back to their districts for a spring work session, Obama's budget plans were meeting resistance.
Sen. Kent Conrad, D-N.D., chairman of the Senate Budget Committee, called the track of future deficits "unsustainable" and singled out Obama's proposal for adding $634 billion in health care spending over the next 10 years.
"Some of us have a real pause about the notion of putting substantially more money into the health care system when we've already got a bloated system," Conrad said.
Questioned by Conrad's committee, Treasury Secretary Timothy Geithner encountered blunt questions about the administration's plans for shoring up the nation's banks. He reiterated the administration's goal to lay out a private-public partnership to make up to $1 trillion in financing available to help banks clear their books of toxic, mortgage-related assets that have led to a national credit freeze. But he resisted pressure from Sen. Judd Gregg, R-N.H., to give specifics.
Gregg, who nearly joined Obama's administration as commerce secretary, ripped into the administration Thursday for backing what he called a radical expansion of government and taking on a debt he said future generations can never pay back.
Meanwhile, the White House implored states who will be spending their shares of the stimulus package in the coming weeks and months to spend wisely -- or else.
"If we see money being misspent, we're going to put a stop to it," Obama told a gathering of state officials Thursday.
"What you do in the coming weeks, the coming months, over the next couple of years is going to make a huge difference in whether or not the trust the American people have placed in us is justified," he said, and added: "I have great confidence in you."
Democrats quieted talk of another stimulus package this week after House Speaker Nancy Pelosi said lawmakers should keep the door open to the option.
Rather, officials are stressing that they, working with the states, need to get the one they just passed right. The administration has asked each governor to send the state official in charge of stimulus money to learn about the programs available under the legislation.
"If we don't get this right, folks, this is the end of the ability to convince Congress that anything should go to the states," Vice President Joe Biden said.
"We are all on the line," Biden said. "The American people are looking for us to get this right."
But a recent Wall Street Journal/NBC poll of economists reflected widespread dissatisfaction with the administration's approach.
The survey gave the president a grade of 59 out of 100 overall. Geithner fared worse. The economists were split in their criticism, though. Some thought the stimulus did not go far enough. Others questioned the need for the package to begin with.
The Associated Press contributed to this report.