Obama promotes auto industry bailout as a policy that worked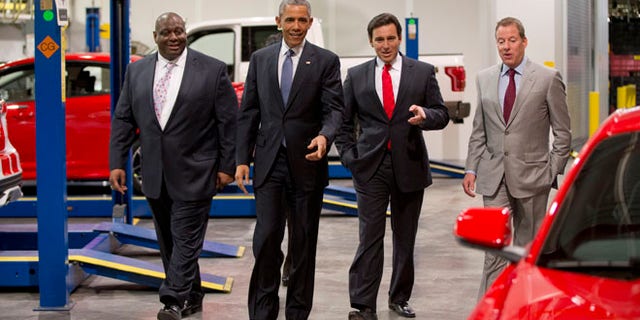 NEWYou can now listen to Fox News articles!
Calling the 2009 federal auto bailout a success story, President Obama on Wednesday touted steps taken by his administration that he said have brought the economy and U.S. manufacturing roaring back to life.
"There is no doubt that thanks to the steps that we took early on to rescue our economy and to rebuild it on a new foundation, we are entering into the new year with new confidence that America is coming back," Obama said in remarks after he toured Ford's Michigan Assembly Plant and sat behind the wheel of a shiny red Mustang.
The government spent nearly $80 billion to bail out Chrysler and General Motors. Last month, the government reported it had recouped nearly $71 billion of that investment.
Obama's visit to the Ford plant was the first stop on a pre-State of the Union trip designed to draw attention to themes he intends to highlight in his State of the Union address before a Republican-controlled Congress on Jan. 20.
After touting the resurgence of a storied American industry that once appeared on the verge of a historic collapse, Obama was heading to Phoenix -- a symbol both of the housing market's crash and its slow recovery.
Obama wraps up his road trip Friday in Tennessee, where he is expected to highlight the state's new policy to help make higher education a reality for more middle-class families by paying for community college tuition.
In his remarks here, Obama cited a 57-month job creation streak, smaller budget deficits and health care for millions more Americans as reasons for optimism heading into the new year, as well as into his final two years in office.
"America's resurgence is real," he declared.