Obama praises new Treasury rules that close tax loopholes exploited by US firms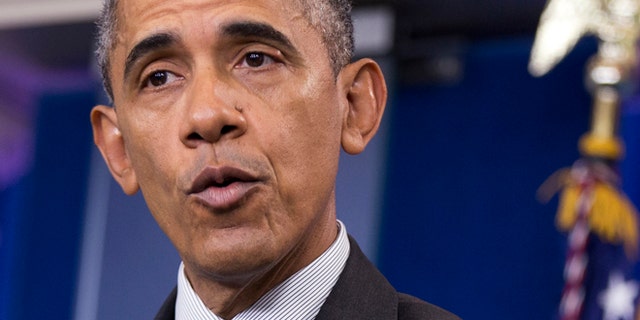 NEWYou can now listen to Fox News articles!
Going after corporations he claims "exploit loopholes," President Obama on Tuesday praised recent steps the Treasury Department took to curb tax inversions -- a popular type of merger where a U.S. company buys a foreign counterpart and then moves to that country to lower its tax bill.
Obama has been a vocal supporter of the push to reform corporate taxes, and several Democrats have announced legislation to make it more difficult for U.S. corporations to invert.
He called on Congress to close the loophole "for good," saying weaknesses in the law make it harder to spend money to keep the economy strong.
He said less tax revenue means the government can't fully spend on schools, transportation networks and other things to keep the economy strong.
The president added that the use of inversions to avoid taxes sticks middle-class Americans with the tab and makes them feel like the deck is stacked against them.
The push is Obama's third effort in recent years to level the playing field.
He said steps Treasury announced builds on what the administration has already done to make the tax system fairer. The new regulations, the third round from Treasury on the issue of inversions, seek to limit internal corporate borrowing that shifts profits out of the United States.
And though the new Treasury rules did not single out any specific deal, some say the first casualty could be the $160 billion merger of Pfizer Inc. and Allergan Plc.
Pfizer's deal to buy Dublin-based Allergan, the maker of Botox, came when U.S. tax rules allowed the company to move its headquarters to Ireland and lower its tax rate.
The companies said in a joint statement late Monday that they are reviewing the new Treasury rules and would not speculate on their potential impact.
Obama said a massive leak of 11.5 million documents from a Panama-based law firm that shed light on a world in which wealthy individuals can shelter their wealth from tax authorities are another reminder that "tax avoidance is a big global problem."
He said the so-called Panama Papers demonstrate that leaders should do more to tighten tax laws and crack down on individuals and companies that use tax shelters. He said the U.S. and other countries should "lead by example" in closing loopholes and provisions.
"A lot of its legal, but that's exactly the problem," he said.
The Associated Press contributed to this report.