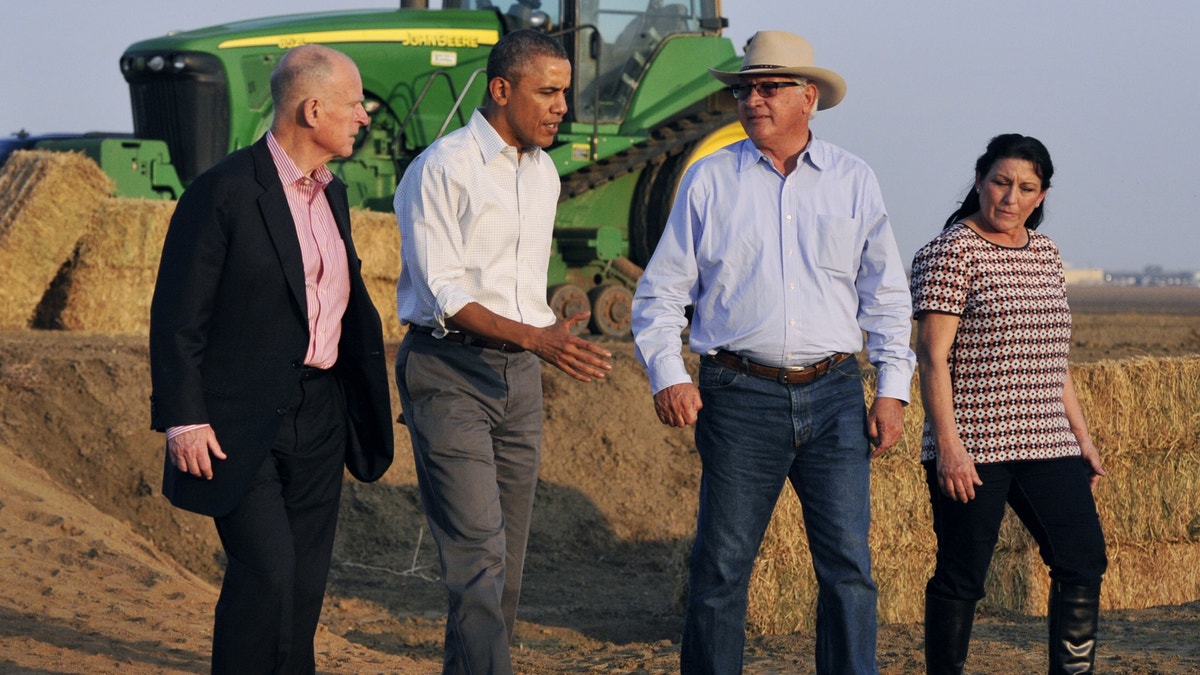 President Obama is asking for a $1 billion, taxpayer-funded program to help communities across the country prepare for the effects of climate change.
The fund would need congressional approval and if passed would pay for underwriting granular, community-level preparations and pay for new technologies to adjust to rising sea levels.
The president made the announcement Friday during a visit to drought-stricken California and said the so-called "climate resilience fund" will be included in his proposed fiscal 2015 budget.
"The budget that I send to Congress next month will include $1 billion in new funding for new technologies to help communities prepare for a changing climate, set up incentives to build smarter, more resilient infrastructure," Obama said during a brief speech at Joe Del Bosque's Field, in Los Banos, between Fresno and San Jose.
He also said his administration will work with technology innovators and "launch new challenges" under its Climate Data Initiative.
The initiative focused initially on rising sea levels and their impact on the coasts. But it will be "ultimately focused on how all these changes in weather patterns are going to have an impact up and down the United States -- not just on the coast but inland as well -- and how do we start preparing for that," he said.
The climate fund would be separate from the "Climate Action Plan," Obama introduced in June which in part directs the Environmental Protection Agency to create carbon pollution standards for new and existing power plants.
The speech was also noteworthy in linking the punishing drought that has rendered 27 California counties primary natural disaster areas with the effects of climate change.
Obama also argued that dealing with climate change "has to be work that we do together (and) cannot be a partisan endeavor."
The president's climate fund idea evokes a similar effort in New York City orchestrated by former Mayor Michael Bloomberg following the devastation followed by Superstorm Sandy.
Bloomberg unveiled a $19 billion plan to fortify the city from the effects of similar, future storms, but also rises in sea levels. Many facets of the initiative are already being implemented, in part through federal funding.