Obama Officials Consider Formal Inquiry Into How Terror List is Used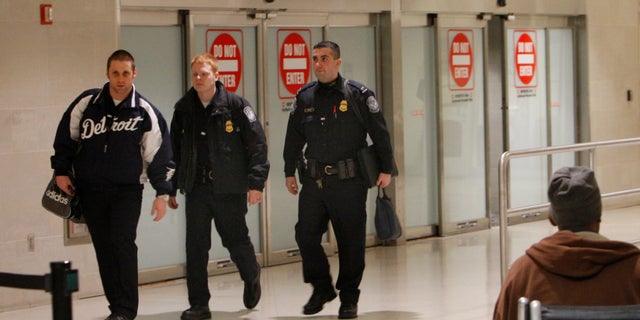 NEWYou can now listen to Fox News articles!
President Obama's security teams briefed the vacationing president on threats facing the United States and he directed that heightened airport security measures remain in place as officials investigate a failed terror attack aboard a Detroit-bound plane.
Officials, meanwhile, considered a formal inquiry into what changes might be needed for U.S. intelligence operations that allowed the suspect to be purged from a massive and broad government database of potential threats.
Senior administration officials told Fox News they are "challenging the the assumptions and determinations that have been made" in setting up a system of terror watch lists. The officials say they will take a close look at the system to "maximize the opportunity to keep the American people safe" by examining the criteria put in place over the past several years to determine who should be given the most scrutiny and who should be replaced on the "no fly" list.
The suspect, Umar Farouk Abdulmutallab, was on a government master list called the Terrorist Identities Datamart environment, or TIDE. There are are more than 500,000 people on the list, but Abdulmutallab did not appear on any subset list and would not have been prohibited from flying.
The terror suspect acquired his TIDE record in Nov. 2009. That's around the same time the suspect's father expressed concerns about him to the U.S. Embassy in Nigeria. According to a senior administration official, the information received about him at that time was not sufficiently derogatory to warrant moving him to a smaller list of people deemed to be a more serious threat.
The president spoke with National Security Council chief of staff Denis McDonough, homeland security and counterterrorism adviser John Brennan and others in Washington by secure telephone conference call at the first family's rented vacation home.
The call lasted less than 15 minutes. Obama left immediately afterward for a trip to the gym.
Other traveling administration aides also were kept in a secure hotel room to receive briefings from investigators, to monitor developments, to feed updates to the president and to coordinate across agencies. Regular updates were sent to the president, who -- despite being on holiday -- made decisions to continue increased security precautions he put in place after Friday's incident.
As Obama spent more than six hours on a Marine Corps golf course, his national security and policy advisers asked each other and peers questions such as: How is the intelligence community integrating itself? Did the assumptions used to make terror watch list choices lead to the correct decisions? Were the right criteria used to reach conclusions?
The officials described the early discussions Saturday on the condition of anonymity so as not to pre-empt possible official announcements that could come as early as Sunday and to discuss sensitive materials.
Such internal questions among Obama's team marked the informal start to what would likely become a formal executive branch inquiry into an attack that failed -- not because of the intelligence community but because, it appears, the suspect's material failed to ignite.
On Friday, officials said a man tried to blow up a plane as it prepared to land in Detroit before nearby passengers -- who saw a glow and heard what sounded like firecrackers -- tackled him. The Justice Department on Saturday charged that Umar Farouk Abdulmutallab willfully attempted to destroy or wreck an aircraft; and that he placed a destructive device in the plane.
U.S. District Judge Paul Borman read Abdulmutallab the charges in a conference room at the University of Michigan Medical Center, where he is being treated for burns.
Abdulmutallab claimed to have been instructed by Al Qaeda to detonate the plane over U.S. soil, said a U.S. law enforcement official. But others cautioned that such claims could not be verified immediately.
The plane landed in Detroit at 11:53 a.m. EST. Officials said Obama was briefed on the incident -- initially thought to be firecrackers -- more than two hours later.
Vice President Joe Biden's office also said his national security staff briefed him on the attempted attack on Christmas Day and he has been kept up-to-date with developments.
The Associated Press contributed to this report.