Lawmakers to Probe Attempted Attack, Questions Raised Over Intel 'Breakdown'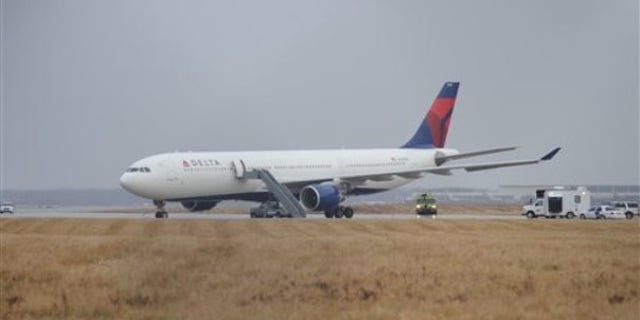 Congressional lawmakers are looking to "get to the bottom" of the attempted terrorist attack on a Detroit-bound flight, pledging to hold hearings next month and raising questions over how the suspect was allegedly able to smuggle an explosive mixture onto an airplane.
Analysts and lawmakers say the incident raises troubling questions and could lead to changes in airline security which has already gone through an overhaul since the Sept. 11, 2001, attacks.
Officials also questioned whether intelligence agencies were properly sharing information about the suspect, since sources said his name was on a federal watch list even though he was not on a "no-fly list." The suspect, Umar Farouk Abdulmutallab, had been in an intelligence database that includes people with known or suspected terrorist ties, and officials knew about that possible connection for "some time," a U.S. official told Fox News.
"We may be seeing a pattern here," Rep. Pete Hoekstra, R-Mich., ranking Republican on the House intelligence committee, told Fox News. He compared the latest incident to the Fort Hood shooting, in which officials knew about the suspect's contacts with a radical imam long before the rampage. "Are we seeing here a breakdown in our intelligence community, when we see these red flags we're not recognizing them and responding appropriately?"
House Homeland Security Committee Chairman Bennie Thompson, D-Miss., raised the same concern.
"He did appear on some databases, but not a no-fly list database," Thompson told Fox News on Saturday. Thompson said his committee will hold a hearing on the matter next month to "get to the bottom" of the incident and examine what security precautions should take place in the future.
"We want to make sure that it was not human error or the sharing of information" that prevented the suspect from being caught earlier, Thompson said. "Information sharing has always been an issue."
The suspect, who claimed to have ties to Al Qaeda, was subdued Friday after he tried to ignite a powdery substance just before landing in Detroit, sources told FOX News. A preliminary FBI analysis identified the explosive substance as PETN, or pentaerythritol. The passenger, one of 278 flying from Amsterdam to Detroit, was charged with attempting to destroy an aircraft on Saturday. He originally boarded in Nigeria.
"This alleged attack on a U.S. airplane on Christmas Day shows that we must remain vigilant in the fight against terrorism at all times," Attorney General Eric Holder said in a written statement. "Had this alleged plot to destroy an airplane been successful, scores of innocent people would have been killed or injured."
Reflecting the severity of the incident, a number of lawmakers were tracked down on Christmas Day to be briefed on the incident. Thompson, Rep. Peter King, R-N.Y., House Minority Leader John Boehner and Sen. Susan Collins, R-Maine, were among them.
Several of them pledged to investigate the matter next month.
"It is troubling that he was apparently able to bring explosive material on the airplane," Collins, ranking Republican on the Senate Homeland Security Committee, said in a statement. "This incident is a disturbing reminder that the terrorist threat is still very real and that we must continue to be vigilant and alert. It also raises some serious questions."
Sen. Jay Rockefeller, D-W.Va., chairman of the Senate Committee on Commerce, Science and Transportation, said his panel would hold hearings come January.
"Any terrorist attempt on our citizens is extremely serious," he said.
Terror analyst Steve Emerson predicted that airports will have to once again increase security in light of this incident.
"I think we're going to see now new efforts to monitor bringing on powders that can be mixed and combined into incendiary mixes," he said.
Emerson noted that airport security officials mandated passengers take off their shoes for screening after Richard Reid tried to hide explosives in his shoes in 2001, and then added new restrictions on carry-on liquids after London investigators uncovered a plot to use liquid explosives in 2006.
King said there is no evidence that the Detroit incident was part of a larger plot.
FBI and Department of Homeland Security officials would not discuss the suspect's possible motives. However, DHS and the FBI have since issued a "situational awareness bulletin" to state and local law enforcement across the country, and to the airline industry, one source said.
Airports have already started implementing additional security measures.
"The Department of Homeland Security immediately put additional screening measures into place -- for all domestic and international flights -- to ensure the continued safety of the traveling public," DHS Secretary Janet Napolitano said in a written statement Saturday, adding the the department is working with other agencies on "additional security measures."
Napolitano urged Americans to "continue their planned holiday travel," but to be vigilant about suspicious activity. She said domestic and international travelers should allot "extra time" for check-in.
According to a TSA official, the additional security measures could include bomb-sniffing dogs, gate screening, behavior detection and other precautions.
After being notified of the incident by a military aide, President Obama, vacationing in Hawaii with his family, convened a conference call with his counterterrorism chief, John Brennan, and other national security officials, a White House spokesman said. He held another secure call early Saturday morning.
"The president will continue to actively monitor the situation," White House spokesman Bill Burton said.
Northwest Flight 253 was close to touching down at Detroit Metropolitan Wayne County Airport when it declared an emergency on board, an airline official said.
King said Abdulmutallab tried to set off "a fairly sophisticated device," and Abdulmutallab was "seriously injured." Some other passengers suffered minor injuries, an airline official said.
King said the device "appears to be different from what we've encountered before" and therefore may not have been detected by airport screeners.
Click here for more on this story from MyFoxDetroit.com.
FOX News' Mike Levine, Catherine Herridge and Sarah Wolff contributed to this report.