Obama Meets with Giffords, Husband in Florida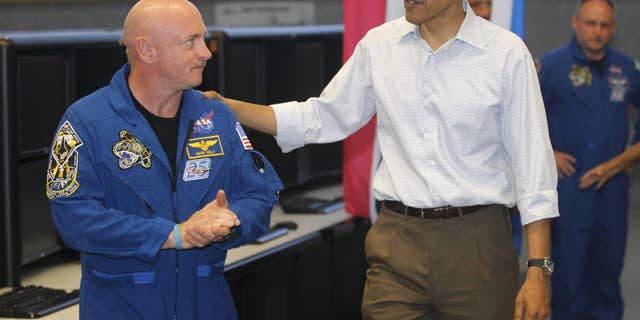 NEWYou can now listen to Fox News articles!
President Obama and the First Lady met with Arizona Rep. Gabrielle Giffords at Kennedy Space Center Friday for about 10 minutes.
Also in the room for the meeting were Giffords' astronaut husband, Endeavor shuttle commander Mark Kelly, Giffords' mother, Kelly's twin brother (who is also an astronaut), Congresswoman Debbie Wasserman-Schultz and Giffords' Chief of Staff Pia Carusone.
A message posted on her Facebook page said Giffords was "disappointed that Endeavour was unable to launch today, but realizes that mission safety must come first." But added that she was pleased "to have been able to meet with President Obama and the first family."
Obama still went on a planned trip to Cape Canaveral even after the mission was scrubbed due to technical difficulties.
The president first toured part of Kennedy Space Center, and saw parts of the shuttle Atlantis before meeting with the Endeavour astronauts.
Giffords came to Florida from Houston, where she is recovering from a January assassination attempt.
Obama saw her husband first and according to a readout from the White House Kelly said, "I bet you were hoping to see a rocket launch today."
The president replied, "We were hoping to see you." They shook hands and embraced.
Kelly then gave an update to the president and first lady on Giffords' condition.
Endeavour could possibly launch in the next 72 hours and Atlantis in June. These mark the last two missions of the NASA shuttle program.
Obama toured the tornado devastation in Alabama before coming to Florida.
He is slated to give a commencement address in Miami Friday evening.
White House Producer Kimberly Schwandt contributed to this report